A post-lockdown surge in used car sales activity has put retailers ahead of the same period in 2019, according to data gathered by Indicata.
The stock management and vehicle valuations data provider found that retailers generated 3.4% more sales during the first 10 days of June than during the same period last year.
And although the resurgence in activity has meant that dealers are now short of 100,000 used car stock against pre-lockdown levels, the momentum appears to have gathered pace.
Indicata said that sales grew by 13.3% during the seven days between June 4 and 10, equating to around 12,000 used cars per day which is where the market was pre Covid-19 lockdown.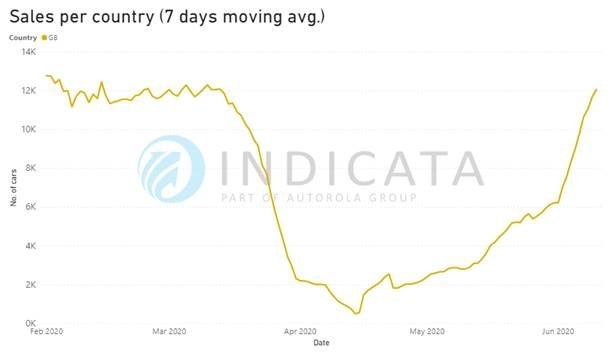 Neil Gilligan, Indicata UK's business development manager, said: "It is surprising how quickly the used market has bounced back from the COVID-19 lockdown.
"With reduced output from car makers and fewer dealer part exchanges and ex-fleet cars coming into the market then demand should exceed supply throughout the rest of 2020 with prices continually strong."
At the end of April, Indicata initially suggested that the easing of car retail COVID-19 coronavirus lockdown restrictions in Austria and Germany have delivered 'no strong signs' of a used car market bounce-back.
Indicata's Market Watch report revealed that Austria's used car sales volumes had risen to half its April norm after it became the first country to ease lockdown restrictions for the motor industry on April 12.
It now believes that the UK's recovery will continue to follow Germany's more promising return to trading.
Gilligan added: "Indicata generates used car insights from 13 countries so looking at what has happened to the German used car market could be useful for the UK.
"German dealers opened on the 20 April and experienced a swift bounce back to pre-lockdown levels like the UK has, and used car sales have continued to grow.
"This could bode well for the UK market for the rest of the summer."
Motorway reported today (June 17) that it had generated record used car sales via its online stocking portal during June, with a record £1.39m in sales generated on June 11 alone.
Indicata's market analysis showed that dealers are being more cautious about replacing sold stock with sales exceeding supply by 71%, however.
That equates to the UK dealer network being short of 100,000 used cars against pre-lockdown levels which could cause a scramble to source stock in the coming weeks to avoid forecourt spaces being left empty.
Indicata's data also showed that used prices have risen by 0.5% in the first 10 days of June and there are some immediate winners and losers post lockdown.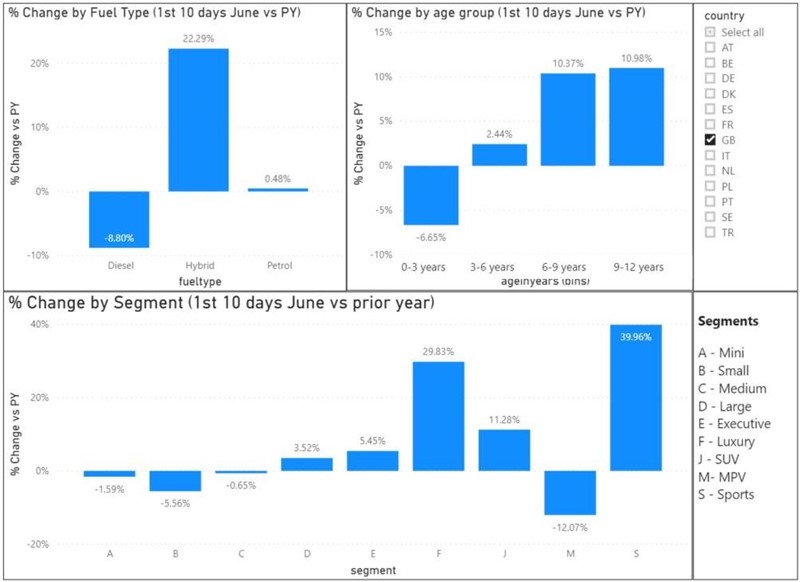 Hybrid sales were up 22% year-on-year, while diesel demand has fallen 8%.
The six- to nine-year-old and nine- to 12-year-old sectors are both up by 10%, while the up to three-year-old sector has fallen by 6.5%, reinforcing the market's move to older and cheaper used car stock.
The sports and luxury car sectors remain the big winners, up 39.9% and 29.8% respectively.
SUVs remain popular with a 11.2% growth while the biggest losers are the MPV and small car sector which were down by 12% and 5.5% over the same period in 2019, Indicata said.