Dealers have recorded their best speed of sale yet in 2021, with average used car days in stock dropping to 45.6 days from 49.5 days in both January and February, according to eBay Motors Group data.
Half of the top 10 fastest selling used cars, which all sold within 35 days, were premium SUVs such as the BMW X4, Mercedes-Benz GLC and Land Rover Discovery Sport, its classified marketplace motors.co.uk found.
High levels of consumer activity across the Ebay Motors Group platforms powered the improvement and generated a 50% year-on-year uplift in dealer leads during March.
"With the UK in lockdown throughout March, the used car market continued to show remarkable resilience with dealers achieving their fastest stock turns so far this year on the back of high levels of online consumer activity," said Dermot Kelleher, head of marketing and research at eBay Motors Group.
"For some buyers the long months of lockdown, missed holidays and unexpected financial savings, have prompted aspirational purchases of premium brand SUVs."
The best performer was the Volkswagen Touareg, with 29 days to sell on average.
"Overall, our March analysis reflects a strong desire among buyers to research and complete purchases as the UK prepares to move out of lockdown," said Kelleher.
Average stock levels at franchised sites increased from 49.5 to 51.3 units
The platform's top 50 cars by make and model recorded a 0.8% drop in average prices to £12,684.
"With lockdown restrictions now being eased and buyers able to return to dealer forecourts in April, we're encouraged by just how strong online activity and enquiries have performed throughout Q1, suggesting a positive start for dealers once they're able to engage with customers face to face," said Kelleher.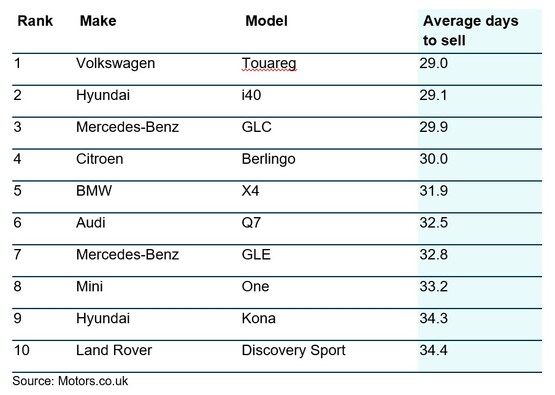 Petrol continues to be the fuel of choice for used car buyers, accounting for 54% of all dealer stock and 51.4% of online vehicle views. Interest in diesel continues to drop, accounting for 42.7% of dealer stock and 46.2% of vehicle views. However, diesels are the fastest selling used cars taking 42.3 days to sell, compared with 47.1 for petrol.
Despite legislative moves towards the electrification of the new car market by 2030, demand for used EVs continues to be low.
In March EVs accounted for just 1.1% of dealer stock and 0.7% of views, taking an average of 56.6 days to sell.
"EVs continue to be relatively expensive in the used car market, compared to similar petrol or diesel models, an issue compounded by ongoing concerns among buyers about battery range and the rollout recharging infrastructure, meaning for now at least they remain a very small part of the used market" said Kelleher.
Hybrids fared little better than EVs, making up 2.3% of stock, 1.6% of online views and averaging 67.7 days to sell.