Subaru delivered a shock by surging to a second-placed ranking in Dealer Auction's Retail Margin Monitor.
The Japanese OEM, renowned for its all-wheel-drive vehicles, usurped the usual crop of premium and luxury brands to secure the placing behind regular top spot winner Land Rover.
Dealer Auction's marketplace director Kieran TeeBoon said that Subaru's high-placed entry into the ranking acted as "a reminder to keep a diverse stocklist, and never forget the underdog".
The remarketing platform, jointly owned by Cox Automotive and Auto Trader, aims to deliver insight into the brands and vehicles that will command the highest margin for retailers through the creation of its monthly Retail Margin Monitor.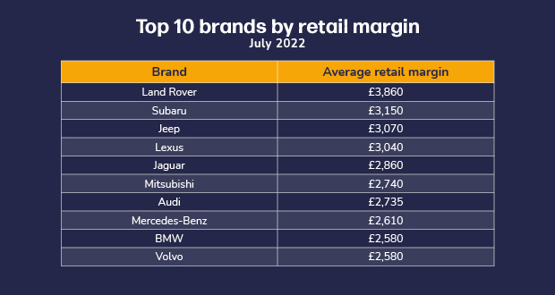 Last month, 90% of the top earning OEM brands remained the same.
Land Rover's Discovery Sport (£3,950) and Range Rover Evoque (£3,900) topped the model rankings, meanwhile, with the Audi Q3 SUV placing third with an average retail margin of £3,570.
Despite Land Rover's consistent performance, there was volatility in the rankings last month, with six of the top 10 models new table entries.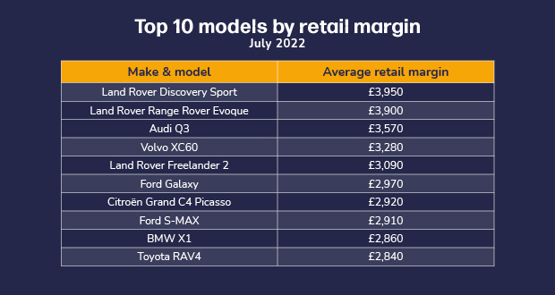 Demand for larger MPVs – now removed from many OEM order books – saw the Ford Galaxy (£2,970), Citroën Grand C4 Picasso (£2,920) and Ford S-Max (£2,910) all sit comfortably in the middle of the table, with just a £60 average range differentiating their retail margins.
TeeBoon said: "Our most recent data has showcased a number of models and makes proving popular that we haven't seen thus far.
"Because of this, the used car market can seem unpredictable – but our platform can help you diversify your stocklists proactively, with real-time market data"
In a mid-month update of used car valuations this week, Cap HPI director of valuations Derren Martin said that more affordable cars were being hit hardest as the cost-of-living crisis continues to deepen, suggesting that an uplift in supply could impact values later in the year.
For now, limited supplies are maintaining buoyant pricing, though, with 10-year-old cars down by 1.7% month to date, which is the equivalent to £65 as the decline reached 0.3% at three years and were 0.1% up at six months.
"It's a bit dull, but dealers should be reassured. There's still plenty of stability in the market, despite all that's going on", Martin said.
Earleir this month Society of Motor Manufacturers and Traders (SMMT) data showed that the used car sales shrank by nearly 20% in the UK during Q2, despite a 57.1% increase in used electric vehicle (EV) sales.
There were 407,820 fewer transactions as 1,759,684 cars changed hands during the period as stock shortages continue to define the market.
Auto Trader's Data and Insight Director, Richard Walker, suggested that the market was still moving at a "record pace" this week, adding: "It has never been more important to base your pricing and forecourt strategy on data. By not doing so, you not only risk losing vital profit, but also losing the sale altogether."