UK used car sales shrank by nearly 20% in Q2, despite a 57.1% increase in used electric vehicle sales over the same period.
The latest figures from the Society of Motor Manufacturers and Traders (SMMT) show that there were 407,820 fewer transactions to a total of 1,759,684 cars changing hands.
However, the SMMT has clarified that the scale of the decline was artificially inflated by comparison with 2021 when the easing of Covid restrictions saw the busiest second quarter since records began. By comparison, Q2 2022 was -13.5% behind pre-pandemic 2019.
The ongoing shortage of semiconductors continued to impact new car market supply, with an inevitable knock-on effect on used transactions.
Declines were recorded in each month, with falls in April, May and June of -16.8%, -20.9% and -18.6% respectively. As a result, the market is down -8.3% year to date on 2021, and -12.8% on pre-pandemic 2019.
However, battery electric vehicle (BEV) sales rose 57.1% to reach 16,782 units, doubling market share to 1.0%, while plug-in hybrids held relatively stable with 1.0% growth and 0.9% of the market.
Hybrids (HEVs), meanwhile, declined by -4.0% with 2.4% of the market. As a result, used petrol and diesel vehicles remained dominant, totalling 1,682,280 units and accounting for 95.6% of sales.
Reflecting the new car market, the most popular segment types were supermini (31.4%), lower medium (26.5%) and dual purpose (14.7%). Black cars proved the most popular, accounting for more than one in five (21.5%) sales, followed by blue and grey. Pink cars proved the least popular overall, comprising 1,135 units.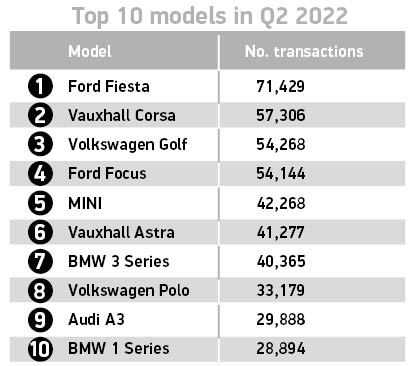 Mike Hawes, SMMT chief executive, said: "It was inevitable that the squeeze on new car supply would filter through to the used market.
"Despite this, Britain's used car buyers clearly have a growing appetite for the latest low and zero emission cars, and we need a thriving new car market to feed it.
"The next Prime Minister must create the conditions to drive consumer confidence, especially in EVs, to drive the fleet renewal necessary to meet our decarbonisation goals."
Consumers are holding onto their vehicles for longer
Chris Knight, KPMG UK Automotive Partner, said the statistics have been driven by consumers holding onto their cars for longer, resulting in fewer used car transactions.
He said: "Prices remain significantly higher than pre-pandemic as consumers are willing to pay a premium to avoid having to wait for a vehicle.
"There is however evidence that price growth is cooling amidst a cost of living squeeze, and a rise in the cost of driving.
"Consumer demand for used cars may well drop in the coming months, but the supply landscape is such that it's unlikely that we see major price corrections in the near term."
Sue Robinson, chief executive of the National Franchised Dealers Association (NFDA), said the decline in the used car figures reflects the strength of the figures in 2021, the busiest quarter since records began.
She said: "Franchised dealers continue to see strong demand in the used car segment driven by a combination of consumer demand and a lack of supply of new vehicles.
"Battery electric vehicles increased by 57.1%, but still represents a very small segment of the market. Franchised dealers will continue to advise customers on the best car for their needs, particularly in the face of industry supply issues and an increasing cost of living."
Robinson said the NFDA expects used car values to remain strong as the supply of good quality used cars are still lower than normal.
She added: "Current new car volumes are restricting the number of part-exchange vehicles reaching the market that would normally help supply dealer forecourts, and at the same time some consumers needing a car quickly are turning to the used car market to source their next vehicle."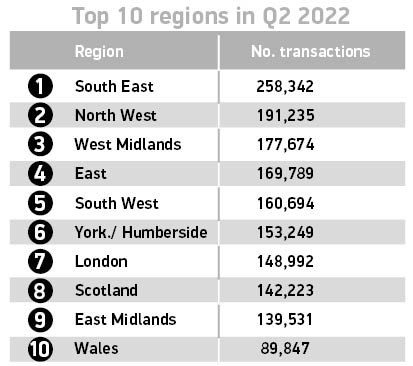 Mark Carpenter, chief executive at used car specialist Motorpoint, said the industry was always expecting year-on-year numbers to be down for Q2 as it's the comparator quarter for sales restarting post the pandemic last year.
At that point the UK car market saw pent-up demand released and so the numbers were artificially high.
Carpenter said: "But when we strip all of that away and look at the real numbers, we have real year-on-year growth in June and July despite the market as a whole declining.
"As you would expect we keep a close watching eye on performance, and it seems that our value-driven philosophy is resonating with customers more than ever as the cost-of-living crisis continues to deepen.
"Our positioning is also spot on as more and more motorists who would previously have been in the new car market are looking in the nearly new sector as new car supply remains the big issue."
Looking forward, Carpenter is looking to compare Motorpoint's performance in July when he is able to compare to more normal numbers.
He said: "The new car registrations data published by SMMT made clear that new car supply constraints are not going to end any time soon and so the challenge for us at Motorpoint is to maintain this growth in the face of continued market uncertainty.
"This is why we will redouble our focus on offering customers the greatest possible choice at unbeatable prices."
Another part of Motorpoint's growth strategy will be to open stores in new markets as and when suitable sites become available. New outlets in Coventry and Edinburgh will be added in the next quarter with more likely to follow.
Carpenter added: "While part of our growth has to come from increasing our share of the markets we're already in, we can also deliver growth by expanding Motorpoint into new markets and so this too is a focus.
"The evidence shows that whenever we enter a new market, we very quickly capture a double-digit market share and so this represents a fantastic opportunity for us to move forward."