The Defender name may have 'only' been around since 1990, but the Land Rover Defender we all know (and mostly love) has, essentially, remained the same since 1948.
After 67 years in production, Land Rover could no longer keep updating the model to comply with new emissions and safety legislation, so the Defender was killed off, temporarily. It now returns as an all-new model.
The 4x4 market has changed significantly in recent years, with pick-up trucks now taking a greater share of money from those seeking a 'rugged' off-roader, while models such as the Mercedes-Benz G-Wagon have been tweaked to fill an upmarket niche.
Much the same trend was happening to the Defender towards the end of its life. The streets of West London became the habitat of models that were heavily modified by third parties to gain more creature comforts and more power, rather than seeing them on green lanes in the countryside.
In its second generation, the Defender aims to bridge the gap between the stripped-out rugged off-roader of the past and the high-tech luxury barge that is in demand right now.
It has a futuristic-looking design, with a host of retro touches weaved into its smart new look.
Whether this design will remain as iconic as the original after 67 years remains to be seen, but it was certainly turning heads wherever we took it.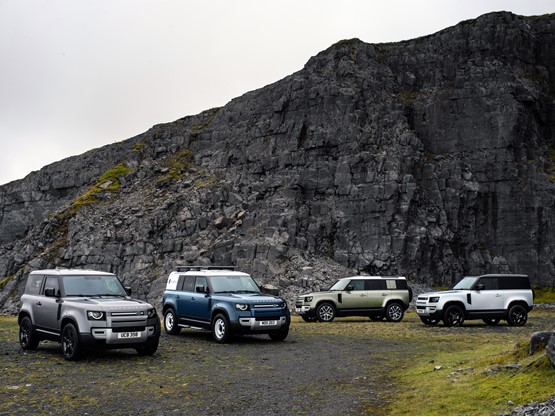 It's available in three-door '90' or five-door '110' with a range of petrol and diesel engines, as well as a plug-in hybrid.
The range starts with stripped out Commercial versions priced from £35,000 (exc VAT). Passenger car models cost upwards of £40,000, but, with an almost endless range of options and configurations, prices can end up beyond £100,000.
There are four core accessory packs available: Explorer, Adventure, Country and Urban. These sit alongside the usual trim walk of base, S, SE and HSE, plus a hardcore Defender X variant.
A V8-powered SVR version is rumoured to be in development.
The packs are designed to give the car different characters, with Urban, for instance, featuring 22-inch wheels, a front undershield, side tubes and a scrub plate
on the rear; Adventure side-mounted gear carriers on the rear and undershield guards; Country wheel arch protectors and other guards for light outdoor work; and Explorer a roof ladder, roof rack and anti-glare bonnet.
Other unconventional options include an electronic winch, pet packs for carrying a variety of animals, a portable shower, a roof-top tent and inflatable waterproof awnings.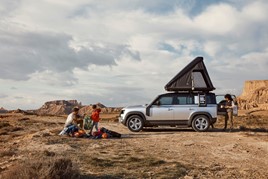 Buyers can kit-out their ideal Defender with just about every gadget and feature from across the Land Rover range. This can include ventilated seats, high-end audio systems, matrix LED headlights and adaptive cruise control.
Fabric seats and steel wheels come fitted to base models, but all versions are equipped with surround cameras, lane-keep assist and JLR's latest Pivi Pro connected infotainment system.
All new Defenders come with an automatic gearbox powering all four wheels. Initially there's a choice of two diesel and two petrol motors.
The diesels come in four-cylinder D200 and D240 flavours, although these are being replaced by six-cylinder mild-hybrid units early next year. The petrol range consists of a four-cylinder P300 and a straight-six P400.
Power output is denoted by the numeric figure. The plug-in hybrid will use a 2.0-litre four-cylinder unit and provide a 27-mile zero-emission range when it joins the range next year.
The first thing you notice about the Defender is it's massive. At more than five metres long, the 110 can accommodate up to seven people, with an optional third row of seats. Such is the width of the new Defender, buyers can spec an additional centre front seat on both the five-seaters – the 90 and 100 – allowing them to carry six. Otherwise, there's a girthy centre console that provides useful storage.
In a nod to early Land Rovers, the dash is modelled around a central shelf. The 10-inch infotainment screen is placed in the centre and joined by an optional digital instrument cluster.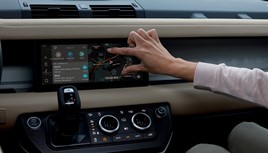 All the controls are confined to a small panel, which also incorporates the gear selector. Accessing the off-road settings is done using the dual function climate control knobs. I'd rather see independent controls for these features, but it's likely many drivers will simply never delve into such settings.
The Defender has been designed to offer maximum capability off-road. Optional air suspension allows the ride height to be increased, while the Terrain Response system can automatically adapt to the conditions to provide optimal traction. Buyers can even specify off-road tyres.
It's on-road that the biggest changes are apparent, however. The Defender will happily sit at 70mph and allow its occupants to have a conversation. In our test we saw an average of almost 40mpg from the D240.
Diehard Land Rover fans may see the new model as just another 'Chelsea tractor' but Land Rover has been clever in developing the model to have greater appeal. The old Defender only amassed sales of around 20,000 units globally towards the end of its life and only 5,000 of those were to retail buyers.
The desirability of this new model, combined with it's greater refinement and technology should deliver a much needed boost in registrations. MATT DE PREZ
Q&A: Anthony Bradbury, Marketing director at Jaguar Land Rover
Where should retailers position the new Defender against other models in the range?
The new Defender is all about durability. It is a tough off-roader as you would expect, but it is a Defender for the 21st Century which means it is just as suited on the road as well, and equipped with all the comforts and technologies that you could wish for in a state-of-the-art 4x4. Discovery is about versatility and families. It is one of those rare full-sized seven-seat SUVs – ready for a family adventure. Everyone gets a great seat. Range Rover is our luxury
range of vehicles – the finest materials and finishes make it a fine place to be no matter the weather or the terrain. Finally, all three product families are underpinned by excellence in design and capability.
Is the new Defender expected to attract new customers to the brand – if so who?
We expect a high percentage of conquest customer from other brands. We would expect customers to come from all competitors in the segment as diverse as other premium SUVs or the more utilitarian segments. We are also seeing some existing Land Rover owners buying Defender as an additional car to the household. We will shortly introduce the Defender 90 to the range and this will appeal to customers wanting a smaller vehicle. Lastly, the Hard Top commercial derivatives will also attract new customers.
Which powertrain and trim combination do you expect to be the most popular?
It's very early days yet, but traditionally the S or SE model with the D240 is likely to be the centre of gravity. Early indications show that, with early adopters, we've seen a strong mix at the top end with the Defender X model and, currently, a quarter of UK Defenders sold are the First Edition.
Are there any dealer-fit accessories for retailers to profit from?
There are a range of retailer-fit accessories including more aggressive off-road tyres and our Defender packs with the Urban, Country, Expedition and Adventure packs all being available as retailer-fit options, allowing customers to tailor their vehicle accordingly. Take-up of these packs has been excellent and is averaging 20%. It is clear our customers enjoy personalising their vehicles.
How do you plan to market the car and make sure customers get to experience its capabilities?
We are about to host a 'Defender tour' where customers will be able to experience Defender both on- and off-road at our Land Rover Experience Centres across the country. We have also been running a three-hour test drive programme which has proven popular with customers and retailers. Interest continues to be very strong. We have strong fleet interest and have begun specific briefing sessions with these customers.