When Mini launched the current F56 generation Hatch in 2014 an electric version wasn't on the cards. In fact, following the Mini E trial in 2008, the brand was pretty sure that converting a petrol car to electric was not feasible.
Such is the demand for electrified models today, and the need for manufacturers to reduce emissions, the Mini Electric has become a production reality.
The development was helped, in part, by the rapid progression in electric vehicle (EV) tech. Nestled within the Mini Electric's largely unchanged shell are a variety of components from the BMW i3 electric car.
Mini engineers have cleverly designed the car so it can be built on the production line at Oxford, alongside petrol and diesel models.
The 32.6kWh battery pack is integrated into the car's floor, taking up the space previously occupied by the fuel tank and exhaust. The T-shaped power unit gives the Mini a noticeable extra bulk, but, crucially, has no impact on practicality.
While not particularly capacious, the car's boot can still take the same 211 litres of cargo as a regular ICE (internal combustion engine) model.
The brand has worked hard to minimise the differences between the electric version and its siblings. The car looks and feels much the same as any other Mini.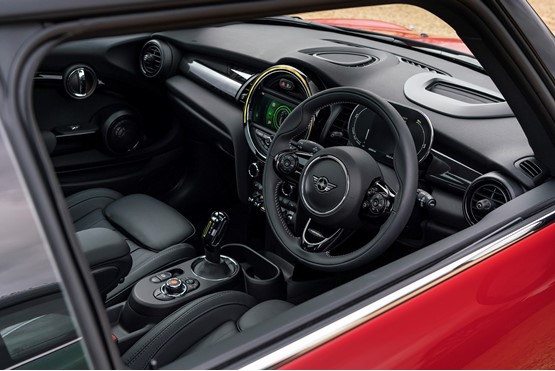 In keeping with the brand's focus on personalisation, there are some key features that can be selected to set electric models apart such as Energetic Yellow door mirror caps and grill plus special Electric Corona Spoke two-tone alloy wheels. Equally, customers can choose to make their Mini Electric look as discreet as a regular Mini.
Other than colours and wheels, there is a choice of three trim levels with no individual options. All models are equipped with LED headlights, sat-nav and air conditioning.
Entry-level versions (known as Level 1) have a starting price of £24,900 (allowing for grant). The Level 2 (£26,900) is the likely best-seller. It comes with heated seats, parking sensors and keyless entry.
Range-topping Level 3 gets pretty much all the available features from other Minis, including a panoramic sunroof, Harmon Kardon stereo, larger sat-nav screen and adaptive LED headlights. It's priced at £30,900.
The car's electric motor develops a healthy 184PS, giving it a performance advantage over rival electric city cars. Acceleration from 0-62mph takes a sprightly 7.3 seconds and mid-range performance is impressive, thanks to the 270Nm of torque.
The Mini Electric's official range is quoted as 144 miles (WLTP) with a promise of up to 4.1 miles per kWh. During the launch event we found the car to be less efficient than claimed. After a 50-mile drive on mixed roads the car was showing a remaining range of just 40 miles. The best figure we achieved from the car was 3.3 miles per kWh.
Admittedly, it was cold and we were using the heater and heated seats, but it's worth pointing out that the 144-miles feels a touch optimistic in less-than-ideal conditions. Luckily, the car can recharge from 0-80% in about half and hour, when using a rapid charger.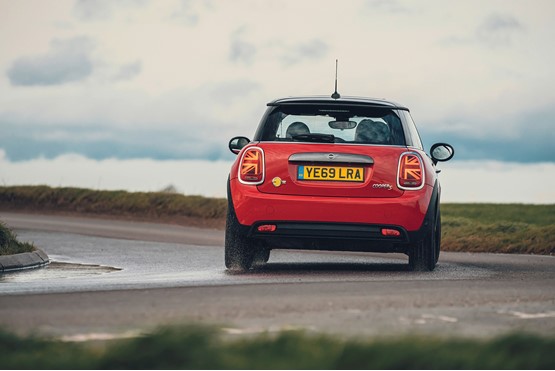 Like all Minis, the electric versions suffer from a firm ride that can become unsettling on poor road surfaces.
In order to accommodate the battery under the car, Mini engineers had to raise the car's suspension by a few centimetres. But, in adding around 145kg to the car's floor, the centre of gravity is lower than that of a petrol Cooper S. The car also achieves a 50:50 weight distribution over its axles.
The resultant drive is enjoyable. It has sharp steering and instant throttle response. Equally, on motorways and A-roads refinement is high. There is little wind and road noise, making the Mini Electric a relaxed commuter.
Powertrain noise is also minimal. There is none of the annoying whine that some other electric cars emit.
Each time the car is started it sets off in the stronger of two regeneration modes. This is our biggest gripe. Switching to a less aggressive mode – trust me you'll want to – is done via a toggle switch on the dash, but, irritatingly, there is no way to switch it off completely.
Every time you lift off the accelerator, the car bucks forward as it tries to recapture energy. While the softer setting does it in less stomach churning way, I would have liked a freewheel mode that allows the car to coast.
While rival cars can cover more distance, they do it in a less stylish, less enjoyable and less prestigious manner than the Mini Electric.

Q&A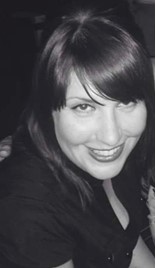 COLETTE HEALY, HEAD OF PRODUCT MARKETING, MINI UK
How important is the Mini Electric to the brand and its dealers?
It's hugely important to us – we celebrated the 60th birthday for Mini last year, and it gave us the perfect way to look back to our humble beginnings in 1959. Mini was conceived as a solution to the environmental issues of the time, which, in the late 1950s, was a fuel crisis. So, it's really apt that 2020 has seen the launch of our first fully-electric car. This is a huge milestone for us and a very proud moment in our history, and we're delighted that the Mini Electric delivers the same character and values the original car did 60 years ago. For our retailers it's even more important, giving them an opportunity to speak to customers who are focused on their journey to buy an EV and also offers previous and current customers wider choice.

Are Mini dealers prepared for the switch to selling electric cars – how have you trained them?
We've taken our retailers on an extensive journey on the way to launching this car. With the Mini Electric, we needed to make sure we gained a true understanding of what advice consumers will need when they're considering living with electric, in addition to the specifics they would want to know about the car itself.
The training journey has taken our retailers through hands-on EV training sessions at the Milton Keynes Experience Centre. It also included a trip to Lisbon for an incredible two days' experiencing the Mini Electric first-hand in the city and on a dynamic 'Parc Cours' handling course (where we saw lots of grins!). Then we held our dedicated 'Volts and Vibes' Electric training event for all retailer staff at our Academy in February. This was alongside ongoing webinars and web-based training.

Are you expecting the majority of sales to go to existing Mini customers or new conquests?
It's going to be a real mix of customers who chose the Mini Electric. We're fully expecting a large number of current Mini owners to switch to the Electric version, especially as we've priced it cheaper than a comparative petrol
Mini Hatch to really demonstrate to customers how much faith we have in this car. We've had the Mini Countryman Plug-in Hybrid for the past few years which has been incredibly popular, so customers have had both a hybrid and combustion engine to choose from already and now we're completing the offering with the Mini Electric which will, no doubt, bring new customers to the brand.

Other than powertrain, what are the key differences between the Mini Electric and its petrol equivalent?
Firstly, its speed – thanks to the accelerator it can be even more responsive, lowering the 0-37mph to just 3.9 seconds. Secondly, we've increased the standard specification so customers really get the most for their money. The Mini Electric comes as standard with our new Digital Dashboard, which displays all the important charging information the driver needs, as well as satellite navigation, Apple CarPlay, Real Time Traffic Information (RTTI) and Mini driving modes, allowing the driver to switch between Green +, Green, Mid & Sport modes dependent on their driving style.

How are you supporting first-time EV drivers in making the switch?
First and foremost, we want consumers to fully understand EV ownership before they take it home. We have a partnership with BP Chargemaster, so customers will be able to add a home-charging wallbox to their order which BP will then install, ensuring they're ready to go from the point of delivery. The Polar Plus network has more than 7,000 charging points across the UK and the Mini Electric comes with both an AC home-charging and AC public-charging cable as standard, removing nervousness of charging on the go.