Family hatchbacks form a key part of Mazda's line-up to tempt private buyers, and the brand appears to be on to a winner with its latest example.
The Mk 4 Mazda3 is the first of a new generation of Mazdas, which are evolving from the Japanese brand's original Kodo design values, which were first revealed in 2010. According to Mazda UK boss Jeremy Thomson, the new values are about 'less is more' and playing with light. The signature look is now about curved body panels, simplicity, and removal of character lines, while inside the car Mazda wants a natural and relaxed driving position, simple functionality and optimal vision for the driver.
Read AM's interview with Mazda UK managing director Jeremy Thomson
A simple example of this is the standard-fit active driving display, which is projected in front of the driver so they can read critical information such as speed, traffic signs and navigation directions without taking their eyes off the road. Another example is the wipers, which constantly adjust their operating angle in tiny increments to clean right to the edge of the windscreen, and tuck down beneath the bonnet when not in use.
Mazda3 rivals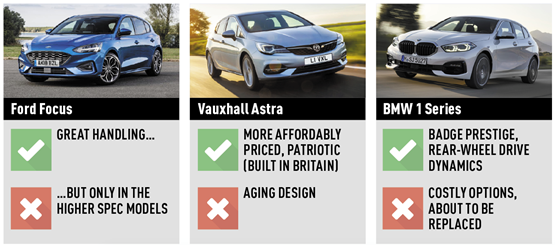 Such enhancements will require outlining to prospective buyers on their test drive, to ensure they appreciate the thought Mazda's engineers have given to this car. There's plenty to admire, for this is no rental-spec Hyundai i30. No model is priced under £20,000, but list price matters little against a monthly payment mindset, and for as little as £249 a month, the standard Mazda3 spec includes LED headlamps and adaptive cruise control, a 7in colour instrument panel and 8in central display screen with navigation and Apple CarPlay/Android Auto, keyless entry and parking sensors. And that head-up display.
Since the launch in May, Mazda dealers have been able to offer a choice between a 122PS 2.0-litre Skyactiv-G petrol or a 116PS 1.8-litre Skyactiv-D diesel and manual or automatic transmission across four trim levels – SE-L, SE-L Lux, Sport Lux, GT Sport. The flagship GT Sport Tech specification is exclusive to the Skyactiv-G.
Given the declining demand for diesels, the mix is heavily weighted towards the Skyactiv-G, which Mazda estimates will account for 70% of registrations. It has cylinder deactivation to improve fuel economy, and both engines have
mild-hybrid systems powering some of the car's electrics.
Mazda3 press reviews

Once inside, buyers should also notice the attention Mazda has paid to the cabin's fit and finish, and to reducing noise and vibration – with the petrol unit under the bonnet, this car is particularly quiet when cruising. And this is the Mazda3's forte. Both engines are fine, but unlikely to excite many customers in the way that this car's sharp handling could.
But there is good news regarding that. A third 180PS engine choice will be added this autumn – the new Skyactiv-X. It has new technology which uses 'spark-controlled compression ignition' to provide what Mazda describes as the high levels of response and acceleration associated with turbodiesels yet with emissions and fuel consumption better than petrol power has achieved before. Sales staff will receive specific training on how to explain the features and benefits of the new powertrain ahead of its introduction.
A four-door saloon version of the Mazda3 will also join the range in October, but this is likely to account for barely one in eight sales.
In an era when crossover SUVs are winning many buyers and earning a premium for carmakers, the new Mazda3 is evidence that the traditional family hatchback is not finished yet.
Q&A Jeremy Thomson, managing director, Mazda Motors UK
You said the outgoing model was in a very competitive marketplace. Did you hint that it could have done higher sales than it did?
Bluntly, when you're competing beside Golf and Focus, you need something that truly stands out. While I wouldn't criticise the outgoing model in any way, there are things that this (new) car does in a different way. We have engineered it and designed it and invested in it at a level that's far beyond the outgoing model. Customers who drive the current Mazda3 and get into this car will see the difference instantly – the dealer network certainly did. They see it as a step-change in what we offer. The interiors are chalk and cheese from where we have been in the past. It's a very different environment.
So the network is ready for this car?
The third-generation Mazda3 from 2014 closed out just post-WLTP, and we've had a brief gap between that model and this one.
Having spent two weeks with the dealer network in training on this car, they really see the power of explaining how we have stepped up considerably from the range we have had historically. They left more enthused than I've seen over the past 20 years. This is probably the most important car launch we have done in 10 years, probably since the RX-8 even.
Aren't dealers worried about explaining Skyactiv-X to customers?
Skyactiv-X engine comes in October, and the expectation is for torque to be 30% up and fuel consumption to be down 20% on the previous petrol Mazda3. The way we've explained it to the network is to think of Mazda2 economy and MX-5 performance. It's going to be a really interesting time. Will consumers understand it? Is it easy to communicate what's in it for consumers? That's an entirely different subject, but what they do care about is do they get the extra power, do they get lower emissions, what's the fuel economy benefit?
Who are Mazda3's target customers?
It's very hard to say. In the past, we've proudly sold to the non-premium, and we've competed well. But actually on the last couple of models we've caught some premium, going by the part-exchanges. It'll be very interesting to see how this actually plays out.
I'm confident that this car is going to bring a very strong conquest opportunity to the brand. We saw it most significantly with the original CX-5 launch, which brought in a number of customers, typically from the premium brands. I think this car will similarly attract customers from a broad spectrum, rather than just the mainstream C-segment.