By 2020, most premium SUVs will no longer be diesel-powered and the fuel type doesn't look too healthy in other segments either.
Overall, diesel sales fell by 18.4% YTD, with diesel taking a market share of 27.7%. Numerically, the largest segment for diesel models is the C-segment (small family cars), due to its sheer size (42.7% of all diesels are sold in this segment). It has seen a 16.3% fall in diesel sales, with diesel now taking a 31.4% share. Even in the premium SUV segments (from Land Rover Evoque up to Range Rover), diesel's proportion has dropped to 57.4% YTD from 69.8% in the same period last year.
By next year, the only significant segment that is likely to have a majority of diesel sales is Executive (e.g. BMW 5 Series). This partly reflects the inherent conservatism of the buyers in this sector – after all, if they were not conservative, they would probably have moved to the premium SUV segment by now.
The fact that some Euro 6 diesels are now almost as clean as petrol engines has been completely lost in the general (and incorrect) noise about diesels being intrinsically bad, diesels being forced out of London, diesels being worthless in five years' time, etc. People have a limited amount of attention for complex issues, and the attitude of "Diesel? Just say no", saves them a lot of thinking time.
At the level of overall segments, the car market is as concentrated now as it was in the early 1980s, when supermini (Fiesta), lower medium (Golf) and upper medium (Sierra) took about 75% of the market. So far this year, the supermini, lower medium and premium SUV segments took a combined total of 80.6%, up from 78.3%. In the intervening 35 years, MPVs have risen and fallen, compact executive models such as the BMW 3 Series have risen and are falling, while upper medium cars have just fallen. A driver of a BMW X3 would not like to be told that they are driving the modern equivalent of a Ford Sierra, but, in market terms, it would be largely true.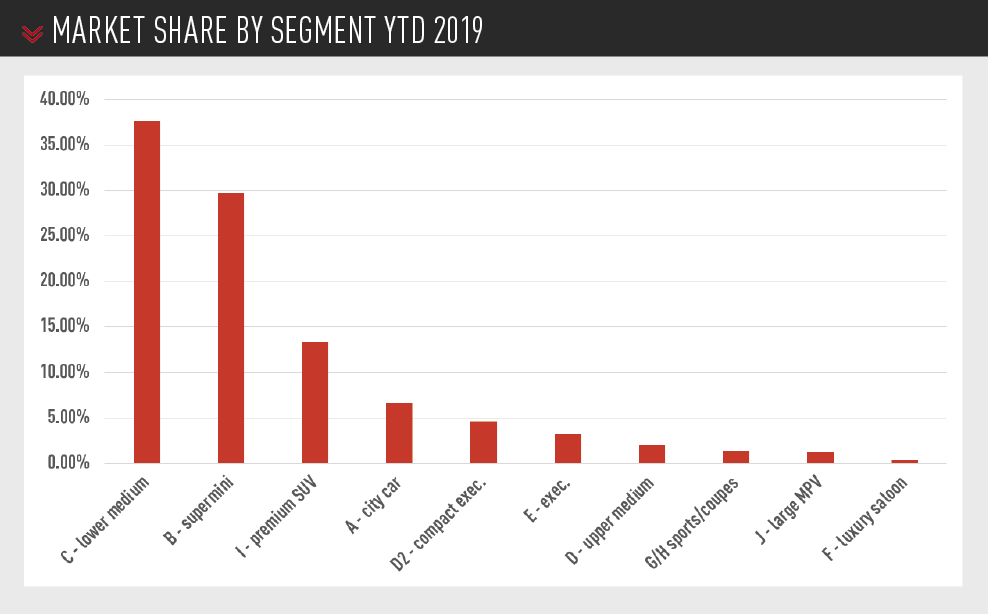 It is remarkable, that in the era of almost limitless consumer choice, we are still focused on three basic vehicle segments. Other segments are becoming ever more peripheral – YTD, city cars have fallen from 7.1% to 6.6% (the segment was at more than 10% in 2010), large MPVs have fallen from 1.4% to 1.2% (for many years they hovered around 1.8%), and sports cars/coupés have dropped to 1.3% from 1.6% (they were stable at about 3% for the first decade of this century).
At a manufacturer level, Ford continues to look nervously over its shoulder at VW. The gap between the two is now below 1.5 percentage points (10.1% YTD for Ford vs. 8.7% YTD for VW). The class that sums up the fight is lower medium crossovers – the gap between the Kuga and the Tiguan is 400 units YTD, down from 4,500 in the same period last year.
In third place, Vauxhall managed to increase YTD share to 7.6% from 7.4%, but it is only 1,000 units ahead of Mercedes, which is growing strongly.
Among the other top 10 brands, Kia has made the most notable progress. It has overtaken Nissan, and is 6,000 units ahead of parent, Hyundai. It is nearly 10 years since Kia set a long-term goal of 100,000 registrations in the UK, and it is on target for almost exactly that figure in 2019, barring any sudden downturn.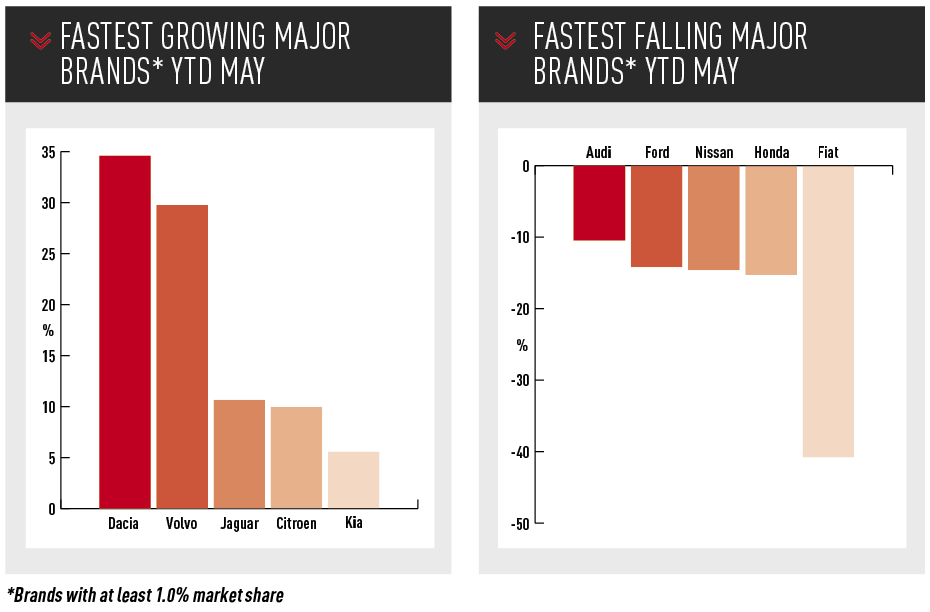 Troubled JLR has some good news, in the UK at least. Land Rover is up to 3.4% share YTD (from 3.3%) and Jaguar is up to 1.6% market share YTD (from 1.4%). All Land Rover models are either stable or rising, except the millstone that is the Discovery, whose sales fell 28.4% YTD. If you are wondering how Land Rover could post a market share increase when one of its best-known models fell so sharply, the answer is that Discovery sales were already pretty small in 2018. In fact, the Range Rover is currently outselling the newer, more affordable Discovery – that is almost like BMW selling more of the 7 Series than the 5 Series.
At Jaguar, the focus is on SUVs and crossovers – only 29.7% of Jaguar sales come from saloons. That is surely not enough to justify three saloons (XE, XF, XJ) in the future. The XE is a good car, but it seems destined to meet the same fate as the unlamented X-Type. Virtually all Jaguar's sales increase is thanks to the new I-Pace, which is a sort of anti-Discovery – a new model that is perfectly judged for its market.
In fact, Jaguar is now neck-and-neck with Fiat in market share terms (although a long way ahead in terms of revenue). At one time, that would have been cause for celebration, but Fiat and its siblings are in desperate trouble. Fiat is down 40.8% YTD, and may be overtaken by Dacia in the UK. Alfa Romeo is down 27.6% and, with a market share of 0.15%, you have to wonder if Alfa will follow Lancia out of the UK. Maserati's attempted rebirth with the Ghibli and Levante appears stillborn, with registrations down 27.7% and just 450 units registered YTD. Indeed, it is being outsold by Ferrari (481 units YTD), which is a terrible return on a big investment – Maserati was supposed to compete head-on with the upper end of ranges from Audi, BMW and Mercedes. The global sales target for 2018 was 75,000, but it failed to reach even half that. And Jeep is immune to the growth of SUVs – registrations fell 7.1% and market share is just 0.25% YTD. Even the Discovery sold more. David Francis