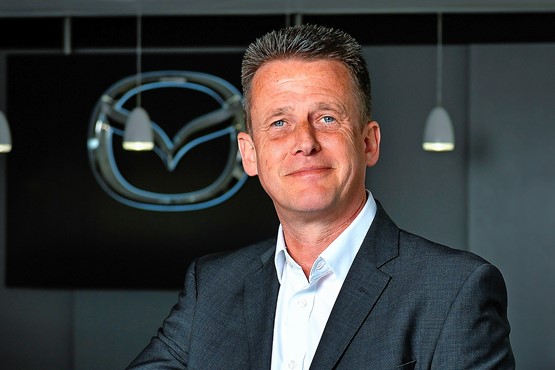 For every new car Mazda sells in the UK, BMW and Audi each shift almost five, and Vauxhall almost six. But it must be heartening for long-reigning Mazda UK boss Jeremy Thomson that his retail network is 24% happier than BMW's, 28% happier than Audi's and a huge 42% more smiley than Vauxhall's.
That's according to the most recent Dealer Attitude Survey results for overall brand satisfaction from the National Franchised Dealers Association, at least.
On satisfaction with profit return alone, Mazda fares even better. BMW's network has voiced a dire expectation of future profit return – its score of 3.2 out of 10 placed it on a par with Alfa Romeo and Citroën, whereas Mazda dealers' gave their franchise a 7.0 – the sixth-highest.
While Mazda lost its fourth place in the average NFDA survey rankings, Thomson said he's "not too hurt by it" – the brand lost just a handful of points (nine in total), but was narrowly overtaken by Subaru, Seat, Suzuki and Mercedes-Benz, which all improved.
"Look at the metrics, they closely follow dealer profitability. Every single category was around that level – we didn't crash out on one area, but it's reflective of the relative position of some other manufacturers' attractiveness to their networks at that moment."
"For a brand that's around 17th in the market to be seventh in the NFDA survey, I see that as a positive rather than ground lost."
He said the NFDA survey is interesting and an important reference point, and the directors of Mazda UK encourage dealers to complete it, but Mazda also does its own dealer relationship survey.
Thomson said the true measure for him is the relationship with dealers, and the "visceral" feedback they share with the entire management team on their six-monthly regional roadshows.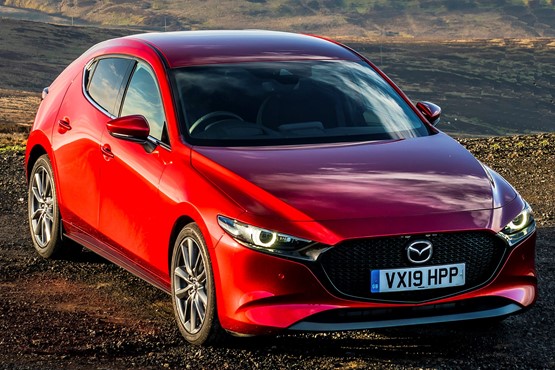 At the last one, in February, it shared with dealers the Mazda3 – the first of a new generation of Mazda products (read AM's review of the Mazda3). Thomson said he also told dealers that the journey ahead may not be for everyone, because Mazda will be asking more from some dealers, to match its aspirations now its product quality is being raised. That doesn't mean more CI changes, but it does mean having minimum quality standards, outstanding processes and people.
Some dealers may decide against coming along, he said. But he won't go so far as to cull swathes of the network, which now numbers 129 dealerships – a marginal drop from the 132 when AM last profiled Mazda in 2017.
He does expect Mazda dealers to raise their game in impressing customers. He has previously stated that many manufacturers have chased online retail and digitalisation of the sales process and left behind the idea of a bespoke service. He believes that leaves an opportunity for small, nimble brands.
Since 2015, Mazda has trialled MyWay, an alternative way for the brand to get exposure in areas where operating costs are high, such as central London. Remotely based "brand champions" take the new cars to where their prospective buyers are, explain the features and benefits, and provide test drives. Any sales achieved are fulfilled by the nearest dealerships.
Thomson said some of the lessons learned from MyWay – such as about customer engagement and services provided at a prospective buyer's home or workplace – are now being adopted by parts of the dealer network, including
RRG Group in Greater Manchester and Hendy Group in Tunbridge Wells.
One such example is Mazda's guidance on how you find, select and reward customer-facing staff for a softer sell. MyWay 'brand champions' operating in London don't earn volume-based commission. Thomson said he was keen for the network to experiment as the industry has had "quite a mechanistic" approach to car sales, "and the evidence is that many customers don't like it". In London, MyWay achieved 400 car sales from 2,000 test drives.
Why Mazda prefers omni-channel to online
Mazda is not one of the small number of brands that have begun selling new cars online in the UK, such as BMW, Hyundai, Mini, Peugeot and most recently Volvo. Thomson said he gives greater priority to being omni-channel, so that customers can "flip" between digital and physical and come into a dealership that is aware and ready to help them complete their purchase.
Equal priority is given to doing business with his 80-90 franchise investors. Thomson believes the stability of its senior management has brought benefits, in terms of the mutual understanding and frank conversations between the 80-90 franchise owners and the brand.
"What Mazda must offer franchisees is being easy to do business with, consistent delivery, and great product for now and the future," he said.
Thomson has been managing director of Mazda UK since the 2008 financial crisis. Peter Allibon, the brand's sales director, joined that same year. Marketing director Claire Andrews has spent 17 years with the brand; the past 10 in her current post. Customer service director David Wilson-Green is also 17 years in, and cut his teeth as a zone manager in the field, supporting 12 dealers.
Knowing each other so well means they work together very effectively, said Thomson. The length of service of the management team, and the open and honest dealer forums, are critical parts of being easy to do business with, he said . "It's a partnership of equals – both have to deliver, both have to commit."
When AM interviewed Thomson in May, he said the retail network's average return on sales was 1.4%, while the top quartile were making just above 3%. Some of that success is due to the network being successful at selling higher grade cars – with the old model Mazda3, about 50% of demand was for the Sport derivative, for example. He said he "wouldn't be surprised if the mix is very rich again, with at least 50% Sport and GT derivatives" with the new Mazda3.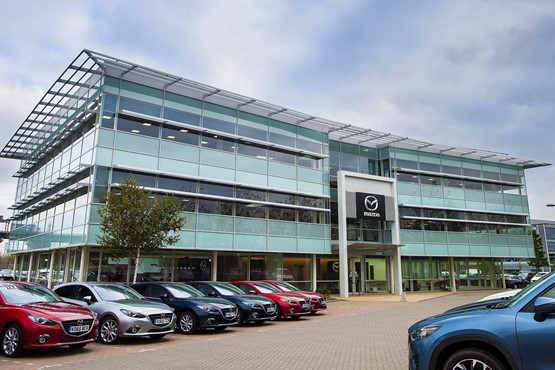 "We don't begrudge the dealers for making some money, because they've just made some big investments. We've come through a period of revitalising the entire showroom design, and it's been perfect timing because it's now 100% ready for the introduction of this new generation of cars. So they'll secure every penny they make out of the new cars."
All Mazdas are built in the Far East and have to be shipped to the UK, so the brand's strategy is to keep the range simple, have a handful of derivatives and include desirable equipment as standard to avoid lots of options and complexity.
"That's quite important when you have multiple car lines in a manufacturer of modest scale. You're thinking about dealers' stocking costs, complexity of the order book – there are many reasons why it's a sensible option for us. We try to provide a very compelling reason for customers to trade up through the grades and make that affordable.
"Many manufacturers focus on having parity of monthly payment to be successful, but that is just not true with our customers. We see people willing to trade up to the next specification because it's important to them and they can afford it."
He is confident that the new Mazda3 car is going to bring a very strong conquest opportunity to the brand, as Mazda saw most significantly with the original CX-5 launch, which brought in a number of customers, including from the premium brands. He thinks this car will similarly attract customers from a broad spectrum, rather than just the mainstream C-segment.
The CX-5, launched in 2012, continues to sell strongly without significant marketing, said Thomson.
"In the space of six months, this brand is going through a remarkable period of its history," he said. Following the new Mazda3, the CX-30 compact crossover will launch at the end of this year. This will help Mazda to compete in the very broad C-SUV segment against the likes of the Nissan Qashqai and Vauxhall Grandland X.
Mazda: The CX-30 'is a very important car'
Thomson said crossovers are undeniably important, accounting for about 50% of what Mazda currently sells. Adding a third, the CX-30, to sit between the £19,000 CX-3 and £25,000 CX-5, will bring more sales opportunities, he added: "The network cannot wait for it to arrive in showrooms. It's a very important car."
The CX-3, launched in 2015, is based on a Mazda2 platform, and Thomson described the CX-30, which is based on the new Mazda3, as "in the sweet spot for us". He said it's vital for Mazda's marketing to ensure the CX-30 is seen as a different, complementary product in its range.
Mazda is also making powerful claims about its latest powertrain technology, Skyactiv-X. Due to appear first in the Mazda3 range this autumn, Skyactiv-X is a petrol engine that uses 'spark-controlled compression ignition' to deliver high levels of response and acceleration yet with emissions and fuel consumption better than petrol power has ever achieved before.
Why Mazda is sticking with internal combustion
Mazda, which has remained convinced there is more efficiency to come from internal combustion engines (ICE) while others develop electric vehicles, has described Skyactiv-X as a fusion of diesel and petrol characteristics. The brand will offer electrified vehicles in the future – a mild hybrid car and battery electric car are on the way, and a plug-in hybrid from 2021 – but it expects ICE powertrains, including hybrids, to still account for almost 85% of all global new car sales in 2035 and still more than 50% by 2050.
"Given the energy source and how electricity is generated in each region of the world, we believe multiple solutions for power source are needed if we want to reduce CO2 in an optimum way for each region," said director and senior managing executive officer Kiyoshi Fujiwara.
Mazda's goal is for a high-quality, profitable 2% global market share rather than pushing for growth at any cost (Mazda UK's market share in 2018 was 1.7%). While its factories in Asia are operating at near-capacity, its Mexico plant is being retooled to build SUVs as well as small cars, and a joint venture with Toyota, expected to launch in 2021 in Alabama, USA, will add 150,000 units of capacity for its North America market, potentially leaving more production slots elsewhere for other markets.
Production constraints have helped to preserve residual values for the brand – Thomson said the feedback from the trade guides has also recognised the improved quality of its newest products – but also leaves independents battling the network for cars in the auctions.
Thomson said: "I'd love to supply them with a few more used cars. There's a greater demand for quality Mazda used cars than there is availability, and that is supporting strong residuals. But operating at near plant capacity means there is no desire to manufacture cars to sell at a loss into a distress channel. It's a good position to be in."
>>The full Dealer Attitude Survey results are available from the NFDA