Over the past 30 years, the Renault Clio has consistently been the best-selling model in its class, with more than 15 million sold across Europe. However, it has never really found favour with UK buyers, who preferred the Ford Fiesta and Vauxhall Corsa.
Launching this autumn, the fifth-generation Clio sits on an all-new platform, making it lighter, safer and more technologically advanced.
Externally, it bears a strong resemblance to the outgoing model, but still looks fresh alongside boxier rivals.
Inside, the cheap-looking (and feeling) dashboard has been replaced. It is dominated by a 9.3-inch, portrait-mounted touchscreen, which provides audio, navigation and smartphone connectivity.
The infotainment system's glossy screen has high-resolution graphics and a much slicker operation than we have previously seen in a Renault. It is fully connected too, so customers can access live traffic information, weather and fuel prices. A 10-inch digital instrument cluster is available on higher-spec models.
Soft-touch materials are used generously, giving the car an edge over its competition and improving passenger comfort.
The engine line-up starts with a 1.0-litre three-cylinder 75PS unit (SCe 75). A turbocharged version delivers 100PS (TCe 100). There is also a four-cylinder petrol with 130PS (TCe 130) and an 85PS 1.5-litre diesel (dCi 85).
Renault predicts the TCe 100 will be the most popular model among UK buyers.
Next year, an E-Tech hybrid model will join the line-up. Specifications are yet to be revealed, but Renault said it will be able to spend 80% of its time operating on electric when in the city.
The TCe 100 should suit the needs of most buyers. It can accelerate from 0-60mph in less than 12 seconds and promises up to 64mpg.
During our test, we were impressed by the engine's refinement. It is happy to cruise at motorway speeds and provides good responsiveness for town driving.
The more powerful TCe 130 uses a seven-speed twin-clutch automatic transmission, giving it a more relaxing drive than the five-speed manual in the lower-powered car.
The diesel promises to be the economy champion, with claims of up to 78mpg. However, its meagre power output means it may be too slow to tempt buyers.
One area where the old Clio failed to compete with rival cars was handling. In the new car, things are very different. The steering is much more direct and can be further enhanced by using the 'sport' driving mode.
Firmer suspension gives a more engaging drive, giving the Clio a driving experience close to the class-leading Ford Fiesta.
On rougher surfaces, the new Clio doesn't absorb the bumps as well as the old car did, but on balance the smoother ride and firmer handling is a welcome improvement.
Prices start at £14,295 for the entry-level SCe 75, which is £1,000 cheaper than the new Corsa and £1,700 less than the Fiesta.
Three trims will be offered: Play, Iconic and RS Line. All models feature autonomous emergency braking and LED headlights.
Adaptive cruise control and lane centering will be offered as part of a driver assistance pack, providing semi-autonomous functionality.
Renault needs a car to jump-start its sales in the UK, and the Clio is a breath of fresh air in the brand's line-up.
Pricing that pitches it below its key rivals and a new generation hybrid due in 2020 could make it a top contender in both retail and fleet.
Q&A: Vincent Tourette, managing director, Renault UK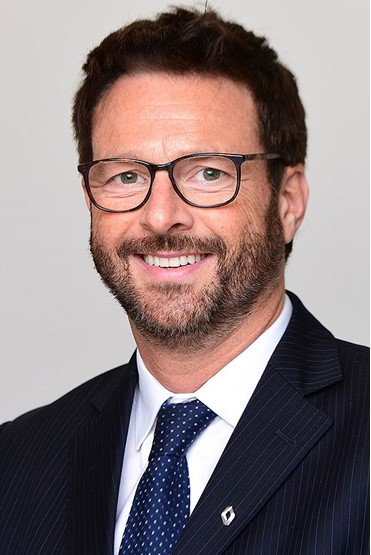 Where is Renault UK's performance this year in comparison with targets?
We are on track with our ambition this year. Renault, more or less, has
maintained its volume. We have grown with Dacia. Overall, as a group, we are growing. More importantly, we used 2017 and the beginning of 2018 to restore the quality of our business in the UK – it had been impacted a lot by Brexit and dieselgate.
Will you exit non-profit business?
We are careful with our channel balance, which was too unbalanced. I would not say we have exited the less profitable channels, but we have a much better balance between them. We want to avoid deals that do not lead to loyalty. Retail business and core fleet are more loyal in the long term. They are not necessarily the most profitable, but they are more sustainable and that is what matters to me.
Has the switch from four-year warranty back to three affected sales?
I have not noticed an obvious consequence. In the end, it was a trade-off between the investment it was requiring and the awareness it has created. Unfortunately, the awareness was not there.
From a customer perception point of view, we have had so many people coming back to us saying they were not aware that they had a four-year warranty or other combined services.
We invested, instead, in the Easy Life strategy, giving better price positioning and simplification of the range.
What percentage of dealerships are using your new format?
We have more than 50% today, the plan is to target 100% by the end of this year. We are on track with that.
How many sites do you have and what is your ideal number?
We have 152 at the moment. We have to consider coverage and capacity. Our coverage today is not among the strongest, but our competitors tend to have similar targets. What we lack is the capacity. Dacia is growing rapidly, we have more and more cars on the road. To maintain these cars in aftersales, we have to grow that capacity.
Will you open solus Dacia sites?
We don't see that. It's not the strategy. The business model is for Dacia to work together with Renault. The margin at Dacia is very low, the interest is also very low. If we broke the model, we would have to have higher prices.