Fans of Honda's Type R performance brand might be dreading the loss of its high-revving soundtrack at some point in an electrified future, but its volumes have already slowed to a crawl. And it has far more to do with supply constraints and stringent CAFE (corporate average fuel economy) regulations than any lack of appetite for the new £46,995 flagship hatchback, according to Honda Motor Europe product and business planning manager Andrew Winfield.
The resulting volume outlook means registrations of the sixth-generation Civic Type R – the brand's most powerful frontwheel drive car ever – will be in the "hundreds rather than the thousands".
Just 125 cars were headed to the UK for an initial batch of deliveries in January, with order books re-opened in March.
Speaking at the new Type R's UK launch at Thruxton Race Circuit, Winfield said premium and prestige models are at the most resilient end of the performance hatchback segment, and the sixth-generation Civic Type R is more closely aligned than ever with rivals like the MercedesBenz A35 AMG (£45,930-to-£50,680) and Audi S3 (£40,705-to-£48,455).
A representative PCP finance offer makes the Civic Type R available for £499 per month over a 37-month term with an £11,000 customer deposit.
Dealer-fitted £3,265 Carbon (adding the exotic material to the spoiler, centre console and door sills trims) and £1,110 Illumination Packs are the only upsell opportunity for retailers aside from the £650 paint options beyond the standard Sonic Grey Pearl.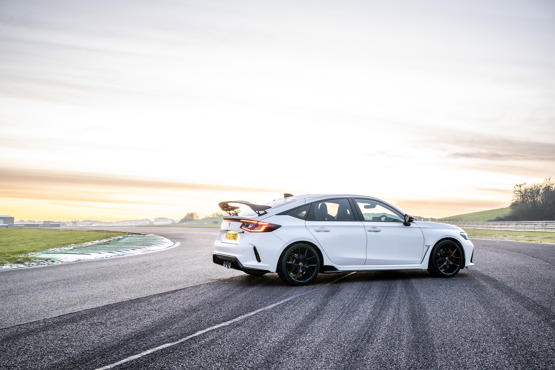 At 37mm longer and 15mm wider than its predecessor, the new Civic Type R is more habitable than before, with a 35mm increase in wheelbase adding stability and the impressive rear legroom seen in the Civic e:HEV.
In Type R form there are just two rear seats, however, with the space between taken up by cup holders. As also seen in the standard car, the bodywork's aggressive creases have gone, the Type R version swapping a mammoth picnic bench of a rear wing with something far more subtle.
Softer styling aside, this is a sharper, faster Type R. Upgrades to the previous Type R's two-litre turbocharged petrol engine swell power from 320PS to 329PS and torque from 400Nm to 420Nm, resulting in 5.4 second acceleration to 62mph and a 171mph top speed. Quoted average fuel economy is 28.7mpg, with CO2 emissions of 186g/km.
Honda's hardcore of performance car followers might like to know that a revised turbo, air intake and straight exhaust have contributed to sharper throttle responses. Weight has also been shaved off the Type R's flywheel and the layout of its six-speed manual gearbox improved to deliver slicker cross-gate shifts.
Honda has also refined its rev-matching system to deliver seamless high-speed downshifts.
Add discreet aero features which generate 900 newtons of downforce at 200km/h and there is no doubt that this is a new high watermark for the Civic Type R. Our on-track experience – in pouring rain – demonstrated that the new Type R's lower centre of gravity and tighter suspension ensure it serves up more of everything. More pace, accuracy and engagement, with excellent steering feel helping to instil driver confidence.
A track-primed R+ mode prioritises the rev counter and gear selection on a configurable instrument display. A new suite of software dubbed Log R will also appeal to the gamer generation, revealing the level of available tyre grip being exploited, the amount of G force being generated in each cornering phase, braking efficiency and lap times to deliver analysis that results in a score to inform improvements. Customers can dial down the Type R's intensity into Normal, Comfort and Individual modes.
On the road there is the reassurance of the Honda Sensing suite of safety tech introduced on the Civic hybrid. This includes lane-keeping assistance and adaptive cruise control which operates to a standstill in traffic. As well as the technology, the latest Type R follows the standard Civic e:HEV in ramping up cabin quality.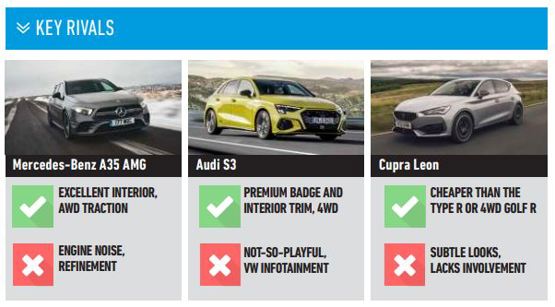 Furthering themes seen in the new HR-V, the Civic offers a stylish and tactile cabin that's up there with the best of its class rivals. And, while the Type R always rides firmly on the open road, the added space, improved design and materials are a boon for passengers.
A mesh grille spans the dashboard, giving the impression of extensive ventilation and adding a styling feature that emphasises the width of the car. Toggle controllers open, close and move the vents within. The Civic's broad centre console houses button-operated gear selectors and a wireless smartphone charger.
In all, it is clear that Honda has built on the strong foundations laid with its impressive new Civic e:HEV and added prodigious performance hatchback know-how to create its most polished and desirable Type R to date.
It's a crying shame for the brand's retailers and customers alike, therefore, that it also looks guaranteed to be the rarest.