The Honda e:Ny1 is the second fully electric vehicle (EV) introduced by the Japanese brand, this time targeting the European compact family SUV segment.
It is also the first model to be sold employing the manufacturer's "agency-lite" approach - a first foray into selling direct to customers. Honda UK's head of automobile Rebecca Adamson told AM earlier this year that customers who still want to visit a dealership to buy the new electric car will actually see no difference.
Honda said it had researched all strategic options when it came to business model: from adopting a full franchise position to a full agency position, and after consulting its franchisees, announced plans to develop the ersatz agency model from late 2023 very much as a dry run for the entire Honda new car line up to be moved eventually to direct-to-consumer transactions.
The manufacturer has also been blunt about insisting that with each of its investments in battery electric vehicles - and with profitability still a decade away - it has been forced to focus on taking out cost. Certainly, Honda has not had as broad a new car choice in UK showrooms in recent memory. Its Jazz, Civic, HR-V, CR-V and Honda e cars has now been joined by the ZR-V, the electric e:Ny1 and the next generation CR-V in hybrid and plug-in hybrid forms - almost doubling the established line-up.
Honda has therefore purposefully pursued sustainable profit-making allowing its retail network to determine supply volumes and after a six-year programme of rationalisation, it currently counts 121 operating retailers which will be dropping to 100 over the next 18 months as it seeks optimal representation, including multi-brand sites and authorised repairer locations.
The time taken for the manufacturer to move to the full agency approach will be interesting to watch as will the success of its electrification ambitions.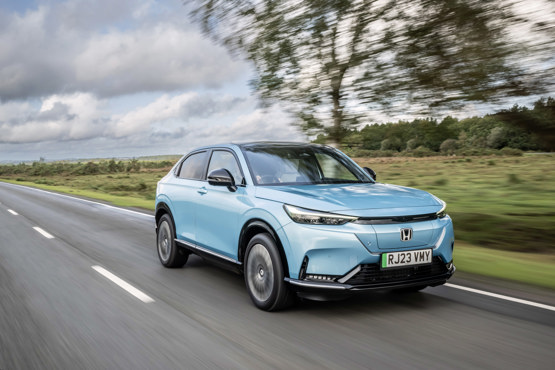 The Honda e:Ny1
The e:Ny1 employs Honda's newly-developed e:N Architecture F front-motor-driven platform - which will become the foundation for all its B-segment EV family going forwards. It does however bear some resemblance to its HR-V hybrid cousin with its similar coupé-like roofline, measuring 1.584 m in height, 1.790 m in width, slightly longer at 4.387 m, with a 2.607 m wheelbase.
When it comes to colour options, customers can choose from Aqua Topaz, along with Platinum White, Crystal Black, Urban Grey, and Vermilion Red at launch. If you're into your brand identity, you'll see that the e:Ny1 also sports Honda's new EV identity - a white 'H' badge on the front serving as a unbridled visual hurrah to electrification, plus a new sans-serif typeface for the brand name at the rear to herald in the new era for the manufacturer.
High-quality cabin materials come in black or light grey synthetic leather, depending on exterior colour. The Advance grade models features smart stitching, while the Elegance grade seats come in black only, complementing the version's light grey roof colour. The car also comes with stylish 18-inch alloy wheels as standard.
The e:Ny1 has a maximum boot capacity of 361 litres – good for its size - which increases to 801 litres to the window line when the rear seats are folded down, and up to 1,176 litres when loaded to the roof.
The new centre console design with gear selector buttons is laid out effectively as is the electronic handbrake switch and wireless charging pad. Honda's drive selection system is unique and requires a pincer-like movement which could assist less dexterous drivers – although, saying that, we did find the bonnet latch set very far back which could lead to some frustrated grappling. Flush door handles add to the sleek profile and while they are becoming aerodynamically iconic, we wondered whether all passengers would find them easy to use. Swing and roundabouts…
Honda says the arrangement of the electric drivetrain components, including the placement of the battery allows it to offer more cabin space. The Advance version complements that feeling of spaciousness with a panoramic roof that maximises daylight. The detachable two-piece rear sunshade proved interesting, however. Honda says by keeping the operation manual, it eliminates the need for electrical components, which maximises rear headroom and the glass area above. When unlatched, the said sunshade dropped alarmingly to fall inches from the rear passengers' face. A worthy ambition but potentially problematic at the same time – especially with bored young children in the back.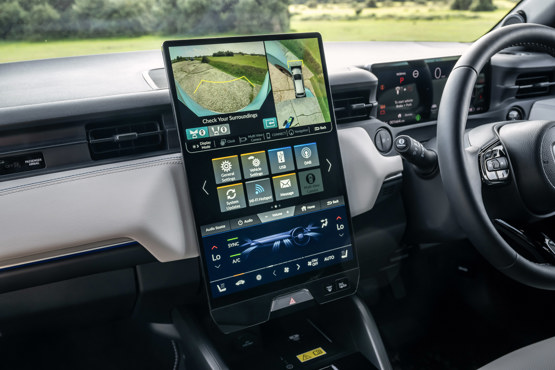 The interior has been thoughtfully designed. It is understated in terms of stand-out features although the central 15.1 inch touchscreen which is divided into three zones: air conditioning controls at the bottom, information and menu displays in the middle, and maps/smartphone mirroring at the top is the pièce de résistance.
The system enables simple integration of third-party apps, including wireless Apple Car Play and wired Android Auto, while in-car Wi-Fi allows all occupants to stay connected on the move. The infotainment system is highly intuitive and easy to use. Interestingly, the demister buttons remain as physical buttons underneath the console.
Honda says the 10.25-inch digital instrument panel epitomises the vehicle's clean and uncluttered design approach although we found the bolt-upright angle of the display unnerving at first although this did not seem to affect visual referencing during actual driving.
Charging & Range
The latest battery management technology provides an impressive WLTP range of 412km (256 miles), with fast charging capabilities enabling a 10-80% charge in around 45 minutes using a DC rapid charger and CCS connector. This charging method also allows 100km of range to be added in just 11 minutes and when using a standard domestic AC charger, 10-80% of total charging capacity can be achieved in six hours.
One standout feature of the e:Ny1 is its unique status indicator system that allows you to check charging status at a distance as a broad black strip comes to life just below the car's bonnet line. The horizontal strip softly throbs from left to right during the charging operation, creating what Honda calls a 'digital heartbeat' effect.
Once charging has finished, the strip remains illuminated to indicate that the battery is fully charged and will flash red to signal any charging errors. Once charging is complete and the cable is unplugged, the car bids a farewell tune and sends the driver a charming 'wink.' Neat - and something that could make charging a less stressful experience for the novice EV driver.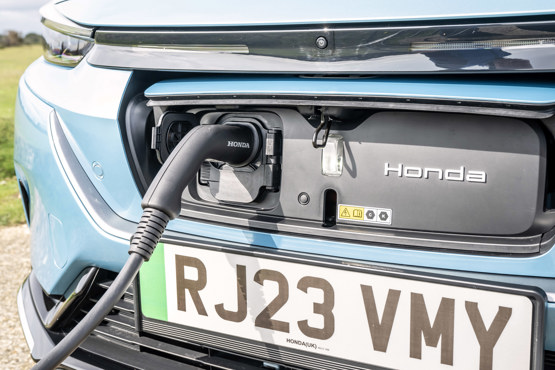 The e:Ny1 uses Honda Connect for easy charging, whether it's at home or at a charging station. This can be done from inside the vehicle or remotely using the My Honda+ smartphone app which provides valuable information such as the remaining charge, charging status, and a charging timer.
It offers a wide array of features, enabling users to lock, unlock, and start their car. Climate control settings can be adjusted and scheduled so the car is toasty or chilled before you start driving. The app also allows drivers to monitor their journeys, check their car's location, and share their destination with friends and family.
Safety Features
The Honda e:Ny1's central touchscreen, is home to the navigation, clock and camera displays, which are prioritised at the top as the most prominent location in the driver's line of sight while the middle tier hosts the 'Driver Assist' zone, which presents the vehicle's status including useful vehicle apps and settings in a simple-to-navigate format.
The e:Ny1 sports the existing Honda SENSING suite of safety technologies as standard, enhancing all-round collision performance and its additional driver-assist systems incorporate some pretty smart camera and sonar technology.
The front camera system is a wide-angle camera with an impressive horizontal viewing angle of 100 degrees. Working with a high-speed image processing chip, this system significantly enhances object detection accuracy for safety features like the Collision Mitigation Braking System. In addition to the front camera, there is another camera positioned at the rear as well as one on each door mirror, providing a comprehensive 360-degree view on the Advance version.
Complementing the camera-based system are twelve sonar sensors discreetly placed around the vehicle: four on both the front and rear bumpers and two on each side, which collectively work in tandem to enable the e:Ny1 to identify road markings, road edges without lines, as well as other road users.
Honda's safety strategy also extends to the high-voltage electrical components automatically deactivating in the event of a collision.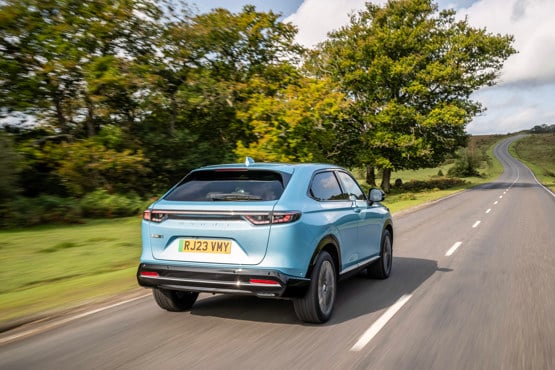 Driveability
As a compact electric crossover, the e:Ny1 performs well - exactly what you would expect from Honda's trademark dependable quality. Its ride is somewhat firm, typical of heavy electric SUVs – although Honda reckons it has shaved off a significant amount of weight when compared to similar EVs in its segment.
The integrated three-in-one motor, housing the power drive unit, electric motor, and transmission, weighs in at just 77.4 kilograms and is positioned over the front axle. The high-performance 150 kW motor claims a 92% efficiency, delivering 310 Nm of torque equivalent to 2,788 Nm at the wheels which accelerates the car from a standstill to 100 km/h in 7.6 seconds, achieving a top speed of 160 km/h.
To counter the jolting acceleration found in some electric vehicles, Honda has fine-tuned the e:Ny1's acceleration giving a perky yet stable driving experience through mapping the car's acceleration to match that of a petrol car. After driving the car in each of its performance modes, there was little evidence of body roll and the driver was able to easily feel the centre of gravity. Braking was intriguing especially in Sport mode as the e:Ny1 seemed to lack the tactile feel that Honda car traditionally offer.
The e:Ny1 offers three pre-configured driving modes: Sport, Normal, and Econ Drive to tailor the car's performance settings to balance driving dynamics and efficiency. Econ mode focuses on energy conservation by reducing throttle response and intelligently managing auxiliary systems such as air conditioning and the heated seats and steering wheel, allowing for more economical driving. We found the throttle response soft in this mode, and the lack of intimidation here would offer drivers new to EVs something highly reassuring as they make the high-torque transition and also achieve that compromise between performance and cabin comfort. Switch into Sport mode and the full effect of the 201bhp and 229lb ft of the electric motor kicks in and delivers spirited acceleration.
Standout Features
The car's front features an innovative rotating grille panel which allows access to the car's charging port - its central position enabling easy charging from either side of the car.
The large central touchscreen takes centre stage, offering the driver simply displayed status monitoring and a comprehensive array of infotainment technology features.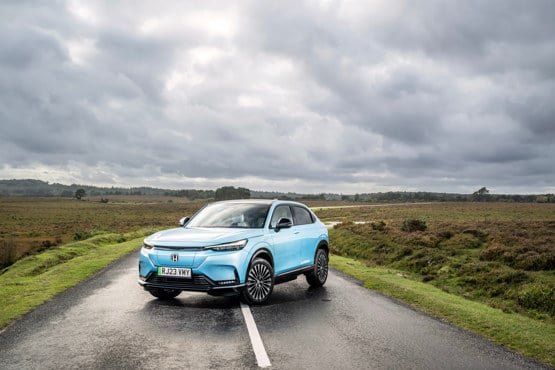 The Honda e:Ny: Verdict
Honda's high-performance e:N Architecture F platform - which is making its European debut with the e:Ny1 signifies "front-motor, front-wheel drive" - will soon be the forerunner of alternative platforms featuring all-wheel and rear-wheel drive configurations, all founded on the same core principles: a central, high-density, high-efficiency battery combined with a compact, high-power drive motor systems.
It will however have to compete with market rivals at a similar price point such as the £45,000 Toyota bZ4X, the more affordable Peugeot e-2008, Hyundai Kona Electric, and Kia Niro EV or, at the pricier end, the Mercedes EQA and the single motor version of the Volvo XC40.
The e:Ny1 is a competent electric SUV and represents Honda's serious entry into the electric vehicle market within its segment. It fits in to the Honda family nicely and will please both Honda enthusiasts and those new to the marque needing confidence to make their maiden transition to electrification.