Having successfully made the transition from being a budget-friendly brand to a mainstream one, Hyundai is now seeking a slice of the premium market.
It's launching a new sub-brand called Ioniq, which will sit alongside the existing Hyundai model range offering only electric propulsion.
The Ioniq 5 will spearhead this new line-up and uses an entirely new platform, powertrain and design language.
Following its reveal in March, Hyundai received 236,000 expressions of interest from European customers, while the limited-edition Project 45 version was almost three times over-subscribed within 24 hours.
The car's hatchback silhouette might trick you into thinking this is a Volkswagen Golf rival, but it's not until you see the Ioniq 5 in the metal that you realise its footprint is larger than that of a Tucson SUV and, thanks to that EV-specific chassis, interior space is on par with a luxury saloon.
The concept car looks should be enough to lure in EV sceptics, with its balance of retro and modern styling cues, and once you dig deeper, it's clear the Ioniq 5 is a perfectly practical car.
Inside you'll find big squishy seats, a vast flat floor and a beautifully simplistic dashboard.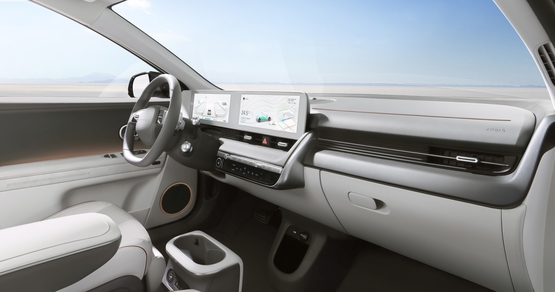 Thankfully, Hyundai has elected to retain controls for key elements, rather than bundle everything into a touchscreen.
So, there's a volume knob for the radio and a touch-sensitive panel to control the air con.
Prices start at £36,940 and there are three powertrain options to choose from, starting with the rear-wheel drive 58kWh model. You can boost range with the 73kWh variant, costing from £41,890.
There's also a twinmotor all-wheel drive model, coming in at £45,090. Up to 240 miles of driving range is offered by the entry-level car, while the bigger battery gives 300.
So far, we've only tried the twin-motor; which promises 287 miles, officially. In our experience, it's going be tough to get beyond 250 miles.
Our test model was showing consumption of 3.3mi/kWh, which is quite a lot less than we've managed in a Kona EV.
We look forward to testing the single motor variants, to see if they are more efficient.
Of course, being a premium-focused model, the Ioniq 5 is a lot heavier than a Kona. It tips the scales at almost two tonnes (dependent on spec).
The upshot is a much smoother and more refined experience than you'll get from its sibling.
The Ioniq 5 does feel like an executive saloon to drive. The ride on our test model's 20-inch wheels was a tad firm, although the super soft seats help to isolate passengers from that to a degree.
Dynamically, the Ioniq 5 isn't quite as engaging as its hot-hatch styling might suggest, but that doesn't mean it isn't well calibrated.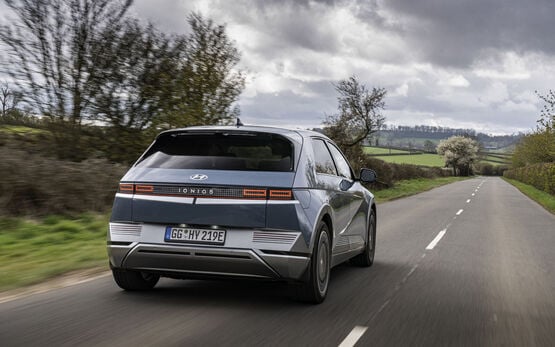 There's minimal body roll and the weight is largely confined to the chassis, meaning the centre of gravity is low.
With 305PS, the twin-motor version feels adequately potent. It manages the 0-62mph benchmark in 5.2 seconds and delivers a healthy surge of acceleration when needed.
A three-stage regeneration system can be controlled using steering wheelmounted paddles and drivers can switch between Eco, Comfort and Sport driving modes – plus there's a one pedal driving feature, called i-Pedal. When it's time to recharge, the Ioniq 5 has an advantage over its mainstream competitors.
It's equipped with 800v architecture – that's the sort of thing you get on a Porsche Taycan – and it means the car can utilise 350kW ultra-rapid chargers. If you can find one, then it's possible to add 80% charge in just 18 minutes.
Day-to-day convenience is boosted further by a sizeable boot, wide-opening rear doors and a handy blind-spot camera system that shows a live video image from the car's rear quarter, in the instrument cluster, when you indicate.
There's a big gap between budget-friendly EVs and luxurious ones, leaving little choice for buyers and company car drivers looking for an electric alternative to the ubiquitous German saloons.
While its range might be slightly less than we'd hoped, the ability to charge so quickly, paired with the Ioniq 5's desirable looks, good performance and comfortable ride, make it an ideal contender in the premium market.