Hyundai will use its Ioniq name for a new dedicated electric vehicle sub-brand, with three new EVs set to be launched in the next four years.
The term initially appeared on the Ioniq hatchback model, which offered a choice of fully-electric, plug-in hybrid or hybrid powertrains.
Now, the Korean brand will leverage the name, which fuses "ion" and "unique", to represent its commitment to sustainability and innovation.
AM understands that the move comes with Hyundai's Genesis premium brand also poised to enter the European new car market.
Last month AM reported the Polestar was looking to recruit a new managing director after Andrew Pilkington left to join Genesis in a London-based role as the brand's regional operations manager.
Announcing the official launch of Ioniq as a standalone brand, Wonhong Cho, executive vice president and global chief marketing officer at Hyundai Motor Company, said: "The Ioniq brand will change the paradigm of EV customer experience. With a new emphasis on connected living, we will offer electrified experiences integral to an eco-friendly lifestyle."
Hyundai will be launching a range of numerically named EVs under the new brand, with the even numbers used for sedans and the odd numbers for SUVs.
The first model under the Ioniq brand will be the Ioniq 5 midsize CUV that will launch in early 2021. It is based on the concept EV '45', which Hyundai unveiled at the International Motor Show (IAA) 2019 in Frankfurt, as a homage to its very first concept car.
In 2022, Hyundai will introduce Ioniq 6 sedan, which is based on the company's latest concept EV 'Prophecy', unveiled in March; followed by Ioniq 7, a large SUV in early 2024.
Ioniq brand models will sit on an Electric Global Modular Platform, known as E-GMP, that will enable fast charging capability and plentiful driving range.
Hyundai Motor Company aims to become the world's third-largest automaker of eco-friendly vehicles by 2025, with 560,000 BEV sales in addition to FCEV sales.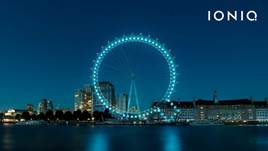 To celebrate the launch of Ioniq, Hyundai turned the London Eye into a giant letter "Q" using electric lights, just before the official reopening of the famous attraction.
This marks the first event of the 'I'm in Charge' brand campaign, which promotes empowerment of the environment and diverse lifestyles through Ioniq.
Back in January this year Hyundai mapped its strategy to become "a game changer capable of setting the rules of the market" as it prepares to follow a year of consolidation with an "intense period of product launches".
Addressing the Korean brand's 2020 New Year ceremony in Seoul, Euisun Chung, executive vice chairman of Hyundai Motor Group, revealed plans to grow the range from its current 24 alternative fuel vehicles (AFV) to 44 by 2025 – including 13 hybrids, six plug-in hybrids, 23 battery electric vehicles (EV) and two fuel-cell electric vehicles.
The OEM will also drive to commercialise autonomous driving technology by 2023 while pursuing development of Urban Air Mobility (UAM) based on the use Personal Air Vehicles (PAV), it said.