Of all the cars launched in 2020, the ID3 is the one with the biggest weight on its shoulders. Not because it's particularly revolutionary – there are already electric vehicles (EVs) on sale that 'technically' offer the same thing – but, as the 'people's car', Volkswagen and the ID3 represents a lot more than just price, range and charging time.
The platform that underpins this humble electric hatch is the starting point for an entire stable of new EVs from the VW Group. If the ID3 fails to impress buyers now, it could sour the appetite for many new cars to come.
It's the figurehead of VW's new ID sub-brand, of which the car maker expects some three million registrations globally by 2025.
The good news is the ID3 certainly does not fail to impress. It's got cool looks, a funky interior, plenty of space for a family and (current) prices start at less than £30,000 (inc grant).
Since arriving on UK roads, the ID3 has been named Carbuyer's Best Family Electric Car and Game Changer of the Year by TopGear.com.
There's all the usual amenities and driver assistance systems that you get in other VWs. It can sit on the motorway at a sensible speed unflustered and, most surprisingly, you can still have fun behind the wheel.
The model we have on test is the 1st Edition, which is powered by a 204PS electric motor and uses a 58kWh battery pack. It promises a 260-mile range and can go from 0-60mph in around seven seconds.
This year, the range will expand with cheaper options including a lower-powered 150PS motor and a smaller battery with a 205-mile range. There is also a long-range version with a 77kWh battery, which can travel up to 340 miles on a charge.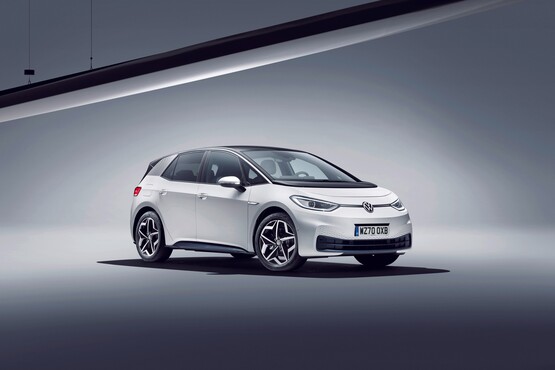 Power is sent to the rear-wheels – not particularly common on run-of-the-mill family cars. It makes the driving experience much more engaging, although primarily this was done to maximise interior space.
The handling characteristics have been dialled in well and, combined with the instant torque from the motor, enables the car to make swift progress.
The steering is livelier than we've experienced on other VW Group models, helping to give an overall feeling of lightness to the car despite its not-inconsiderable 1,800kg kerb weight.
Driven sensibly, the ID3 should achieve an efficiency of around 4mi/kWh – good for about 230 miles on a full battery.
When it comes to charging, the car can achieve 80% capacity in 30 minutes – when using a 100kW rapid charger – but will take nine hours on a normal 7kW home charging unit.
In order to simplify the ownership experience, VW has kept things as minimalist as possible inside. The majority of functions are controlled via the touchscreen, which uses the same software as the new Golf. In front of the driver is a smaller display for speed, charge level and range, while all 'buttons' are actually touchsensitive panels.
The gear selector is mounted to the right of the steering wheel and you simply push it forward to advance or back to engage reverse. There's also a single-stage regeneration mode that can be switched on or off, although the car will automatically apply the system to slow itself down if you're coasting and the car senses another vehicle ahead.
Is the ID3 the perfect electric car then? Well, it is very good and there's no doubt it will have mass market appeal.
It is considerably more modern and better to drive than a Nissan Leaf, however VW needs to iron out a few technical niggles, refine the ergonomics and wait for the rollout of more easily accessible rapid chargers before the ID3 will be ready to replace the Golf as its best-seller.
Q&A with Sarah Cox, head of marketing, Volkswagen UK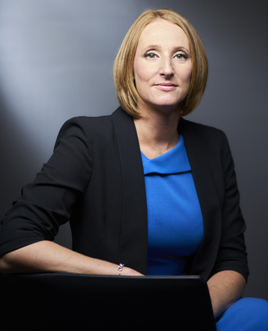 What is the expected sales ratio of ID3 to Golf in the first full year of UK sales and do you anticipate that it will begin to outsell the Golf before 2030?
For the immediate future the Golf is, and will remain, our best-seller across our entire range. What is important is that we are able to offer our customers the widest choice in the market, with benchmark vehicles in the compact family car segment, whether ICE/PHEV or a BEV on a dedicated platform. The two cars complement each other.
Pre-configured versions of the ID3 are already available to order, but when will dealers be able to accept factory orders from customers and will much customisation be offered?
We will continue to offer pre-configured models for the foreseeable future. Customers making factory orders are still able to specify interior and exterior colour, wheel design and opt for a heat pump, transport hitch (for cycle carrier) and choose from two exterior styling packs. These can be found on the configurator. Currently one motor (204PS) is available to order, but a 145PS motor will be launched during Q1. The ID4 will also be launched as a 1ST Edition and subsequently be available in pre-configured trims.
Will there be dealer-fit accessories or add-ons available and what do you expect to be the most popular?
Yes and most of these are already available. There were some software issues that delayed the ID3's arrival and resulted in some models not having certain features available at the point of delivery.
Has this now been resolved and how do customers go about getting future software updates?
When the ID concept was revealed in 2016 it was announced that the production version would be launched in 2020. The ID3 uses a new software architecture and is the most advanced vehicle Volkswagen has yet produced. In many ways it has more in common with a smartphone device, for example, than a traditional car in that it is smart, connected and – like most software-driven devices – can benefit from software updates many times during its lifetime. Indeed, the first of these is set to take place this quarter. Of course, if any customers are experiencing any issues with software in their ID3 they should contact their retailer.