As the volume of new car registrations continues to slip further from the 2.69 million achieved in 2016, car retailers are increasingly turning their attention to the
challenge of customer retention.
The drive to increase efficiencies and throughput in dealer workshops, which have to operate at capacity to stay within touching distance of ASE's 80% overhead absorption targetis more keenly felt now than, perhaps, any time in the past decade. As is the need to keep customers coming back to the showroom to touch and feel the latest new car product Service plan providers see themselves at the heart of the battle to remain at the forefront of customers' minds throughout the lifetime of their current vehicle and beyond.
And, as AM found out, they also feel they are perfectly placed to help retailers as they simultaneously respond to a consumer migration towards pay-as-you-go-style vehicle ownership and the promise of greater sales opportunity in used cars.
"Definitely the pressure is on retailers and OEMs alike to try to drive retention right now," said Steve Ure, a strategic account manager at eDynamix.
"At times when the market starts to throw up a few challenges, like it is doing now, attention always switches to aftersales and how to offer the widest possible range of services you can to those customers walking into the dealership. That's what's happening right now."
Research conducted by eDynamix into the success of its service plans found that 40% of new car customers with a service plan return to repurchase, compared with 21% without a plan.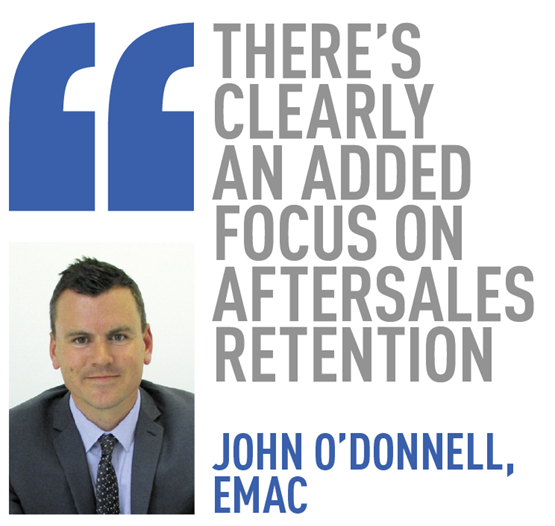 It also found that over a three-year period, 87% of customers with a service plan return for service events, compared with 61% without.
In a study of the results of its relationship with Parkway Volkswagen, meanwhile, there was evidence that service plans also affected customers' experience of the dealership, with the 60% (average penetration) who opted for a plan scoring the business 4.6, compared with 4.4 without.
At EMaC, managing director John O'Donnell is in no doubt of the advantages of service plans to customers and retailers alike.
With more than 1.7m live service plans, EMaC is the biggest name in the market, and O'Donnell said: "There's a huge question mark over how retailers can meet consumers' demands for transparency and simplicity right now and service plans play right into that shift. They offer convenience and take the stress out of the aftersales part of the car ownership experience, which can be a bit of a headache."
O'Donnell said EMaC had been approached by a number of top AM100 retailers keen to know how they could improve their aftersales retention in recent months.
"There's clearly an added focus on aftersales retention as margins get squeezed elsewhere in the business," he said.
While EMaC had cemented its relationships with Vauxhall and BMW/Mini in the weeks before Choose Your Supplier went to press and eDynamix signed up with MG Motors and JCT600, Assurant (formerly The Warranty Group) is about to launch a new range of service plan products.
Mazda UK, meanwhile, has teamed up with long-time industry partner Allianz to develop its own bespoke service plan offering.
AutoProtect, meanwhile, had ducked out of the service plan market as it focuses more on its add-on insurance offerings.
Front and central to the operational developments at each of the providers in the sector has been a drive to make the process of buying a service plan more seamless.
Ure said 95% of eDynamix customers choose to pay monthly to spread the cost of their service plan, but conceded that it has yet to see consumers fully embrace the end-to-end online buying option it introduced earlier this year.
"I think that, with service plans, we're still at a point where it has to be sold," he said. "I don't think many customers proactively go out there looking to buy one.
"As a result, I think most buy through their dealer and we've seen just 10% buy online."
Both EMaC and eDynamix continue to focus great effort on training aftersales staff from car dealerships on how best to present and sell a service plan to a customer.
In 2019, EMaC launched its inaugural Aftersales Academy, delivering on-site workshops, webinars, incentives, hosted events and awards for star performers.
Karl Davis, managing director, Coachworks Consulting, suggested that efforts must be made to change retailers' mind-sets in both the sales and service side of the business in a bid to drive workshop efficiency.
Commenting on the need to drive towards 100% overhead absorption, Davis told AM: "Targeting improved workshop loading with a greater retail content and vehicle health check optimisation should be a priority for every leadership team and will help break our sector's institutionalised acceptance of low overhead absorption."
O'Donnell and Ure both believe that presentation of service plans is key to increased retention opportunity, but the scope for improvement is far greater in the used car sector, where franchised retailers have an opportunity to drive profitability by applying their experience of selling to new car customers.
eDynamix's research found 70% of its service plans are sold on vehicles aged up to three years, while the breakdown of Parkway Volkswagen's sales showed the drop-off in penetration as cars aged.
Cars of four to six years of age attracted an average penetration of 22%, compared with 66% for up to three years. That trend continues in the six-to-10-year old category, with penetration dropping to 10%.
Suppliers say there is work to be done to ensure service plans became "baked in" to the used car sales process.
Ure added: "We're working with a number of retailers to help them sell to customers who haven't been sold to before and there is clearly a huge opportunity in used cars right now.
"Another thing we are working on is moving it away from just being a service that covers costs and into something that offers roadside assistance and an extended warranty as part of a single, pay-monthly package."
EMaC's recent client developments with BMW/Mini and Vauxhall and eDynamix's relationship with MG are all based on consumer options that allow them to pay on a monthly basis.
A white paper compiled by digital marketing experts at Syncron recently highlighted consumers' desire to consolidate their motoring costs into a single payment.
While the study highlighted the potential growth of manufacturer and third-party subscription services – with 62% of motorists aware of the concept – it revealed that the perceived advantages of such schemes were considered to be fixed monthly costs (58%) and the inclusion of maintenance and repairs (61%).
O'Donnell and Ure said service plans were a great tool for helping retailers deliver something akin to a subscription model.