Lookers is on a new and exciting journey for growth, and in 2022 it launched its first major multi-channel brand marketing campaign in more than five years, which the AM Awards judges voted to be the winner of the Marketing Strategy of the Year trophy at the 2023 AM Awards.
A comprehensive approach, impactful creatives, great execution and detailed analysis ensured the message 'A Good Deal. Better' delivered for this winning business, generating a notable rise in enquiries and sales from its targeted audience, including an increasing number of female buyers.
Putting the focus on choice was a key ambition for Lookers. The AM100 motor retailer recognises that there is no one-size-fits-all approach for car buyers and that during the height of the pandemic some consumers had missed the service and relationships they had enjoyed for many years.
Choice, trust and value still matter most.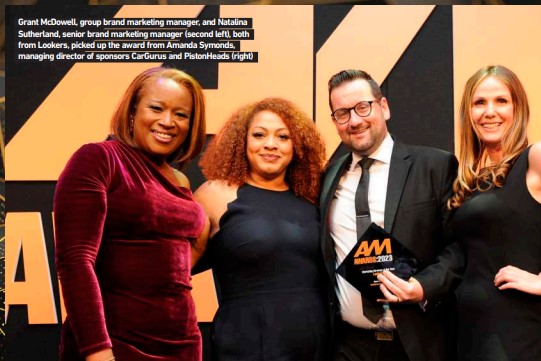 Lookers' brand campaign focused on customers, their needs and preferences – presenting the easy options available to customers and assuring them they would be seamlessly accommodated their way.
Powered by a compelling 'always on' creative proposition, rich content and marketing engagement, Lookers developed a big impact customer-centric campaign designed to drive brand awareness, recognition and retention.
Rolling out nationwide in May 2022 across TV, radio, print, online, social media and outdoor, in addition to new signage at several dealerships nationwide, the integrated campaign reflected Lookers' commitment to its staff, growth, innovation and confidence in the future.
Powered by a carefully executed integrated media and digital strategy, Lookers' 'A Good Deal. Better' campaign was a major marketing and collaborative success, exceeding targets and expectations while supporting sales and new corporate growth and bucking the industry trend in a cost-of-living crisis.
Our AM Awards 2023 sponsors