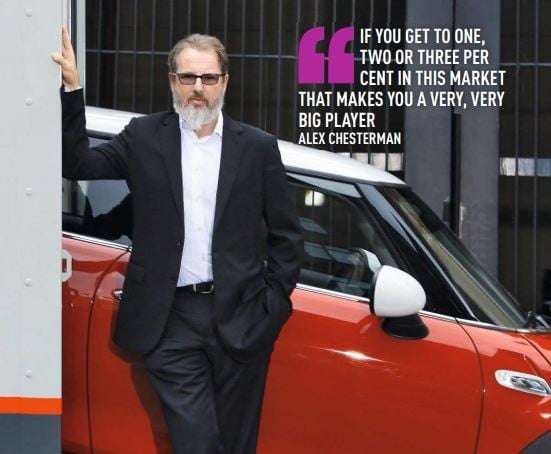 The motor industry may have dipped a toe in the online retail pool, but Zoopla and LoveFilm founder Alex Chesterman has just leaped in head-first with his latest project - car retail platform Cazoo.
Cazoo began sales in December and had already sold dozens of used cars to customers from Cornwall to Scotland when AM was invited to exclusively interview its founder and chief executive Chesterman, in January, at its London HQ.
Chesterman has a track record of launching and growing digital innovations, including property firm Zoopla Property Group and movie subscription business LoveFilm, and received an OBE from the Queen in 2016 for his services to digital entrepreneurship.
Now Cazoo is his latest start-up, aimed at securing a slice of a marketplace where e-commerce has been slow to emerge among traditional businesses. Only five years ago, most dealers and carmakers were still openly saying that consumers wouldn't buy cars online.
Aim to win a 1-2% market share
Chesterman does not believe the automotive retail sector is ripe for dominance by a start-up anytime soon, but the opportunities are clear.
His initial aim is to win a 1-2% share of the UK's eight million annual used car market, which is valued at around £50 billion.
Cazoo has raised more than £80 million in funding from investors and venture capitalists since Chesterman identified a gap in the car sales market in 2018 and started to create the online business.
Chesterman said: "I don't think that one size fits all. You've a market where some people shop at small dealerships, some at large dealerships, some at car super-markets, because there's a whole variety of customers out looking for different things. We're just a new, different thing which will appeal to some customers, but not all.
"It's a big enough market that nobody has a massive market share. The biggest players have single digit shares… if you get to one, two or three per cent in this market that makes you a very, very large player. Their revenues are £1bn."
The inference is that Cazoo should be capable of around 100,000 annual sales within a few years from launch. To put that into context, top 10 AM100 group Arnold Clark sold 215,000 used cars in 2018 from its network of around 200 sites.
Prior to launch, Cazoo signed a contract with BCA for the remarketing group to prepare more than 50,000 cars per year at a dedicated site in Corby, Northamptonshire, which can store up to 6,000 vehicles at one time.
Chesterman said every sector of retail which is "property heavy" attracts online start-ups. Britain's high streets are struggling because of lower footfall caused by consumers deciding to move a proportion of their spend online, and physical stores have not kept pace with consumers' demand for convenience.
He said the UK is quite special in this regard – consumer behaviour has changed quicker than almost anywhere else in the world. Now about 19% of total retail sales is online in the UK, whereas in the USA it's only 9%.
The factors he attributed to this change include high internet adoption, good broadband speeds and the compact UK geography and proximity of its population centres.
"Whether it's food or fashion, there's an ability to deliver an amazing experience to consumers in the UK because of such a high-density population.
"Almost every online shopping business now offers you pretty much instant gratification. In other markets, that's not quite the case.
"Our hypothesis is it will start to change within the auto industry, because why should it be any different? So there is a proportion of consumers who will prefer the experience of being able to do this from the comfort of their home and have it delivered."
An alternative form of transaction
Chesterman takes a pragmatic view, nevertheless, that eight in 10 total retail transactions still happen offline, and he dismissed suggestions that online retail will completely up-end the car market and threaten traditional dealers.
"I don't think that's a genuine concern," he said. "I think we offer an alternative form of transaction, but the majority of the market will continue to transact for a period of time. I don't know how long, or what proportion, but we'll see."
Chesterman reiterated that the market was large enough to allow different retail models to co-exist. Good businesses in physical dealerships that continue to serve their customers will have little to fear, he said. But businesses that don't adapt to suit changing habits will have problems.
Cazoo's national marketing campaign kicked off at the beginning of February with a multi-million pound investment in TV, radio and outdoor poster sites, aimed at putting the brand in front of 85% of UK adults.
Research of UK consumer habits has helped to shape Cazoo's proposition. Online buyers want convenience, trust and assurance that their expectations will be realised.
To give buyers confidence, all cars listed on Cazoo have passed a provenance check and 150-point inspection, received refurbishment, have service history and a recent MOT certificate, and are listed online with 360-degree, detailed images. Any minor imperfections that couldn't be refurbished are highlighted by a yellow warning sign. Stock is typically up to seven years old, priced from £5,000, and includes mainstream and premium brands and models.
Customers can buy outright by credit or debit card, or finance their purchase (PCP or HP) through broker Evolution Funding at a typical 8.9% APR. They'll then select a delivery slot as little as 72 hours from purchase, or up to two weeks away, and the car will arrive in a branded delivery truck with at least 25 litres of fuel and seven days' driveaway insurance cover from Tempcover, a 90-day warranty and roadside assistance.
From delivery, there's a hassle-free seven-day trial period during which the buyer can reject the car and have it collected for free (customers who've already rejected one car within 12 months must pay a £100 collection fee for subsequent collections).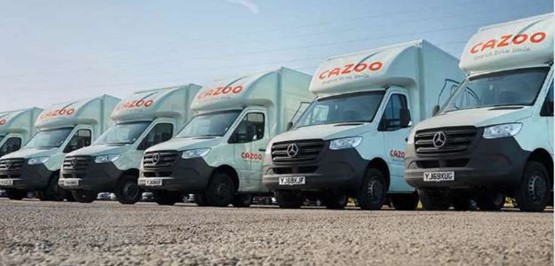 Chesterman said it is vital that Cazoo offers choice – currently around 2,500 cars are listed on its website at any time – and it stands behind the quality of those cars offered. Pricing is transparent, there is no negotiation, and the convenience it offers is paramount. If anything goes wrong, Cazoo's support centre operates 7am to 9pm, seven days a week.
"Over the past decade consumers are becoming more demanding. It's become the norm in almost all other sectors that you can buy it, try it and send it back if you don't like it. It's a fundamental change in the demands that consumers make. I think the bar has been raised versus 10-20 years ago."
He has studied Carvana in the USA, which has grown in the past six years into an online operation selling almost 100,000 cars. But it has struggled to secure profitability.
The sales volume Carvana now achieves in the USA added to Chesterman's confidence in the UK. He admitted it needs early adopters – confident tech-savvy buyers – because spending thousands of pounds online "requires people to take a leap of faith", he said.
Yet he contrasted this with the UK's peer-to-peer used car market, consumers buying used cars direct from owners, where there are no legal protections for buyers yet some two million transactions take place each year.
Here to tell naysayers "they're wrong"
Asked if Cazoo has experienced resistance from the UK motor industry, he said only in the form of vocal industry naysayers who view the venture with scepticism. Chesterman said Cazoo is "heads down, doing our thing", so this isn't a concern, and the company is not relying on the support of any key industry figures or needing to engage with potential competitors either. "I'm sure they understand their customers better than I do, but to those who say generally this isn't what consumers want, nor how they will transact, I'm here to tell them they're wrong.
"I can prove, having only been trading for weeks, consumers are buying cars online, and plenty of them." Sales have exceeded 1,000 in its first 12 weeks.
For the launch, stock was selected through analysis of industry data and what other dealers were stocking, but now Cazoo gathers its own data on what its website users are looking for. As the business grows over time its stockholding should increase to around 20,000 units to give optimum choice for a large customer base. Speed of sale is not a priority, and Chesterman said Cazoo's stock turn aim is "very similar to the rest of the industry". The industry average is around six to eight times annually.
Some industry observers see Cazoo's outsourced vehicle preparation and storage as a risk to the operation, given its need to build its brand and garner trust quickly. Chesterman said he can trust BCA's expertise in reconditioning and transporting vehicles, and there are around 40 Cazoo staff on site at Corby overseeing quality control and processes very closely with BCA.
The bit the consumer sees, the final stage of delivery and handover to the buyer, is done by Cazoo's own uniformed delivery specialists.
"The consumer experience is absolutely central to what we're doing, and we totally control that," he added. "Used car delivery requires a good standard of handover and explanation, because it's what the customer values highly."
He said outsourcing to a bunch of "random drivers" with a fleet of trucks would have been an easy and cheaper thing to do, and anybody can "do it improperly", but the risks in taking that approach are enormous.
As Cazoo offers a wide range of choice, its delivery specialists are trained to have a broad knowledge about the essentials a buyer needs to know at the handover, such as where the fuel cap release button is and how they pair their mobile phone to the car.
Research has shown there are certain things consumers care about on every car that are the same. Then, if a buyer has a specific question, the delivery specialists carry a tablet PC so they can get that answer quickly.
"We don't need them to know everything about every car. They need to know where to go to get the answer, and we arm them with that," said Chesterman.
His own car buying experiences, of variable quality, have helped shape his view about the importance of the handover. One occasion in the USA left him "blown away" and feeling that the dealer had properly thought ahead about what his customer would need to know. Chesterman admitted it significantly changed his perception of that dealership and the extent that its staff cared. In contrast, his experience buying a much more expensive car in the UK was okay, but unimpressive.
"The difference between us and certain others in the industry, if there is one other than digital versus physical dealership, is we've always been consumer first in our thinking. I've always come at things from that perspective of what is the best we could do for consumers.
"And regarding profitability down the road, we almost take the view that if you do a great job with the consumer the other bits that matter will fall into place. You win repeat business, market share, you get great word of mouth, you build trust, and all of those things should lead to a profitable business. If you don't do all of those things you won't have a good business."
Lacking 'automotive DNA'?
Those same sceptics who challenge whether online used car retailing will really take off have also suggested Cazoo lacks sufficient 'auto-motive DNA' to succeed in a complex business where mis-handling part-exchanges and stock write-downs can wipe out profitability. Chesterman responded that its strength is in having plenty of 'digital DNA', thanks to senior staff hired from major online brands, plus it has recruited veterans from Tesla, Auto Trader and Manheim with their own specialist knowledge.
In 2019, it announced the appointments of brand director Lucas Bergman of Aviva, digital marketing director Ercan Kamil of MoneySuperMarket, head of finance Dan Read from Zoopla, engineering director Ian Kershaw from Photobox Group and customer experience director Katherine Hurst from Paddy Power Betfair. And it recruited former Auto Trader sales director Kevin Harding, Tesla's remarketing general manager Tony Long and Manheim Vehicle Solutions director Bryan Stringer.
"We've been delighted to be able to attract the talent we've brought in, and the funds we've been able to raise. I think that's testament to what people see as the scale of the opportunity… and that we're trying to invent this category."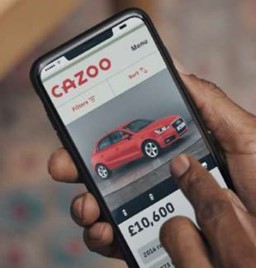 He said although there are some dealers doing online sales on a small scale, that's difficult. Online operations need logistics, a large stockholding and national marketing to ensure people can find the car they desire. That requires more significant scale and investment.
And building that scale and investment requires backers who are prepared to wait for long-term benefits. Creating something out of nothing means a business such as Cazoo will lose money for some time, he said, as would a new, traditional dealership.
"The only difference between us and a traditional dealer is we've just started to build our dealership on the internet instead of on a particular street," he added. The appetite to invest has to be the same and the level of investment needed is significant, which has scared some others away, he said.
"We have an appetite to invest and we understand that requires losing money in the first year or two, but we're in this to build a profitable business. We've a clear view as to when we want to turn that corner. It's not something I want to share publicly, but we've got savvy investors behind us who want to see this investment build as a profitable, long-term, stable business."
Led by customers' needs
Chesterman, who has also invested in carwow and car sales comparison website Motorway, said that Cazoo's expansion, in terms of the services it provides, will be led by customers' needs and data. Immediate opportunities include offering extended warranties and GAP insurance to buyers at the point of sale, and maintaining customer relationships post-purchase so it can target them at the right time in the future when they're ripe for changing the car again.
Being the cheapest is not critical. In online retail, convenience trumps everything, he said. Amazon didn't grow by being the cheapest for books, but by offering a larger selection. The internet gives choice in a convenient way.
Currently car buyers spend on average 12-14 hours researching online for their next car. It's a long process, caused by many not knowing initially what car they want, but Chesterman said consumers should get more help in getting to their decision faster, and data will help online car retailers do this in future, presenting a more focused selection to a shopper.
"I do think transparency is an issue, and I am in favour of a simpler process. If the price is the price, and I don't have to go three rounds with someone to get to the actual price, it's shortening the process.
"The process of buying a used car is outdated and not fit for purpose for today's consumer… we take away the need to travel, to haggle, to spend
countless hours at a dealership and to risk any buyer's remorse."
There's similar opacity around pricing in the property market. Avoiding "the dance" to agree the real price in both cars and property sales would make the process more efficient, and would remove the timewasters because people can either afford the stated price or they can't.
"The two most expensive purchases are the two least transparent. Who does that favour? I think transactions that begin effectively with an argument are not the most efficient way to start a relationship. You could take a view that it's a one-off, big-ticket purchase so 'to hell with the relationship, I'll extract the most value', but we have no choice – as an online-only dealer we've no face-to-face exchange so we have to be fixed price."
Chesterman said that is Cazoo's opportunity. It's another, different choice for different consumers.