The motor retail industry has become more straightforward for consumers, but there still isn't "enough of the sizzle" in buying a car, according to John O'Hanlon, the chief
executive of Waylands Automotive.
Some of that may be due to the regulatory hoops that must be jumped through but the experience is still not a fun one for every customer, believes O'Hanlon. Which is one of his reasons for founding Waylands in November 2017.
"If franchised dealers want to continue to exist in 10 years' time we have got to work on that. The 'dodgy dealer' episode is well behind us. Now it is about how do we make it fun, enjoyable and a memorable
experience. Part of that is about environment, but more of it is around people and culture," he said.
O'Hanlon was blessed with time to think in 2016 after selling Ridgeway, the AM100 regional dealer group he ran with founder and chairman David Newman, to Marshall Motor Holdings for £106.9 million. But with the experience he gained at Ridgeway, he decided he was not going to quietly fade away from the industry.
What drove him to start Waylands just over a year later?
"It's an itch," he said. "I didn't need to, that was the joy. But when we sold Ridgeway I was only 47, with a lot of great contacts, and still a lot of energy and passion for the industry. I took some time off, had a long, hard think. I received some offers to work with some of the big players. I started as a non-executive director with John Clark Motor Group, which is a business with similarities to Ridgeway and I felt I could help there, but a couple of days a month wasn't enough to keep me busy and it turned out I didn't have a lot of hobbies on top of what we were doing.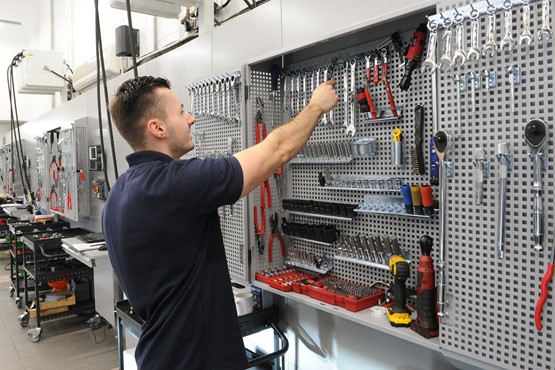 "It was an itch to create another business that is run around my principles."
Conversations led him to Volvo Car UK, a brand that Ridgeway had not held and one which was looking for some new dealer partners. In November 2017, he bought Volvo Reading from Jardine Motors and began creating its new home in line with the Volvo Retail Experience (VRE) corporate identity. In mid-2018, Waylands added Fawcetts Garage in Newbury, the oldest Volvo dealer in the country, and the group then finished the year buying Oxford and Swindon sites from Johnsons Cars.
The plan was always to grow fairly quickly through acquisition, to near the £100m turnover mark within three years. O'Hanlon said some people comment that he's a hugely experienced executive running a little business. He reminds them that Ridgeway was a £13m turnover, two-site Volkswagen and Audi dealer when he was hired by David Newman in 1997 as financial controller.
"When I turned up with my laptop I doubled the computing capacity of the business," joked O'Hanlon.
It was only over the course of two decades that Ridgeway expanded into the £750m turnover, multi-brand regional group that attracted Marshall's takeover bid, and O'Hanlon became finance director and then chief executive along the way.
Growing a business, using his skills and knowledge to add value, and recruiting great people are all among the things that he loves to do, he said.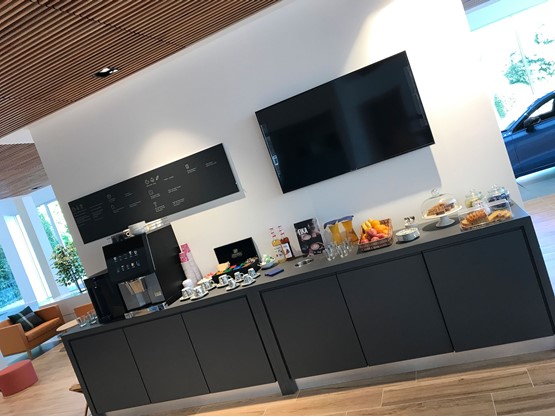 "We're not trying to do anything entirely new, but we are just trying to do it a bit quicker this time."
Waylands is a family business – O'Hanlon's wife, Karen, is company secretary and is a vital sounding board for ideas, he said. He said he is not hung up on remaining the sole shareholder forever and at the right time in the future he may be able to benefit the people who have contributed most to making the business a success – similar to what Newman did at Ridgeway, where O'Hanlon became a minority shareholder.
The group is well on track to achieve its medium-term goals. It has budgeted for £92m turnover for 2019, and was at £45m by the half-year point.
Despite a slowdown in the market, O'Hanlon believes Waylands should be "within touching distance" of his £100m aim slightly ahead of the three year
timescale he set. The group is also building its balance sheet, showing its suppliers that it will be around for the long term, and his plan for a 1% return on sales is paying off, too, he said.
All this is happening while still turning the four businesses into one cohesive group, creating a new culture in the business, and undertaking major showroom redevelopments or relocations.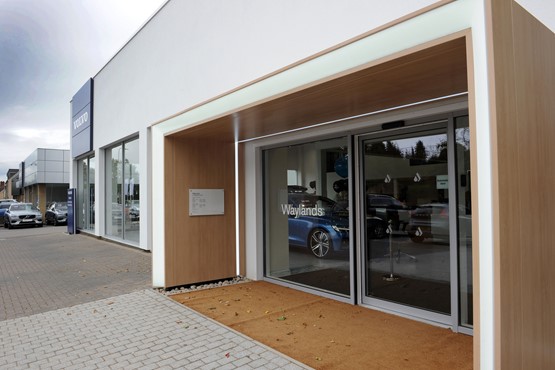 The £6m Reading VRE site opened in March this year after nine months of work. Oxford's VRE showroom, a £1m, three-month conversion of a former Marshall/Ridgeway Jaguar dealership, was completed at the end of August. At Swindon, the general manager has to plan for a major nine-month VRE refurbishment in 2020 while the dealership continues trading from the same site. Newbury will follow, and gain a storage compound.
With VRE comes VPS – Volvo Personal Service. Customers are encouraged to deal directly with the technicians fixing their car. They can watch through a huge glass wall, and dealers can have teams of two or three technicians servicing one car, in less than half the standard time, so the customer can wait 30-40 minutes and then be on their way.
Optimising this efficiency has meant investment for Waylands – in tool storage, 'cassette' ramps that give technicians more working space, SMART repair bays, tyre and wheel facilities. But it is investment that will pay off in the future, said O'Hanlon. Waylands will provide a full-service Volvo retail experience.
O'Hanlon said Waylands is at peak-building point now, so there is still considerable investment to be made, financially and in terms of management time.
O'Hanlon is an excited advocate of the VRE changes. He's confident of the results – footfall at Volvo Reading has gone up 300% in the past six months.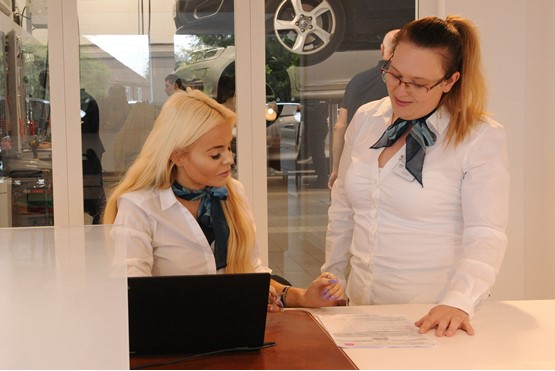 "Having a statement that says 'we're here, we're serious, we're premium' does attract people to come in. When they do, it's a lovely combination of a premium showroom that is, at the same time, very welcoming. Get into those comfy seats and have some coffee and you feel like you're in a home rather than in a big shop, you get some joy from it. That's where you're seeing a step change for the Volvo brand."
The desire is for customers on site to enjoy some 'fika' – a Swedish custom of taking a break with friends or colleagues while enjoying some coffee and cake.
He said Volvo is not seen as a brash brand, and described it as not being embarrassed about showing its traditions to customers.
"We are a safe brand first and foremost, and a comfortable brand. Those are the things the cars are built around, and now they're becoming more stylish, a bit sexy. There's a bit of sizzle."
On Volvo as a partner, he said its support has been invaluable in helping to find properties, giving introductions to its systems, and sparking conversations with other franchisees.
"They are very open, and very straightforward. I appreciate that approach, and if I have a problem I can phone a director and get a straightforward answer. Not everyone appreciates that level of frankness, but I do, I appreciate telling and being told things in a straightforward way."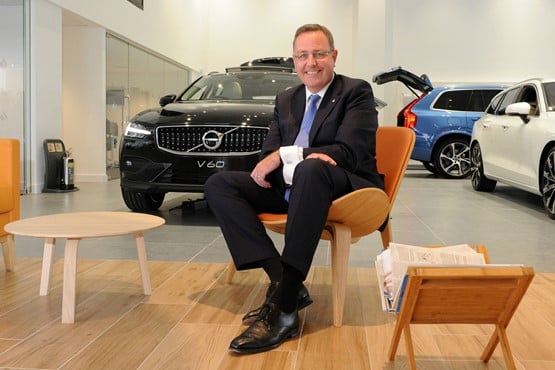 He said Volvo has great opportunities for Waylands with its current range and product pipeline, including electrification. But he knows the brand has limits on the level of dealership ownership it wants with any one partner.
"In the short to medium term, we are a company with the Volvo brand at the beating heart of it," he said.
His years running Ridgeway across Oxfordshire, Berkshire and Hampshire ensures O'Hanlon knows his local markets well. But Waylands' retail sites will compete for customers with other premium-brand dealerships, some owned by the major AM100 groups Inchcape, Jardine Motors Group, Sytner and Marshall – including former Ridgeway sites.
O'Hanlon believes such competition is healthy, and his territories have sufficient buyers to target, thanks to high
employment, high wealth, and lots of new housing, which will bring even more customers closer. Amid the local blue-collar demographic, there are many who aspire to owning premium brands, so there should be good opportunities there for new and used car sales.
"There's enough pockets of wealth in these areas. There's lots of demand, and I think we stand a chance with our level of service to stand out from some of the competition," he said.
"These are good areas to work within, and it's a customer base that understands what good service and generally fair service looks like."
O'Hanlon said competition is not necessarily about size. Businesses are run in different ways, due to their owners' demands rather than what is thought to be good or bad, he said. At any particular point, some will prioritise turnover, some profitability, some simply want consistent growth. For O'Hanlon, the driving force is in the ability to make long-term decisions, to spend time building Waylands' culture and reputation.
On those, O'Hanlon's personal principles of honesty, integrity, and care are overriding, he said. Performance and loyalty are also highly valued: "Things that can be difficult and sometimes expensive are areas I want to be part of my business."
He said he has enough experience plus strong teams around him to assess opportunities carefully, and he understands he leads by example and drives consistency.
"I can't be everywhere every day, so my people have to think 'what would John do?'. That comes down to how do I perform when I come into the business? Am I spending time talking to customers?
"Caring is not a weak word. We care how we perform, care about each other. We spend so much time at work, but it's not a prison. I want people who want to smile, who want to do a great job."
Waylands has relied heavily on digital marketing to get noticed. Ridgeway was a digital early adopter, and O'Hanlon's priority at Waylands was to recruit a marketing manager, April Wyatt, who has "turbocharged" its profile online and in social media. Now it is also using events and product placements for brand exposure, such as exhibiting in major shopping centres, and advertising on radio.
He is building its employer brand, too. How staff are inducted, how their performance is managed and how they communicate with each other must reflect that culture O'Hanlon desires. Even though it's a relatively small business, Waylands produces a glossy company magazine that features news on company activities and interviews with staff across all roles, to personalise the business. Staff take copies home to show their families – O'Hanlon wants them to feel proud of where they work.
A critical part of brand-building is making customers feel good about where they buy from, and keen to tell others. O'Hanlon wants Waylands to step away from the traditional sales qualification process towards one of 'discovery'. He believes salespeople should forget about asking how many miles a prospective buyer does and whether they have pets or children, because they have likely already qualified their own needs. Instead, staff should discover three things – how they can help the customer, how much research the customer has done, and what the customer wants to achieve today.
He said if all a customer wants to do is check their golf clubs will fit in the boot because they're 99% there on their decision, the dealership must make that the priority, not try to drag them through a sales process. Then that allows for a softer due diligence process afterwards to check the customer is making the right decision.
"Customers don't come in to go through a questionnaire. That's not a retail experience, that's me needing to tick a box. My fear is always that we go to the lowest common denominator because someone did something wrong in the past. We've got to go through that, but it should become easier and it doesn't have to happen straight away. And we can do it on their terms."
All Waylands sales staff are equipped with a laptop that folds over into a tablet, so they can sit at a desk or alongside a customer on a sofa if they choose and "break that barrier", make them at ease, build a rapport and build
the brand's reputation as easy to do business with.
Waylands needs to get things right, and its boss believes communication is key to that. O'Hanlon and his fellow directors will seek out someone for doing a great job and thank them. But they will also invite a sales manager for a chat on the forecourt if they see used cars are not prepared and priced appropriately or being imaged well online.
O'Hanlon believes stock is there to sell, not to age. Waylands has a 60-day stocking policy, and for every 30 days over that the dealership gets charged a provision, which will be returned to the business if the car sells. If a car somehow gets to 150 days, the site gets a fine.
"The checkers need to be checked. Sometimes we are just professional naggers. But that's retail. It matters." O'Hanlon said it's down to him and his fellow directors to go around the sites and visibly live the culture. "They see that I care, if I'm picking up litter or weeds, they know they should be doing it too. That's what I expect from everybody."
O'Hanlon is not interested in filling the forecourts with all-makes used cars.
"We've got enough space for Volvos and we've got enough demand. We're specialists for Volvo and that's what we should be selling and building our brand. That sometimes can frustrate, but it works for us. We want to be the first choice for Volvo – if you think Volvo in any of our areas you think Waylands."
Every Monday, Waylands holds performance reviews of each site, discussing KPIs such as new and used enquiries, stock, sales, customer experience management. Each general manager will also create a forecast, including sales and deliveries, add-on sales, workshop hours, recovery rates. O'Hanlon said it's "a strong, hard discussion" because he neither wants anyone playing safe nor promising impossible numbers.
"With such a new team, it has taken a little time because they have a different level of experience on the financials. But it is something that's really important to me. It's a chance to show me what you've got and discuss it.
"It is a regime, and it's something I don't apologise for. Some of the guys tell me how busy they are on a Monday and I say 'great, you'll have the rest of the week to get on with the rest of your stuff'. It's about having that strong core to the business, and then spend the rest of the time adding the sizzle.
"Are we a serious business? Yes. But are we a serious business with a smile? Yes we are."