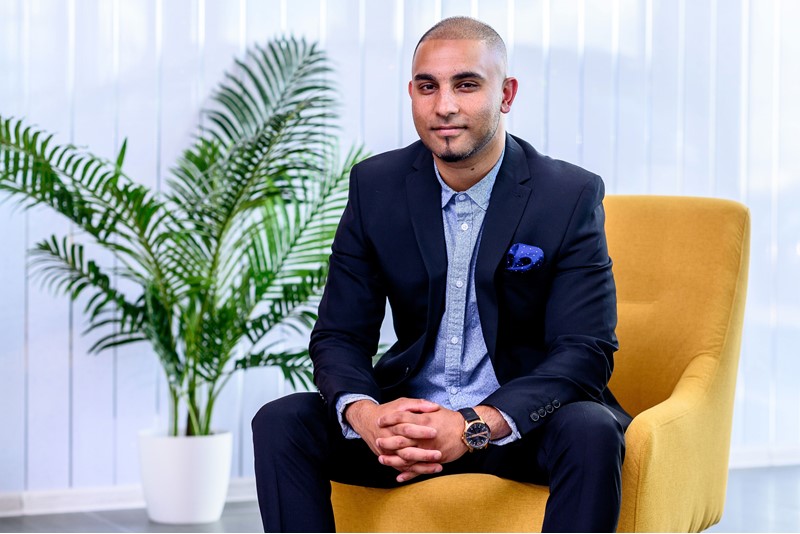 Take advantage of every opportunity. It's an often repeated phrase in the automotive retail industry, but it has taken Anton Khan from managing a Carphone Warehouse store to leading a multi-million-pound motor retail business in under 10 years.
At 33, Khan is one of the youngest chief executives in the industry and building his Peterborough-based, two-site used car supermarket business SW Car Supermarket has been driven by a readiness to throw himself into everything feet-first.
In 2010, Khan had no experience selling cars. He had left university in Sheffield and realised he didn't want a career that would follow his studies in robotic engineering
and programming.
While managing a Carphone Warehouse store, he was approached by a friend who had been working in automotive retail for the past 20 years and convinced him to try his hand at selling used cars.
Khan said: "What did I know about cars? My friend convinced me that if I could get to know the smartphone business, then cars wouldn't be that different.
"I was living at home with my parents at that time and they had some room on the drive and it all started from there."
He started out with £5,000 in savings and spent three years of "trial and error" making money, losing money and learning the ropes as an independent trader.
Khan said: "I made lots of mistakes, but three cars became five and then became 12. My friend has some property and agreed to rent some space out to me to start growing the business."
Khan worked to build a stock of 100 cars before an opportunity arose to rent a two-acre site with workshop facilities. Khan did a deal for 10 years with a five-year break and managed to double his stock capacity to 200 cars. He was selling 50-60 cars a month.
Business was steady, but Khan got a call from his landlord four years into trading to let him know they would want the property back in six months.
Khan said: "I sat there with my head in my hands because if I couldn't find somewhere to relocate I would have been left with no choice but to fold up.
"It was the worst day and in a way the best day of my life because it put me onto the path that I'm on today."
After calling everyone he knew, he managed to find a 3.7-acre site on a Peterborough business park that had been derelict for years because "no one had the vision or financial backing to transform it".
Khan had built up a strong relationship with his banking partner HSBC in the formative years of the company and they helped him to take the next step to fund the new location in 2017.
Khan said: "Some people can get a bit flustered by their business growing. I'm a believer in taking risks. If you don't take risks, you're never going to achieve anything.
"If you've got a firm base for the business and you have the right people around you, it's a force behind you that helps you to reach the next level."
New car buying experience with a car supermarket price
Khan resurfaced the site and started developing a location that would set the formula for what SW Car Supermarket is today. The Padholme Road East site now has room for 800 vehicles and workshop facilities.
The new location concentrated on volume and family-focused brands with ultra- modern facilities and fittings. Khan wanted to merge the new car buying experience with a used car supermarket price.
Less than three years later, Khan has already expanded with a second superstore location on the opposite side of Peterborough. It focuses on premium brands and has space for 1,000 used vehicles.
While SW's first location stocks nearly-new to four-year old brands such as Ford, Vauxhall and Peugeot, this new location is primarily Audis, BMWs and Mercedes-Benz.
Walking in to an SW showroom is very similar to a new car experience.
There are staff on hand to greet you when you walk through the door, there are touchscreen research stations, a coffee lounge with Wi-Fi and a showroom to highlight certain vehicles.
There's a hint of the Ford Store concept in the layout, with bright orange colour surrounds to highlight areas of the showroom.
Walking through the main reception and showroom area leads through to a covered warehouse space, where hundreds of valeted vehicles are all on show ready to be inspected by customers.
Sales executives are not stuck behind desks (something Khan thinks makes them too lazy) and they instead have access to hot desks and iPads to use as and when they need.
Khan said focusing on volume at one site and premium at another gives a clarity of vision to customers and staff on what each location is about.
He said: "I had a look at the market as a whole and mystery shopped other dealerships. It's always good to plagiarise and what works for someone else might work for you. I've been up and down the country to look at how others approach things in terms of design and fit-out."
Khan acknowledged that there is pressure on volumes due to a car supermarket's "astronomical running costs". However, he said delivering volume is not about pushing customers into a corner and "stacking them high and selling them cheap".
He said: "For us, volume comes from treating customers fairly and making sure we are delivering a compliant sales experience and exploring exactly what it is they're after.
"It might be that we test-drive them in three or four cars. If the car isn't right, we probably have 30 others in stock that might fit for them."
Khan said the business gets a lot of recommendations and growth from word of mouth. SW Car Supermarket is rated at 3.9 out of 5 on Google reviews and has a rating of 4.3 out of 5 on TrustPilot.
"Pushy sales don't work in this day and age. It's more about the customer experience and the customer journey within ultra-modern facilities. You want them to feel at ease."
Khan said that while stock levels have not been a huge challenge for the business this year, apart from seasonal shortages, margin levels are under pressure.
He said stock levels have been managed well, as SW works with all of the major auction houses, including BCA, Manheim and Aston Barclay.
As new car sales continue to falter, everyone in the automotive market is focusing on used and this has created fierce competition with rivals looking to win by offering the lowest price possible.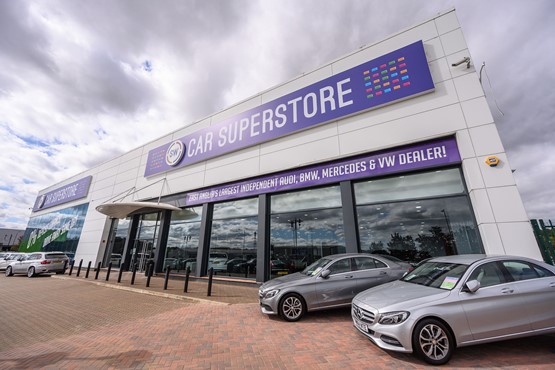 Khan said while low prices are good for consumers and stock turn, it hurts bottom-line profitability.
SW has a finance penetration rate of about 60% and Khan said that while Financial Conduct Authority (FCA) regulation compliance has put some downward pressure on finance margins, if customers are guided through the demands and needs process correctly, then "profitability can be resurrected".
SW still offers GAP, as well as paint protection, extended warranties and service plans.
As FCA regulation has hit finance commission, Khan thinks there will be an even greater focus on buying at the right price to make sure there is enough margin in the metal.
He said this is becoming difficult due to Auto Trader's dominance in the used car classifieds market and the introduction of data behind the scenes that displays whether a price is low, good or great against adverts.
It's something Auto Trader has defended in the past, saying customers are wary of vehicles that are priced too low and that vehicles priced at the correct market level will sell a lot quicker than those that aren't.
The trouble with Auto Trader
Khan thinks Auto Trader's place as market leader has put it into a position where it is essentially controlling the used car market.
The marketplace for online classifieds is very crowded, with multiple challengers looking to erode Auto Trader's market share, but Khan cannot foresee it losing the crown.
He said: "Various platforms pop up, but can they really compete? Auto Trader conquered the market very early on and they have control over the used car market. They have control over the dealers and how behaviour and profitability operate.
"I'm happy that we have a platform that we can reach thousands of customers from. But we're not happy about how pricing has gone up year-on-year."
Khan said used car pricing can come unstuck when stock buyers are referencing pricing on Cap HPI or Glass's and this doesn't line up with Auto Trader's own data.
It means that by the time some vehicles are back on site at SW "we could be upside down by £1,000" compared with what Auto Trader thinks based on its data.
Khan said there are businesses out there that operate without Auto Trader, but they need a big budget to do so and the business model remains risky.
He said: "I can't see a way for dealers to take some power back from that relationship with Auto Trader.
"When you hold that monopoly with that level of power, it's a case of use or don't. If you don't use them, you're going to struggle to grow, but if you do use them they are dictating terms on how they want you to operate."
Khan would like Auto Trader to charge "a fair price" and look at data from other forms of valuations and not just their own.
He also wants controls in place that monitor how low pricing can be on Auto Trader.
Khan said: "Just because 10% or 20% of dealers price their vehicles way below market level, that data then gets mixed up into everything else.
"Some dealers are listing vehicles cheaper than they're actually possible to purchase at auction."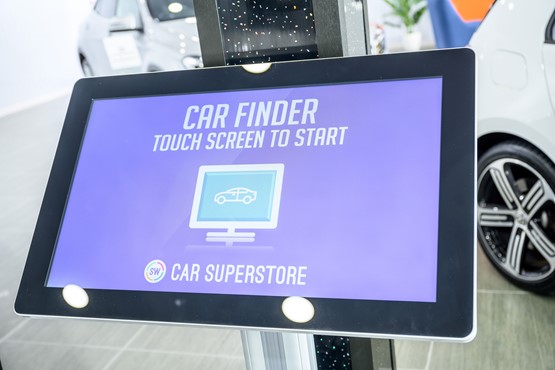 Online and marketing strategy
Khan said SW's online strategy is a key pillar to its growth as a business. All stock is posted with 360-degree interior and exterior images, as well as their full specification and service history published online.
He said: "We publish as much information as we can about a vehicle online so that the customer doesn't really have any questions other than can I test drive it or place a deposit?"
A central call centre team handles live chat and enquiries into the business on sales. These are then filtered through to book an appointment with a sales executive for a test drive and consultation.
SW has a team of 10 full-time staff at the call centre, operating on a shift basis to cover 9am to 8pm. About 75% of all of SW's customers go through the call centre.
An online presence has also increased SW's reach, particularly with the new premium-focused supersite. Six months ago, about 90% of business was from the local Peterborough area.
However, now there is a focus on premium Audi, BMW and Mercedes-Benz products at the second location, it's attracting people from much further afield.
Khan said: "With the different stock profile, we're attracting people from as far as Malta, Ireland, Scotland, Yorkshire and London. If you market the product well online, they're prepared to travel for the right vehicle."
Being there in person is something Khan thinks will be around in the UK car industry for a while.
He said online sales still only account for a very small proportion of customers: "We're not there yet with direct sales and I think it will still be another three years or so until those volumes start to build up.
"If you have the right make and model for a particular car, a consumer might interact and choose to purchase online, but in the vast majority of cases you still see people wanting to come to the showroom to touch and feel the car."
Digital-only showroom pricing
SW recently introduced a digital-only pricing system, meaning there are no physical price cards or signs on vehicles on site.
Instead, there is a QR code system that links vehicles directly to their online stock profile on SW's website.
Customers with an iPhone can scan the code with their camera and it will open up the page automatically. Those with Android smartphones can download a free QR code app or staff have access to tablets that customers can use to research details.
The decision was made to make sure SW is able to change its pricing to reflect how the market is moving and there is less confusion in the showroom as a result.
It's a way of joining up the physical showroom with SW's website, but more importantly it means prices are always accurate and reflect how they may have been adjusted in the last day or hour.
Khan said: "Prices fluctuate very quickly. We don't want to have a car on our website that is £10,996, but in the window it's £11,450.
"It's to give that transparency to the customer. We can make 10, 15 or 100 price changes a day, but it doesn't affect what we display on our vehicle."
How PDI capacity fuels the next phase
While the new premium brand location opened just a few weeks ago, it is merely the first part of Khan's two-phase plan to unlock growth for the business with an expanded used car preparation facility to open by Q1 next year.
Khan found that while sales have been growing, the business was struggling to keep pace with preparing vehicles quickly enough.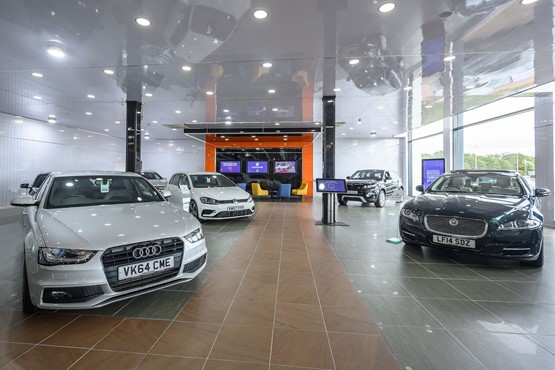 Average stock turn is between 36 and 43 days and Khan said having new facilities in place will be key to reduce stock turn to below 30 days, which he said is the key to start building a more profitable business.
Khan said: "We're not bringing vehicles to market as quickly as we would like with the current facilities that we have.
"So we're spending millions on the preparation centre and that will then facilitate the future growth of the business. When it's operational, we will have the potential capacity for 3,000 cars a month
through it."
SW Car Supermarket spends an average of £350 to get each vehicle retail-ready. Most stock acquired is grade 1 or grade 2 from auctions at a rate of about 300 to 400 cars a week.
SW retails appropriate part-exchanges, but if they don't fit the profile they are sent to auction.
Khan is expecting the new premium-brand site to add a significant amount to annual turnover, from £26 million in 2018 to £80m this year.
Profit before tax is expected to double this year, but Khan is expecting further improvements once the company's preparation centre is working at full capacity.
There is even scope to expand the preparation centre's workshops to cater for retail aftersales work as a growth opportunity driven by service plans.
Khan acknowledged that SW Car Supermarket had grown quickly and he ruled out any more locations in Peterborough due to "market saturation".
He said he admired what Sytner has done by acquiring and merging the Carshop and The Car People businesses into a nationwide used car brand.
Khan said: "If the opportunity arises and fits our model, I would consider another site in a surrounding location. I have already acquired further sites for possible future use."
Franchised dealers have also already come knocking to put in offers to acquire SW Car Supermarket, but this isn't something Khan is currently considering.
He said: "We want to focus on business growth right now and I think we have the opportunity to grow this thing into a monster."
While Khan may not have had an interest in cars before starting out, he's certainly got the same entrepreneurial spirit shared with his peers in the industry.
When AM asked what his reaction would be if a franchised dealer offered a blank cheque, Khan simply smiled and said: "We're not actively on the market for sale, but if the right opportunity came up we would talk. If the cheque was big enough, you're not going to refuse it."