The Financial Conduct Authority (FCA) will ban discretionary commission models of finance from next year under a plan outlined in its latest motor finance review.
The results of the regulator's motor finance review, published on October 15, called for an outright ban on the use of increasing Difference in Charges (DiC), Reducing DiC and Scaled commission models to stop car dealers increasing consumer interest rates in return for higher commissions.
The FCA said in a statement that a finance broker's ability to set such rates "creates an incentive for brokers to act against customers' interests".
It added: "Preventing the use of this type of commission would remove the financial incentive for brokers to increase the interest rate that a customer pays and give lenders more control over the prices customers pay for their motor finance."
The FCA's consultation period runs until January 15, 2020 and if the ban is imposed, the changes will be applied over a three-month implementation period in the second quarter of 2020.
Christopher Woolard, the FCA's executive director of strategy and competition, said: "We have seen evidence that customers are losing out due to the way in which some lenders are rewarding those who sell motor finance."
"By banning this type of commission, we believe we will see increased competition in the market, which will ultimately save customers money," said Woolard.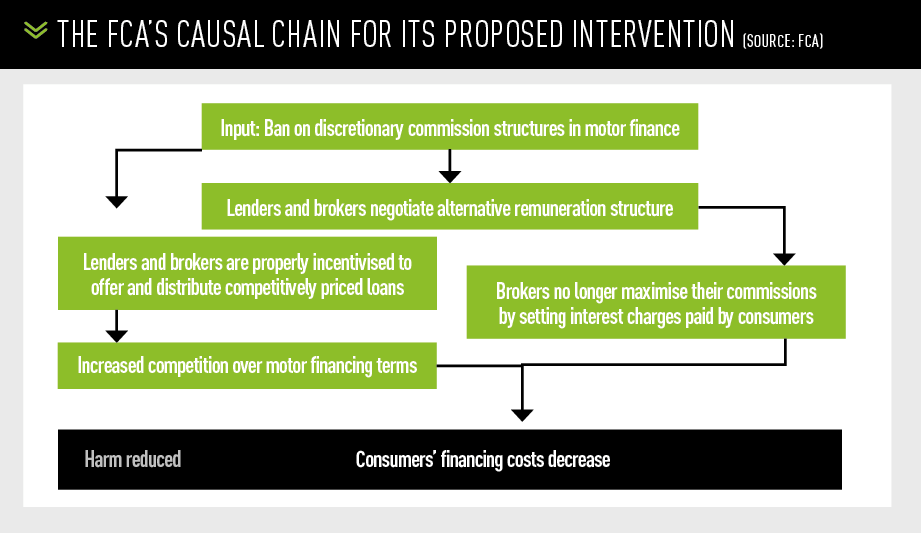 To establish the impact of discretionary interest rates on consumers, the FCA analysed a sample of about 1,000 motor finance transactions from 20 lenders, representing about 60% of the market, between January 2017 and July 2018.
It found that broker earnings varied significantly across the commission models, particularly for Increasing DiC, Reducing DiC and Scaled models.
"Excluding extreme outliers, the difference between the average and highest commission was around £2,000 for the DiC and Scaled models, compared to £700 for the flat fee commission model," it said.
The FCA found that on a typical motor finance agreement of £10,000, increasing commission under a Reducing DiC model typically leads to an increase in interest costs of about £1,100 over the course of a four-year agreement – an increase of about 50%.
Similar results apply for Increasing DiC. For the Scaled commission model, the association is smaller.
By scaling up its analysis of the market, the FCA estimated that the application of discretionary interest costs would result in about 924,000 customers paying, in total, up to about £500m in additional interest costs.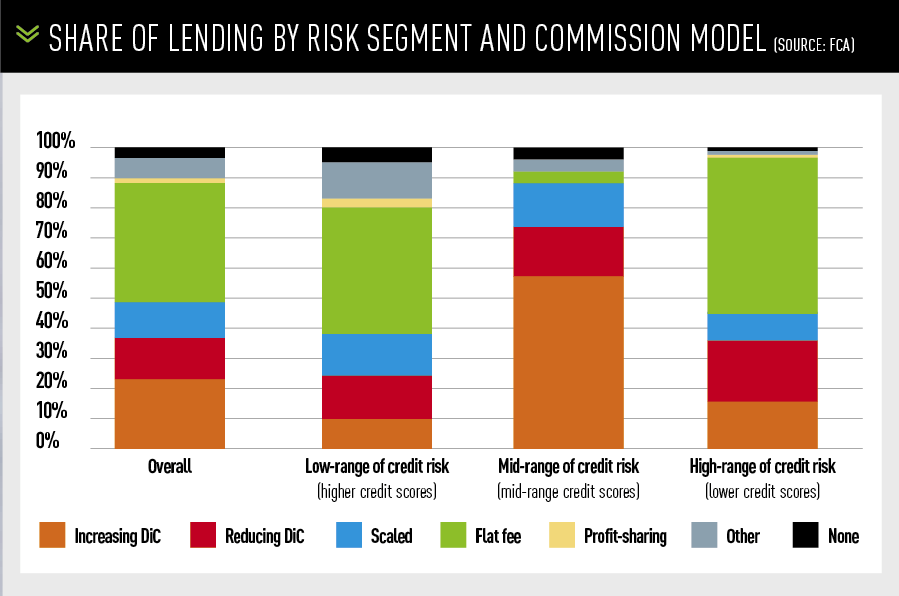 The FCA anticipates that the implementation of its ban on discretionary interest costs would incur a one-off cost to lenders of £13m and ongoing costs of £2m a year, while brokers in aggregate would incur one-off costs of £17m and ongoing costs of £3m a year.
It said: "In total, we expect the whole industry would incur implementation costs of £35m in the first year, and £5m in subsequent years."
The FCA said its planned intervention would affect only those firms that offer or receive commission that flexes depending on the interest rate offered by the broker – currently 48% of the market – adding that "the majority of the market will be unaffected by our intervention".
Speaking to AM on the morning of the review's publication, Adrian Dally, head of motor finance at the FLA, said: "There are some nice references where the FCA recognises that the industry has already moved on this and the main thing now is to encourage everyone to move.
"In March, the FCA said that these types of models were already a minority part of the market. Lenders that haven't moved want to move, but don't want to lose out financially by doing so."
Dally added: "From the FLA members' point of view, this is what we were hoping for. It's good for the industry in that it creates a level playing field with clearly defined rules."
While the FCA believes that its proposed changes will deliver better value for car buyers, its review findings did express some concerns about a "water bed effect" in which 'broker-dealers' who found themselves losing out financially as a result of the loss of the discretionary interest rates models could seek to make up the shortfall through less generous pricing of part-exchange vehicles or increased deposit contributions.
However, while it conceded that it would not be able to quantify these effects, it estimated that the competitive market and the fear of lost sales would prevent this from becoming a widespread issue.
Speaking to AM last month, the outgoing director general of the FLA, Stephen Sklaroff, said: "In terms of the findings of the current review, I know that the FCA are fully aware of how complicated the sector is and they have to be sure that the solutions they come up with don't have unintended consequences."
The FCA said: "We do not expect our intervention to result in significant unintended consequences for brokers or lenders.
"Since we published our final findings, some firms have moved, or intend to move, away from using discretionary commission models, in recognition of the harm they cause.
"We have been told that some lenders want to move away from these models, but are wary of losing contracts with motor dealers to those lenders that do not. Banning discretionary models would remove this potential disadvantage."
Sue Robinson, the director of the National Franchised Dealers Association (NFDA), said: "Franchised vehicle retailers are committed to helping and providing clarity to the consumer.
"Clear rules are positive for the industry, but we would urge that they are proportionate so there is a satisfactory outcome for both consumers and dealers."
James Fairclough, the chief executive of AA Cars, said the FCA's review showed that there was no "inherent problem" with car finance products themselves.
"However, customers are poorly served if they are not shown all the options best suited to them, whether through a lack of transparency, deliberate misinformation or because brokers are trying to steer them toward a particular product purely in order to secure a discretionary commission," he said.
"Transparency and clarity are essential for the car finance industry to serve customers properly, and the FCA's proposal would make it easier for car buyers to compare different deals and shop around."
Fairclough said if the ban increases competition on interest rates between lenders and removes the distorting effect of discretionary commission, it could also lower the cost of finance.
"The FCA's proposal should improve consumer choice and transparency, and we support their efforts to make car finance work better," he said.
The FCA's Consultation questions:
• Do you agree with our proposed ban on discretionary commission models in the motor finance market?
• Do you agree with a three-month implementation period?
Online response form: https://www.fca.org.uk/cp19-28-response-form