A seismic shake-up of the Ford of Britain franchised car retail network could have far-reaching consequences for the industry as a whole, report Tom Sharpe and Craig Thomas.
Ford is embarking on the biggest shake-up of any UK franchised car retail network since the collapse of MG Rover in 2005.
Its decision to close between 160 and 180 of its 400 UK car dealerships as part of its 'Ford 2025 dealer plan' is of a larger scale than Vauxhall's March 2018 announcement that it would terminate the contracts of its entire 324-strong network, when it trimmed its scale by 100 sites.
Ford said in its statement on the new plan that its dealer network and Ford of Britain national sales company had undergone restructuring over the past two decades – it had more than 650 locations at the turn of the 21st century – but added "dealer network profitability is still not sustainable".
In conversation with AM after the second of two investor partners conferences at the brand's Daventry Academy on February 26, Ford of Britain chairman and managing director, Andy Barratt, insisted that there would be no Vauxhall-style mass termination of dealer contracts.
But with a 2025 deadline for the network transformation, the writing is on the wall for smaller, 'second tier' franchisees who are being asked to maintain their relationship with the brand as an approved aftersales or used car retailer.
Ford's planned new car sales network has already been mapped out to ensure dealerships are accessible to 90% of customers within a 30-minute drive time in a similar fashion to Honda, which is currently in the process to shedding up to 55 of its 155 network (reported by AM in March 2019) in a bid to improve profitability.
With an electrification programme about to restructure Ford's familiar product line-up and a shift towards light commercial vehicles (LCVs) where Transit already dominates, which could see vans account for 50% of all UK sales, the brand is poised for a dramatic change in the way it does business.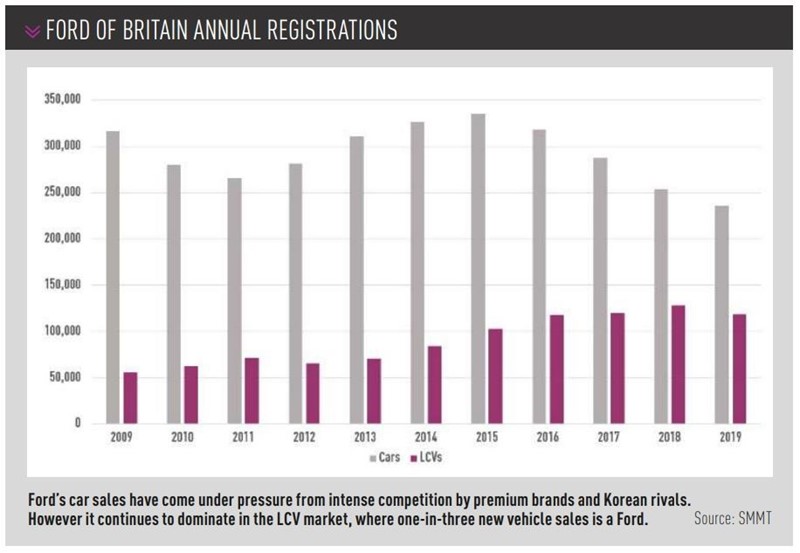 Barratt told AM: "I think the informed dealers are very aware of the changing automotive landscape and can see what's happening to new vehicle demand.
"They can see the propulsion revolution will bring change and opportunity and talking to them they all felt change was necessary."
Barratt would not comment on just how the shift towards a greater LCV market share – with the help of products co-developed with the Volkswagen Group – and the closure of so many sites, will affect Ford's position as the UK's volume leader.
Ford sold 236,137 vehicles in 2019, 7% down on 2018's 254,082 – a new record low.
What is apparent, then, is that there is no guarantee of a doubling of throughput for remaining franchisees after 2025.
But Barratt said that the 2025 plan would aim to bring the network's franchisees up from a 2019 return on sales (RoS) figure of 1% to 1.5%, with its top quartile earning 2%.
Aftersales kick-back
In the opinion of some long-standing 'tier two' franchisees already earmarked to lose their new car franchise, the profitability of the aftersales-only sites Barratt wants to retain will prove a bigger hurdle to Ford's plans.
Barratt told AM a "local and personalised aftersales service" would hopefully be retained, by keeping of most or all franchisees affected the network as aftersales providers, which would help to ensure its fleet and LCV customers continue to benefit from 24/7 support.
The drivers are now assisted by 100 mobile maintenance vans, but Barratt clearly acknowledges the need for a physical aftersales network.
"I would be happy if we retained all those partners," he said.
Franchisees set to lose the new car franchise by 2025 issued something approaching an ultimatum to the blue oval at February's conferences.
AM was told that in a show of hands – after the second day of meetings with the departing 'tier two' franchisees – around 50% indicated they would consider retaining an aftersales contract following the loss of their new car sales business.
But one long-standing Ford retailer said: "After that initial vote we were asked would we be willing to retain the aftersales function on the terms of our current contracts. Nobody raised their hands."
Disgruntled retailers are understood to be wrestling with the idea of how they will retain profitability on the brand's current warranty rate and income from parts, with many suggesting that their Ford business would not be viable without the flow of new car sales from the historically volume-driven brand.
"Yesterday's news was painful after all the years we have spent with the brand. Painful and disappointing," said AM's source.
"As it currently stands I would retain the Ford franchise for aftersales after 2025, if the contracts change. If they don't we will be forced to look for other options."
The leader of a larger Ford franchise claimed that larger groups set to retain their full Ford franchise face a different challenge.
He said Ford's desire to operate the network with 60 to 80 investors, setting aside many of its traditional owner-drivers, would throw up difficulties due to the creation of geographic "areas of influence".
AM's source said: "Where two large groups currently co-habit one of these 'areas of influence', I imagine there will have to be sales and acquisitions to complete the restructure.
"How will that pan out in terms of the value a business can attract, given that you will essentially be compelled to buy or sell a dealership?"
Electric revolution
Ford has said the aim for its restructured UK business is the creation of a more targeted operation. It would have a strong focus on growing its LCV business and providing passenger vehicle customers with a more defined portfolio, shifting towards new automotive trends, including electrification, connectivity, car-sharing and online sales.
The drive towards electrification has to be concerted as stringent EU regulations for 2020/21 mandate fines of €95 (£83) per gram of CO2 over a targeted 95g/km limit, per vehicle sold, with a multitude of manufacturers expected to be in breach.
As the UK's biggest selling brand – and one without a full electric vehicle (EV) in its line-up before this year – Ford has to move fast to mitigate the legislation's impact.
Graham Hoare, Ford of Britain's chairman, and Barratt spoke to AM at the UK unveiling of the brand's debut EV, the high-performance Mustang Mach-E, just ahead of the announcement about the brand's network restructure.
The Mustang Mach-E arrives in the UK at the end of the year and fulfils another one of Ford's ambitions – to explore online retail more thoroughly – in that it is being offered for sale exclusively online.
And while The Mach-E won't be in competition with the all-conquering Fiesta in terms of sales volumes (Fiesta sales were 18.83% down at 77,833 in 2019) there are still hopes to sell thousands of units annually.
Hoare explained the necessity of the first fully electrified Ford being something that captured the imagination of car buyers and placed the brand head-to-head with Tesla.
He said: "We're embracing performance here. Accessing electrification from that entry point is really important, rather than it being an also-ran. This is very differentiated. It feels different, feels special."
Barratt said: "From a technical point of view, we're putting a marker down that we're serious about electrification. We're talking about 13 electrified vehicles in the UK this year, but putting a marker down with a technically advanced, premium-performance, electric car."
Entering the EV market with expensive halo models is a tried and tested route for the likes of Audi, Jaguar and Mercedes-Benz, but is a new model starting at around £40,000 the right move for a volume brand such as Ford?
Barratt explained that there are issues with launching something like a Fiesta-E when the EV market is at its current level of maturity.
Range anxiety from small cars with small battery packs and a disproportionately high price may limit their appeal.
The trend is likely to make sales of Ford's new range of electrified SUVs outstrip those of historically big sellers such as the Fiesta, Focus and Mondeo and potentially result in their loss from UK dealerships.
For now, Ford's strategy is very much based on using hybrid vehicles as a stepping-stone to full electrification.
By the end of 2021, Ford's range will feature 48-volt mild hybrid versions of the Fiesta, Puma, Focus, Kuga, Transit Custom, Tourneo Custom and Transit.
At the same time, there will be self-charging hybrid versions of the Mondeo, Kuga, S-Max and Galaxy, as well as plug-in hybrid Kuga, Transit Custom and Tourneo Custom.
Barratt said: "We have a hybrid strategy – whether it's mild, whether it's plug-in or full hybrid, dependent on the car – and that's where the bulk of our activity has been.
"I don't believe the market is at the point where people want a true small EV: they want flexibility. But that doesn't mean to say we're not working on those types of products in their next generation."
Barratt claims to be unconcerned about the PSA Group's new crop of compact EVs, led by the Vauxhall Corsa-e and Peugeot e-208, stealing a march.
He claimed that they were too expensive to appeal to the mass market "at this point in time".
Infrastructure challenges
Electrification presents Ford's franchised dealers with a number of challenges.
Fitting chargers onsite is one thing, getting a sufficiently dependable electricity supply might be a more difficult civil engineering task – perhaps a step too far for some "tier two" retailers.
Barratt said: "If you look at an established dealer that may have been there 50 to 60 years, given the increase in power consumption they've got in other parts of their business – whether it's power tools, ramps, computing, anything else – it's the draw on the power. So does the substation feed have enough for the site, or do we have to do a full energy audit and then look at efficiencies in the workshops – because, for example, you may plug in a car to charge it and the ramps get stuck?"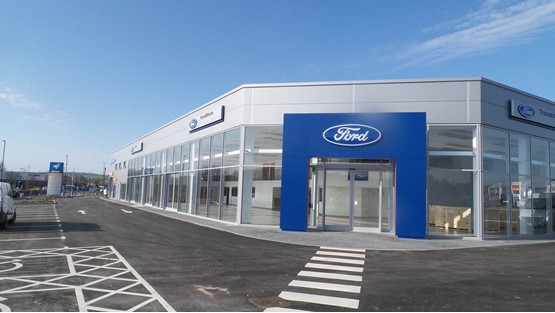 It's not just about changes to bricks and mortar, though: the human element is key. Staff at dealerships must be trained to help customers find the best electrified option for them.
"The education of that customer inter-action is absolutely key, because many of these are new customers that we would never have seen before – maybe in other brands or actually because they're choosing to own a car for the first time," said Barratt.
"I think it's really exciting, but it's a real challenge. So, we're in the process of going on a big education push involving consumers."
Part of that education process is the Go Electric exhibition that is travelling around the country after its time in London, launching the Mach-E.
It will visit a further 50 venues across the UK, with 200 days of electrification evangelism to an estimated four million consumers at the likes of Bristol Balloon Fair and the Scottish Outdoor Show.
Although a Ford of Britain initiative, dealers can also get involved, hosting test drives or capturing the data of consumers visiting the events.
Embracing change?
Even before the plan was hatched to close a huge portion of Ford franchised retail sites, signs could be seen that some initial restructuring of its operations might be proving unpopular with retailers.
In April 2018 it started to build a Parts Plus sales channel for trade parts with 84 centres across the UK. It takes parts sales away from dealerships.
At the same time, the roll-out of Quick Lane fast-fit facilities at larger FordStore sites has further widened the gap between the brand's larger and smaller retail operators.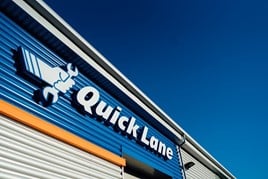 In the Summer 2019 National Franchised Dealers Association (NFDA) Dealer Attitude Survey the brand's average score out of 10 across all questions fell from 5.5 to 5.2.
Dealers' view of the brand's alternative fuel vehicle (AFV) offering attracted a 2.1-out-of-10 score, ranking it fifth from bottom, while the current profit return score was 3.3, down from 4.5 six months earlier.
Barratt, however, did not seem daunted with the adverse reaction from dealers: "I always believe there should be a degree of tension between a manufacturer and a dealer.
"There's got to be positive tension. And that positive tension is they look to us for leadership on volume aspirations and driving the market."
Despite the challenges in the market, Barratt thinks that sales are holding up, which is keeping dealers content, at the very least.
"We had a very, very good passenger vehicle sales month in January," he said.
"The dealers had a much better month than they expected – and sales are a good barometer of how happy they are when they make money.
"They're happy."