When order books opened for Kia's new e-Niro in January, its initial allocation of 700 cars sold out it in just three weeks, presenting its dealers with a challenge they may never have experienced before.
The Sportage was the first Kia model to attract a waiting list and when Kia announced the Stinger, dealers were inundated with customers who wanted to be the first to own one, but the e-Niro is on a different scale, according to the brand.
The squeeze is unlikely to end soon – John Hargreaves, Kia's head of fleet and remarketing, expects demand for electric vehicles (EVs) to grow significantly next year, as changes to company car tax rules make them far more attractive to the fleet sector.
Steve Kitson, corporate communications director at Kia Motors UK, said: "Demand is enormous at the moment. We see a growing expectation for EVs, especially among fleet and business users."
Dealers were promised that their first sold order for an e-Niro would be fulfilled and the brand is initially prioritising retail customers with delivery of the new car.
"The first ones will be with us in April and we expect those to go straight to customers," said Kitson.
Each of Kia's 190 dealers will get an e-Niro demonstrator and the remaining cars will be provided on a first-come, first-served basis.
Order books for the car will remain open, despite the initial allocation being sold, as Kia Motor UK is desperately working to acquire more vehicles before the end of the year.
Kia has a six-year product pipeline planned to cater for the shift to alternative fuel vehicles (AFVs). It intends to launch 16 models with electrified powertrains by 2025 and is committed to launching a fully electric vehicle each year, for three years.
The brand is currently supplied by two factories in Korea.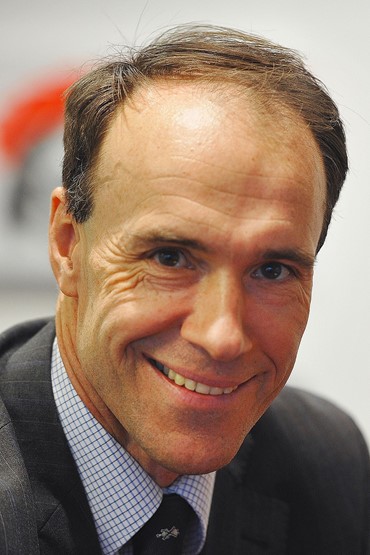 By the end of this year, both expect to double capacity – although they will have to contend with demand from a range of other manufacturers, who plan to launch new EVs between now and the end of the decade.
"It all comes down to battery availability," said Kitson.
"Various manufacturers will be launching new EV models this year, but we are all chasing sufficient lithium and battery packs. It will be a restraining factor for the next 12-18 months – we just don't have sufficient supply at the moment," said Kitson.
Despite this, Kia is confident it should be able to quote 'realistic' lead times for the e-Niro by this time next year.
Currently, an e-Niro customer could wait a year for delivery of their vehicle, as the allocation is spread across a 12-month period.
The brand said it is "working closely" with its network to ensure that customer expectations are managed effectively.
"We have to manage expectations. When a customer comes into the showroom, our dealers will be very clear that there is a waiting list," said Kitson.
In order to prepare dealers for the anticipated EV boom, Kia offered them the chance to become EV specialists when the Kia Soul EV went on sale in 2014.
The rise in popularity of AFVs in the past few years means now Kia mandates that all dealers must be EV specialists, with the ability to sell and service the range of different fuel types, including the Niro Hybrid and Optima plug-in hybrid.
Hargreaves said he has "absolute confidence" that the network is ready to deal with the influx of EV customers, following investment in training and new equipment.
Network development
With no shortage of potential franchisees, according to Hargreaves, Kia is being careful to protect the profitability of its existing dealers by ensuring it only opens new sites in areas where coverage is poor.
"We see no need to exceed 200 sites at this point," said Kitson.
Last year's dealer profits were the second highest on record, and Paul Philpott, the managing director of Kia Motors UK, is keen to ensure dealer profitability remains high.
"We don't have any intention to start selling cars online," explained Hargreaves.
The brand believes that customer experience is the critical factor and continues to encourage the placement of a 'Kia Genius' in its showrooms.
The purpose of the role is to help customers find out at least as much about a car as they could online, but in a hands-on environment without the pressure to buy.
PCP remains the most popular way that customers buy a car, but Hargreaves said the brand recognised the growing trend towards PCH.
"We offer a PCH product, but we aren't trying to drive it. For dealers, the PCP is still a better deal," he said.
Hargreaves said an important factor was selling the car in a way that gives the dealer control over the relationship, encouraging buyers back for servicing and retaining them at the end of the deal.
Record registrations
Kia Motors UK enjoyed a record year for new car registrations in 2018, despite a fall of almost 7% in the overall market.
Kia volumes increased by 2.7% – totalling 95,700 units – and the brand believes it is on track to reach its goal of 100,000 new cars sold in a single year, by 2020.
Perhaps in recognition of its strong performance, AM readers voted Kia Franchise Partner of the Year in the 2019 AM Awards.
It was also named the best franchise in both 2018 NFDA Dealer Attitude Surveys.
Kia's current range is spearheaded by the Sportage crossover, which was the UK's 10th best-selling car last year and named Used Car of the Year at the AM Awards.
The Sportage amassed more than 35,500 registrations in 2018 and was followed by the Picanto city car (16,800 registrations).
Fleet sales were responsible for the bulk of Kia's growth and accounted for 55% of its total registrations – a figure that brings the brand in line with competitors.
Historically, Kia had been a more retail-focused brand, with up to 70% of sales coming from private buyers as little as five years ago.
However, retail registrations slipped by 1.4% last year, to 35,750.
The boost in fleet sales has come from the brand's push to promote its AFV models to those who want cheaper tax bills, but also from stronger consumer interest in its products feeding into the user-chooser market.
Growth has also been helped by the brand's decision to develop European-specific models at its European Design Centre in Frankfurt.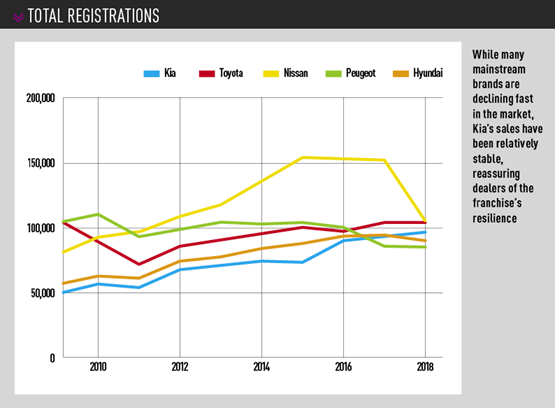 Last year, a new Ceed joined the range with performance and build quality to rival the leading cars in its segment.
The Sportage has been equally successful, with an uplift in quality helping it become second favourite to the ubiquitous Nissan Qashqai.
Fleet performance
In the fleet sector, Kia is ahead of the market in terms of its AFV penetration, with 7.5% of its fleet sales featuring a hybrid, plug-in hybrid or fully electric powertrain.
This is expected to grow, as more fleets feel the pressure to move away from diesel and drivers become incentivised by lower taxation.
Hargreaves said: "In many fleet operations, I think there is still a place for diesel. For a company, especially, it is still worthwhile.
"But from next year, the BIK will make EVs far more attractive. On a £35,000 EV, a 40% taxpayer is going to see a reduction from £2,500 per year to just £250.
"A business with 50 EVs will see national insurance contributions drop from £35,000 to £4,000. It's an absolutely massive change, which is bound to stimulate the growth."
The old status quo of residual values being the main barrier of adoption are no longer an issue, according to Hargreaves.
"The trend has reversed. EV RVs are improving. They have caught up. There are enough of them in the market to make them a saleable used car.
"The Soul EVs used to be a difficult sell. Now we don't have any, because there is a very strong demand from dealers for them.
"We will get to a stage at some point in the future where internal combustion engine vehicle RVs will go right down," he said.