Chanel, Louis Vuitton, Hermès, Dior – the world of fashion design and production is littered with French brands that have become household names and now DS wants to do the same for French motoring.
Alain Descat, who started as managing director of DS in the UK in April, said: "The ambition of DS is to embody French luxury know-how in the car industry.
"French luxury – in the form of handbags and fashion from some of the world's most famous brands – is obvious to everyone.
DS is aiming to be one of these luxury brands. We want to deliver an experience that offers that Parisian inspiration, know-how and quality."
Citroën launched DS Automobiles as a sub-brand in 2009, defined it as a distinct marque in 2015, and the UK brand officially split from its parent on July 1 of this year.
It has yet to establish itself as a registrations success story, down almost 30% year-on-year in the first eight months of 2018 (to 4,200 cars) and with a market share of just 0.27%.
So what sets DS apart from other brands trying to establish themselves away from the mainstream? In short, why should car buyers look upon a DS as a designer label?
Key to this, according to Descat, are DS showrooms, which have been designed to offer customers an identifiably different ambiance that fits with the brand's aims. DS has two types of retail outlets – a Store, which is a dedicated luxury boutique and a Salon, which is a smaller space usually joined to a Citroën showroom.
"The DS Store gives you the full experience of what the DS retail concept is about," explained Descat.
"Inspiration comes from boutique hotels in Paris. You have a lounge area in the middle of the showroom, where you'll always find a Nespresso machine, so that every customer that comes in can sit down and have a coffee in a relaxed, cosy environment.
"You'll also find the DS colours, brown, dark walls, along with a calming red and beige colour scheme, which creates a quality experience. There are always one or two desks for the DS experts or advisers and some furniture that showcases the hand-run leather in the cars."
There are currently 25 outlets (see the map on page 34) and DS is aiming for 50 by the end of the year. That is significantly below the 80 or 90 sites the brand was looking at when it announced its intention to split from Citroën in 2015.
Currently, seven of the 25 dealers that have been granted the DS franchise contract are those from Robins and Day (the Groupe PSA manufacturer-owned franchise group), while the remainder are from those that already had the Citroën (and combined DS Automobiles) franchise.
Haute couture meets haute tech
DS is putting high technology alongside high luxury, in the form of a virtual reality experience, said Descat: "What we want to do with DS is to offer with our digital experience a smooth journey from online to offline.
"One example is the DS virtual vision. The idea is that you will sit there, immersed in the car so it feels as if you're actually in it. You can get out of the car, move it, open the boot, etc."
Of the 50 outlets that DS hopes will be open by the end of the year, about 10 are intended to be fully equipped DS Stores, with the rest being DS Salons at Citroën dealerships.
"The Salon is a solution that was created to allow our Citroën partners, those which volunteered to be a DS partner for the long term, to have a transition for 2017-18. They have a corner of DS within a Citroën
showroom. It's a smaller showroom in which you can get three cars. You won't have all the furniture, but you can always recognise it immediately as a DS space, with the same tiling, same floor, same furniture, same experience."
Descat and his team have a clear idea about where they want DS retailers located, seeing the premium offer as one that will chime with audiences in urban and metropolitan locations.
"The way we look at it is DS is a brand for the premium market, so we're targeting the locations where we have this premium market. That will always be next to the main cities, but you will still always be able to find a DS Store or Salon within a reasonable driving distance."
DS also aims to give its customers a degree of flexibility, so they don't only have to go to a dealership in the traditional way – the dealership will also go to the customer.
"We have a set of services that we are offering under the umbrella that we call Only You," said Descat.
"We have two services right now. There's pick-up and delivery, so if a car needs servicing, we will pick it up and bring it back to the customer.
"There's also a delivery valet. So a DS 7 Crossback, for instance, will be delivered to a customer in a truck with a valet, who will bring the car to your drive, so it's quite an experience to impress your neighbours. The car gets out of this beautiful, black truck and it's a high-class, at-home delivery experience."
A sample of this service is the 'test drive from your drive' promotions that DS recently ran over the summer within the M25. Although he would not say how many test drives were conducted, Descat said he considered the pilot programme a success that will roll out to other cities (the scheme was run at the end of the summer in the Greater Manchester area).
"We know that the test drive is what makes it happen for us, in terms of customers making the step towards buying of the car, because the common feedback is that people are really surprised at the quality of the car.
"We hired a professional driver to deliver test drives in a non-buying-pressure way and the USP was we would go to the customer for a 45-minute test drive. Then, should they wish, customers would be put in contact with the DS expert at the Robins and Day DS Salons.
"The satisfaction rate we received from the feedback survey is amazing. We saw that we brought in a lot of non-DS or Citroën customers, the vast majority of them coming from other premium brands. From the pure return on the investment, it was a very good operation."
Moving into mobility
The Only You service enables DS to focus on the customer, thanks to a set of services designed to help customers not only with day-to-day functions such as pickups and deliveries of their vehicle, but also harnessing new technologies that offer the kinds of mobility solutions that will become increasingly popular over the next few years.
For example, the MyDS app offers reminders to customer on where they have parked their car and last-mile navigation to destinations. But it will also act as a portal to other services, such as the DS Club Privilege, which will offer access to special owner events, and DS Rent, its vehicle rental service starting this autumn.
"The idea is to offer our customers the capacity to rent a car – it could be a B2B customer, for instance, who needs a car for three weeks, or a private customer with a DS 3 who wants to rent a DS 7 Crossback for the weekend. It's a way to ensure that we always have a mobility solution for our customers," said Descat.
"Our dealers will be able to rent demo cars, test drive cars, courtesy cars, as an extra activity that brings them business, which also guarantees the increased mobility that we want to offer our customer."
The DS Rent programme raises the question about whether DS is looking at offering cars to consumers using a subscription model.
"I think of course we'll come to that," Descat acknowledged.
"If you look at the percentage of finance in this country already – which is something that struck me very strongly when I arrived – the next step is to offer a wide range of mobility services.
"PSA Group already has Free2Move, so DS, as part of PSA, wants to be one of the best mobility providers. We want to have more agility, more flexibility – and DS Rent is the first step towards that."
But before the automotive industry reaches the broad, sunlit uplands of the personal mobility future, there's the here and now, and the need for dealers to sell cars. The sales volumes of niche sub-brands are never going to trouble the big boys, but they have to justify their existence by turning a profit, even if it's only a small one – for themselves and the dealers who will have to make a sizeable investment in creating the kind of environment for selling a luxury car.
One dealer AM spoke to last autumn who declined the opportunity to take on a DS franchise, said he couldn't see how the store could return his investment within his lifetime.
Growing the dealer network
So how does DS plan to attract more partners and investment?
"Whenever we discuss with partners, the first thing is to explain what the brand stands for, and to let them see the long-term mission we have," said Descat.
"We start by taking all future partners to a DS Store, so they can see what it offers, in terms of the experience. The other thing we do is we take potential investors to the design centre in Paris and we show them the future of our products.
"Plus, of course, DS is PSA's premium brand and, for an investor, this counts as well, because it's not a standalone premium brand. That's what the investors buy into.
"Obviously, we're open for all investors that share our vision, that have the capacity to create a prominent location where they have the right capacity to invest, have a good track record of service to their customers, etc."
Descat acknowledged that selling from fewer dealers doesn't, on the face of it, augur well, especially as much of its range is on run-out, with DS 4 and DS5 now coming to the end of production. But he's hopeful that new products, such as the DS 7 Crossback launched earlier this year, point the way to the brand's long-term future.
"It's more important to start with the right dealers and give the full DS experience. The volumes will come, because we're bringing in new products. Our main challenge is brand awareness – telling potential customers that we exist and we have great products will take time."
As dealers help build the brand, and await the launch of new product, used car sales will be important. Descat recognises this and DS is addressing it with DS Certified.
"DS Certified comes with the warranty from the dealers. It comes with the safety for the customers that they are buying the DSs from DS, in the best condition. It's also a way to secure the residual values. When you build a new, premium brand, it's important to look at everything that has a positive impact on residual values.
"It's not only DS 7 Crossback, but also being able to buy the good DS 3s, DS 4s and DS 5s. There is a strong interest in the market for them."
DS has already experimented with the high street, with its Urban Salon at Westfield shopping centre in west London. Descat said the brand learned a lot from the experience of being in a location with high footfall and offering consumers a sampling opportunity for the brand, without the selling tactics that consumers often expect.
"We learned a lot, not only for us in the UK, but for the DS brand worldwide. It was a branding investment – you want exposure for your brand, and you measure results based on how many people pass by, interacting with you."
In the short term, DS doesn't have any plans for a new pop-up store, but Descat said it is definitely open to doing it again at some point.
Is an online retail platform on the horizon?
"We are looking to e-commerce, as everybody is, and we made a first step with DS 7 Crossback La Premiere edition, which customers could place a deposit and book online. The important thing is to be able to have a smooth journey for the customer. The customer journey isn't online or offline. You go online, you visit the store and then you're back home, and you can finish your purchase online. Or you come back in-store and sit with a DS Expert and sign your order.
"The one thing we don't want to do is to cut the business out of the dealers. The way we see e-commerce is with our dealers involved."
New DS 3 crossback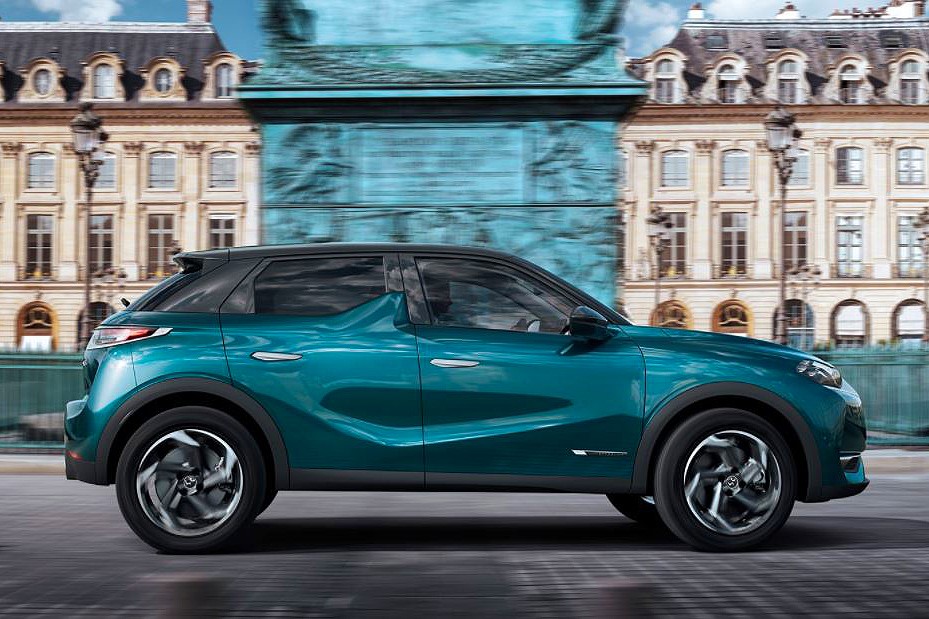 DS Automobiles will accelerate its model shifts towards SUVs and EVs with the introduction of the new DS 3 Crossback during 2019.
Built on the PSA Group's 'Common Modular Platform' (CMP) the new model will offer customers the choice of petrol, diesel or EV drivetrains without the need to compromise interior space.
Putting DS back at the head of the queue in terms of adopting the latest PSA technology, the range's newcomer will also feature Matrix LED headlights and DS Park Assist and Drive Pilot, which introduces new levels of semi-autonomous driving into the range.
Available in the second half of 2019, the DS 3 Crossback's EV drivetrain combines a 50kW battery and 100kW (136PS) motor to deliver a claimed 186-mile range under the new WLTP vehicle test regime (280 miles in NEDC).
The lithium-ion batteries can be charged to 80% in 30 minutes thanks to a 100kW fast-charge capability and a full charge will take five hours via an 11kW 'wallbox' home charge point.
The other drivetrain options at launch will be a 155PS PureTech petrol engine with a new eight-speed automatic gearbox, along with a choice of 130PS or 100PS petrol engines
Completing the engine line-up will be a 1.5-litre BlueHDi 100PS diesel engine.
At 4.12m, the DS 3 Crossback is shorter even than an Audi Q2 and will feature a number of style-led features to lure younger customers.
Flush-fitting door handles emerge from the four doors when the car senses the approaching keyless entry fob or is unlocked via a smartphone app, for example, while the colour scheme sticks to the familiar contrasting roof and body hues pioneered by the DS 3 hatchback. CRAIG THOMAS