Volvo's defiance of the declining overall UK new car market looks likely to continue and its new managing director needs to ensure its retail network is ready to adapt to emerging trends.
That means initiatives such as flexible subscriptions, strengthening relationships with corporate customers, offering maximum convenience in aftersales and embracing electric vehicle (EV) sales.
Volvo Sweden managing director Kristian Elvefors swapped roles with UK managing director Jon Wakefield in June this year and his early assessment of the UK business is that there are challenges to overcome, but the network is generally in a good place.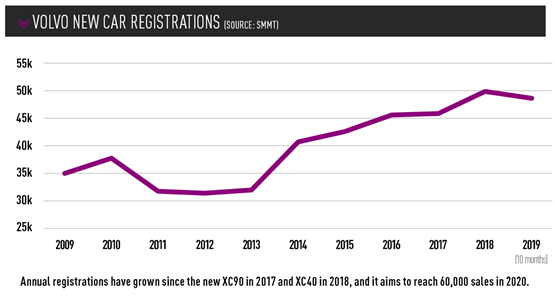 The network's average return-on-sales figure is currently about 1.5% and rising, said Elvefors. Dealer morale is pretty good – Volvo rose from 18th to 11th in the latest NFDA Dealer Attitude Survey. About half of the UK's Volvo dealerships will have the Volvo Retail Experience (VRE) showroom style in place by the end of this year. And new Volvo registrations in 2019 were 14% up year-on-year by the end of October (to 48,069), inching the brand towards its goal of achieving 60,000 annual sales in 2020.
Upsetting the apple cart is not Elvefors' style. He wants long-term emphasis on strong business residuals.
"It's easy to fly in here, sh*t out some volumes for two years and fly out again, leaving someone else to take care of the residual values. But that's not the way you should work," he said.
"You need to protect used cars and build the value chain. That's important to us." He described it as climbing a series of "ladders" – the brand should increase new car volumes, secure used cars, consolidate, find more technician capacity for aftersales, then increase new car volumes and repeat.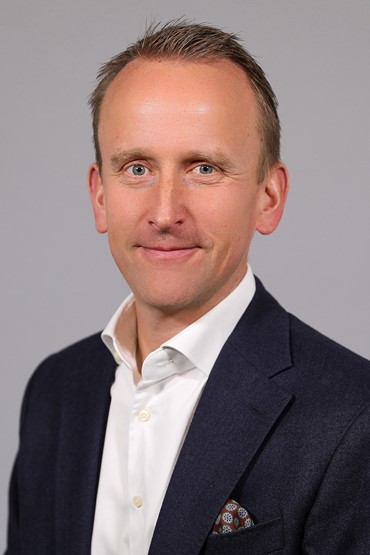 He said it's easy to push sales volumes, but just as easy to destroy a brand. His expectation is that Volvo, currently the fastest-growing premium brand in the UK, will finish ahead of its 2018 result of 50,319 registrations. But not at any cost.
With Volvo's new-generation cars now all in place – "We have one of the most modern car lines available in the market," said Elvefors – some industry observers believe real pressure is now on the brand to sustain that momentum and keep its dealers busy.
Challenged on this, Elvefors said the addition of PHEV and BEV (battery electric vehicle) models, now branded as 'Recharge' derivatives, and a new infotainment system adopted by XC40 and Polestar2 with intelligent voice controls, will bring more opportunities for growth. Although it now has stylish, desirable, "sexy and safe" cars selling strongly, he knows it would be foolish to relax.
It has also made Volvo On-Call, its connectivity service, standard across the range. This is a way of getting consumers prepared for services to come, he said. It starts with better integration of the car with the smartphone, but is heading towards a keyless future where drivers will do more through their mobile phone. Polestar 2 demonstrated this already, using the phone as the authentication device. Once detected, it unlocks the doors automatically.
The technology will allow Volvo and its dealers to provide a more frictionless experience by providing integrated offers, he said, and seamless mirroring of what the driver has been doing on their smartphone, such as showing searched-for locations, media apps, and use of Google Voice Assistant.
It will help to overcome the distinctly separate manufacturer and dealer experiences of today, to give a blended outcome.
Elvefors believes vehicle financing still shows growth potential: "We could benefit from more fleet volumes. And subscription – we have the full Care By Volvo product now in Germany and Holland – will still grow, and I believe it will take off in the UK too in the coming months."
Care By Volvo in the UK is currently a PCH product in essence, which ties consumers to a fixed period and includes all regular maintenance costs and insurance, managed by Volvo retailers. He said the UK's scheme will evolve into the full product, with a flexible cancellation structure, most likely in 2020.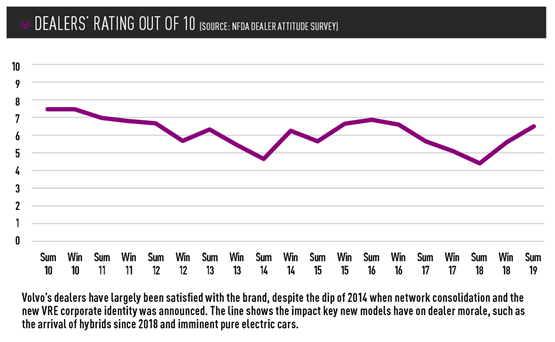 "For us, it is really important to keep the retailers. I think what we have now, with the 100 sites we have today, is fairly in line with what our retail strategy is, and in line with introducing new subscription models. Because to sell around 60,000 new cars and quite a big amount of used cars, you need a well-developed retail system."
Volvo is currently enjoying sales momentum in the UK that the brand has not had for years. Annual sales of new and used cars are close to 100,000 units, and Elvefors credits the dealers, and Volvo UK sales director Matt Galvin, with focusing as much on increasing used car business as the new.
"It's an important way of working," said Elvefors. "For many, it's hard to find people who strive for used cars as much as they do for new."
He said key drivers of the success include the 12 months' warranty, roadside assistance, MOT cover and a 30-day exchange guarantee if the customer is not satisfied with their purchase. Yet the biggest thing that has helped is Volvo's partnership with its finance and leasing partner, Santander. Together, they ensure remarketing of demonstrators, management cars and leased and rental units is driven towards the retail network. Volvo offers dealers some variable margin linked to used car volume targets it sets.
Elvefors said used car profit is crucial for his dealers. He believes those that manage their stock well, employ a used car manager, and market specifically around used cars, can earn good money.
VRE, which AM has reported on since 2014, is aimed at creating a 'street' displaying the cars and a 'lounge' with comfortable Swedish-style furniture and refreshments, plus a glass wall that allows customers to see the technicians working on their cars. The styling is seen to be a strong differentiator between Volvo and its German premium rivals.
That glass wall between the showroom and workshop is part of Volvo's desire to reconnect customers with the experts maintaining their car. More than half of
Elvefors's dealers now have Volvo Personal Service multi-skilled teams, where two technicians work together on the same job to get services completed in less than half an hour. Customers can consult service advisers and the technicians themselves.
Elvefors said VPS is still "in a growing phase, not a mature phase" and Volvo is still learning from it. To get the most from it, the dealers need to move away from the old booking practices and to encourage more customers to wait rather than take loan cars.
"If you get a stated appointment, then it's feasible to come in, bring your laptop to do some work, have a coffee and you can be out within half an hour. If you're still queuing jobs, saying you should leave your car at 7am and pick it up at 5pm, then even if you do a service in half an hour, it doesn't make sense."
He believes working on a scheduled basis will get higher customer satisfaction.
"It is crucial to get it fully implemented. And if customers want pick-up and delivery service, we should be able to offer that as well."
The growth of EVs in the years ahead makes it important for manufacturers to find new revenue streams for the retailers, he said. As oil changes reduce, software updates are done over-the-air, and PDI processes are simplified, Elvefors said dealerships need to bring many of the things that are currently outsourced, such as glass, SMART repairs, air-conditioning, tyre replacement and alloy wheel repairs, back in-house if dealerships are to survive.
Looking further ahead, if staffing shortages continue, he predicts that robots may support technicians to do some of the routine tasks at the dealership. Asked if this was feasible, Elvefors said: "No one has tested it, but if they can build cars why can't they service them? Let's see."
Volvo's existing support for the network includes lead management and marketing, and Elvefors wants to step up the help on fleet sales. The long partnership with Santander has built "quite a healthy PCH and private consumer side" and he wants more business from the fleet market.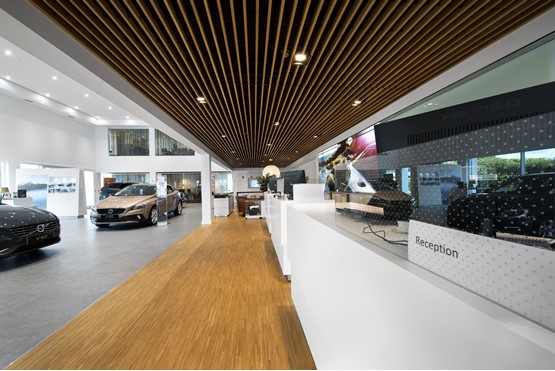 Those PHEV and BEV cars will help to tempt company car users from next year if the proposed changes to benefit-in-kind (BIK) tax rates come into effect, with a 0% rate for pure electric cars.
Volvo has stated that it will develop its diesel engines for only a further couple of years, to meet emission requirements, and will not invest in a new generation of diesel. That suggests that diesel will have disappeared from Volvo's range by 2030. Its focus is on electrification, with hybrids and pure electric models – by 2025, it said it wants 50% of its global sales volume to be fully electric cars.
Since VRE was announced, there have been multiple acquisitions within the Volvo UK network, allowing partners to build market areas. TMS Motor Group bought Volvo Leicester from Sturgess Motor Group last month, to expand its footprint from Coventry and Hinckley. Endeavour Automotive now has nine sites after buying three from HSF in February. John O'Hanlon's start-up, Waylands Automotive, bought four within two years from Johnsons, Fawcetts and Jardine Motors.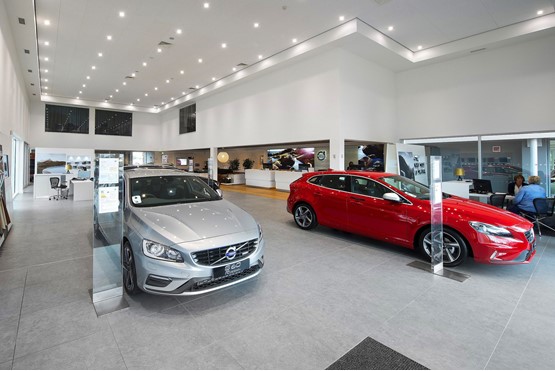 Elvefors expects consolidation of ownership to continue. There are 48 investors in the network at present. He said there certainly shouldn't be more, and ideally there should be slightly fewer so that investors have scale of representation and get some cost benefits. Elvefors said he will not block entrepreneurs from running the franchise if they are doing well, with a couple of caveats: "You must be profitable and must be able to fulfil the targets. If you don't, then we'll need to consider doing something. And you must have the ability to invest (in VRE), which means earning the money to do so".
Asked what is in the pipeline for Volvo dealers, he said its sister brand Polestar has already agreed that Volvo franchisees will get its servicing work, and some franchisees have applied to be Polestar agents. Endeavour Automotive has been announced as the first, operating a Polestar Space in London from next year.
Investors may also benefit from other Geely-owned brands, such as LEVC, which aims to launch a range-extended electric van in 2020. LEVC has used the Volvo networks in some European countries to expand its footprint.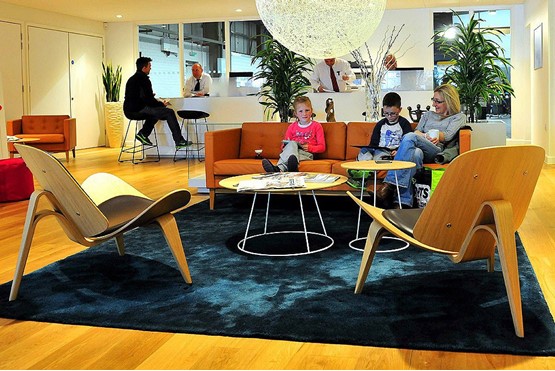 Six months on from launching Volvo Online, a new car e-commerce portal supporting franchisees, Elvefors described it as still in the pilot phase. He said the processes for online retailing are too complex at present for many consumers, and must be simplified. Often brands are too "engineer-driven" when explaining equipment on cars, and consumers who buy are using just a fraction of its full functionality as a result.
He believes the industry needs to consider how the consumer will really use technology, and help them better. In Sweden, a month after delivery, Volvo's customers are invited back to have cake and coffee at the dealership and ask any questions. He said it's a practice he would like UK dealers to try.
For online retailing to succeed, he believes the industry will move to "a more integrated, fixed-price model" and away from negotiated deals. But that will take time. Doing so puts more pressure on the retail network to provide a great customer service, he said, and to add more services into the network so they can secure revenue.
Will it be agency contracts? He is sure more and more agency models will be adopted. That's not a negative for dealers, he said, because it fosters customer confidence and on a full agent contract the dealer holds no stock risk. "But as an agent you need more intelligence, more data, more AI to understand the local marketplaces, to operate effectively."