Automotive retailers are spoilt for choice on who to partner up with for valuation data in the UK.
The market is extremely competitive, with a variety of suppliers pumping investment into new platforms and technology to win custom from dealer groups.
Cap HPI leads the market in the UK for market share with dealers and retail valuations, but it competes against known brands Glass's, as well as Auto Trader, BCA and new entrants such as Cazana and jamjar.com.
All this competition is good news for dealers looking to put their suppliers to the test on service and price.
Dene Jones, BCA's chief marketing and data officer, said the demands of the used market mean dealers need access to daily pricing information.
He said better informed and more technology-literate consumers are pushing dealers to be more transparent in the sales process.
Jones said: "More often than not, a car buyer arrives on the forecourt with a valuation for their own vehicle and a target price for the car they wish to purchase. This makes the ability to value used cars accurately even more critical to profitably."
A spokesperson for Cap HPI said the automotive market is a volatile sector and the company is aware that dealers need to ensure they have
immediate sight of valuations reflecting real-time transactional data, as well as advertised retail prices to keep ahead of changes.
Ben Miller, Glass's head of marketing, said the company is planning to launch a new valuation platform across its 20 markets, including the UK, next year. He said there is increased competition for dealers' business and that is one of the biggest challenges in operating in the valuations industry.
Miller said: "We have been working on this new platform for around 12 months now and there are going to be some big developments next year.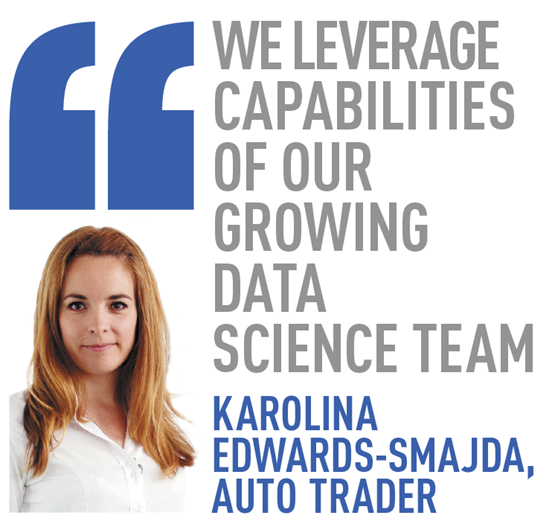 "We also need to keep an eye on the competition and market share situations in other markets where we operate. The biggest challenge is increased competition and making sure you're staying ahead of the market and continuing to innovate."
Karolina Edwards-Smajda, Auto Trader director of commercial products, said over-age stock is one of the biggest issues for dealers. Her company estimates that retailers lose about £290 million a year due to overage stock.
This equals £25,000 in lost profit each year per site and is affecting nine out of 10 retailers.
Edwards-Smajda said: "The growing sophistication of data and the algorithms required to analyse are constantly evolving. However, we leverage the capabilities of our growing data science team to ensure our data-driven products are always at the forefront of these changes."
Tom Wood, Cazana's chief executive, said when dealers are choosing a data supplier, it's essential to understand the dataset on which they will be making decisions.
Wood said: "There are a number of data suppliers in the market, some relying on manual opinion, others using the data from one classified site alone.
"We would encourage dealers to take data that has a full view of the market as purchasing from a single platform could result in bias."
Wood disagrees with the rapid rise in "price flagging" on classified sites due to it training negative behaviour and a "race to the bottom" on price.
He said while data is helpful, Cazana wants to encourage dealers not to blindly trust it and to use data to better understand market dynamics – including putting the price up as well as down.
Wood said: "The dealer still has an important part to play in understanding their vehicle product and how it should be priced.
"Data tools should assist, not prescribe pricing and it's important to select a data supplier that provides easy-to-use tools that still allow you to apply your knowledge of a particular product on pricing and attractiveness, including specific colours and options."
Latest innovations in valuations
Cap HPI said it has "pioneered live values" and understands that merely reflecting how much used cars are advertised for does not help to optimise either purchase or actual sale prices.
Cap HPI has made product enhancements in the past 12 months to its Valuation Anywhere with a simpler search function and the introduction of 'free text' searches earlier this year. Prior to this, vehicle values were identified by using the VRM look-up or manual look-up function. Valuation Anywhere data also now includes retail advert data that is integrated into the tool.
Valuation Anywhere gives dealers access to 62,000 VRM-based car IDs and mileage-adjusted valuations "within seconds" without specialist vehicle product knowledge or the need for manual searches.
Meanwhile, Glass's has had a stable year as it prepares to launch that entirely new live valuation platform.
It has meant there have been no huge external initiatives as work has been concentrating on developing a single data platform that will feature past, present and future values on a live platform across cars, vans and motorcycles.
Glass's operates in 19 European markets, with Germany its largest market area. It also operates in Australia.
One area of development for Glass's this year will be the ability to look up valuations by vehicle identification number (VIN). This will give dealers more accurate data, down to the specification that was fitted at the factory. VIN look-up will be introducedto UK dealers before the end of the year.
BCA has seen a "significant expansion" of its Decision Intelligence product, to drive greater efficiency and insight within retailers' operations.
Jones said BCA's technology can help predict the final hammer price on vehicles at auction.
The service is now provided daily to BCA customers using the BCA Dealer Pro system and underpins a range of pricing services it provides for the used vehicle sector.
Jones said: "BCA Valuations is the only service that reflects remarketing sale values in real time using a range of insight, including cosmetic and mechanical condition, colour and equipment.
"The service uses fully automated machine-learning algorithms every night to calculate fair and unbiased valuations, based on 200 distinct data points across five million real transactions."
Jones said that during fast-moving marketing conditions, it's not enough to be making overall headline adjustments to used car prices, as the relationship between different vehicles can change daily.
He said: "Our pricing relationships are re-evaluated every night. We use machine learning techniques to reduce fluctuations resulting from one-off trans-actions, which means BCA valuations are robust and based on real-time market conditions."
Auto Trader is in the process of replacing its i-Control used car stock pricing platform with Retail Accelerator as it upgrades dealers to the system.
Edwards-Smajda said: "We have put a lot of investment over the past year into replacing iControl with a much more powerful version called Retail Accelerator. It's been totally designed from the ground up, so while there will be elements of familiarity for dealers, it looks very different when you put them side by side. We're currently rolling out upgrades for all the dealers we work with."
Auto Trader is offering one-on-one training or webinars to help dealers making the switch.
Edwards-Smajda said the new system was developed with the help of leading automotive retailers to make sure it was fit for purpose with their daily operations. Auto Trader's pricing tools are configurable at site, brand or group level.
Retail Accelerator monitors more than 1.9m vehicles each day, including 90,000 vehicle updates and an average of 19,000 vehicles added or removed from Auto Trader.
This is coupled with data from more than 450,000 trade used car listings every day, as well as additional dealer forecourt and website data. Dealers already using Retail Accelerator have an average used car stock turn of 8.3 times a year, compared with 6.4 times for those not using the product.
Edwards-Smajda said turning an entire used car forecourt almost two times extra annually will have a big impact on dealer profitability, particularly in a challenging market.
Andy King of jamjar.com is focusing on opening up its website for free, unlimited valuations for customers and dealer partners this year. He said many customers are curious to know what their vehicle might be worth, so rather than blocking them from finding out, jamjar.com will let them and only take further details if they're serious about trading in their car.
King said this will pass on more qualified part-exchange leads to dealers.
He said: "Allowing customers to value their vehicles removes any worry that they're going to be pestered if they're not in the market yet.
"But, more importantly for our dealer partners, it means that any user who has given us their personal information will be a customer who is in the market now and is waiting for our partners to give them the price they need to sell their car."
King is hoping to grow to about 1,000 dealer partners within the next 12 months.
Cazana said its Companion tool is now used by some of the largest dealers in the country (and integrated into new products such as the new Cazana-powered Experian Autocheck).
The Cazana spokesperson said: "As a business we are rapidly gaining traction through partnerships like our financial services, banking and retail reseller agreement with Experian and our team is now 40-strong. We're excited the industry has supported a new entrant into the vehicle pricing and data space."