With the UK's used car market remaining near 2018's peak of eight million transactions, the three major auction groups have been working hard to keep their trade customers buying and selling effectively.
Signing a partnership with V12 Motor Finance has enabled Aston Barclay to help its dealer customers fund their stock, including any refurbishment required, and ease their own sales to retail buyers with consumer finance.
The UK's third-largest motor auction group announced the partnership earlier this year and hopes its customers will find it easier and quicker to get the stock they desire, from physical and digital sales, thanks to integration into its app.
Aston Barclay's investment in software development led to the launch of its Cascade platform this year. Systems such as e-Valuate, e-Xchange and e-Live now support traders through the remarketing process, allowing the trader to get a guaranteed value on a trade-in which they can easily submit for auction.
Managing director Neil Hodson said: "We are a remarketing specialist. We are providing the tools that modern car retailers need and that make their business easier.
"All these assets are provided, by us, for free. The aim is that they draw business to us. We are offering huge support to retailers through provision of this technology and all we ask in return is that they give us a try and transact with us."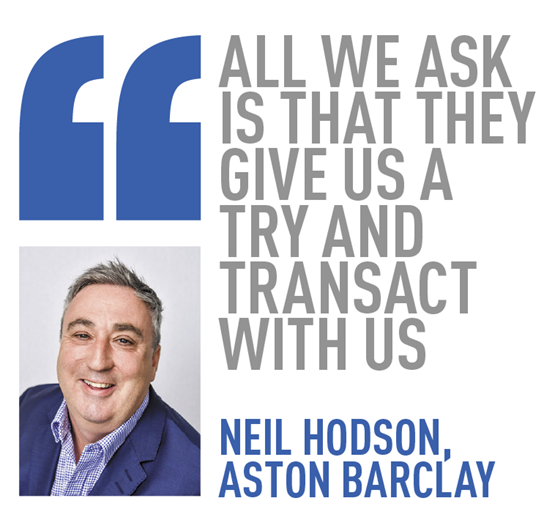 One in three bids that Aston Barclay receives online are currently through its buyer app and the Cascade functionality.
Other developments include the opening of its Wakefield 'mega centre' – an 18-acre auction site with meeting rooms and a gym – and its takeover of Independent Motor Auctions, which has become the group's specialist commercial vehicle auction. It takes the number of Aston Barclay auction houses in England to six.
The Wakefield site is also the headquarters of The Car Buying Group, a business bought by Aston Barclay in October 2018, which provides a part-exchange valuation for a dealership, and takes the residual risk and buys the car, if the dealer does not want it for stock.
In the past 12 months, Aston Barclay has hired former Manheim director Richard Cross as its sales director, and former Cap HPI and Cox Automotive executive Darren Wiseman to head its digital solutions business, together with former Adesa head of IT Suzanne Harris. Inchcape UK used car director Cliff Deller joined the group last October as group remarketing director.
Aston Barclay's clients include CarGiant, Group 1 Automotive, Hatfields Group, Robins & Day, Quest Motor Group, Vantage Motor Group and Wessex Garages.
BCA, the market leader, has secured the single largest remarketing contract in its history. Its five-year Auto Services Solutions contract with BMW (UK), leaves it providing a full range of joined-up solutions, from defleet, refurbishment, inspection and collection, inventory management and remarketing, for the carmaker and its specialist leasing business, Alphabet.
As part of the agreement, BCA has created a dedicated BMW defleet centre to handle the storage and refurbishment needs.
At dealer group level, BCA announced numerous business wins and renewals of existing contracts, including HR Owen, Taggarts, JCT600, Motorline, Halliwell Jones, West Riding Hyundai, Sandown Mercedes, Eden Group, Snows Group, Trust Ford, Hammonds, Imperial Car Supermarkets, Johnsons Cars, LSH Auto UK, Steven Eagell, Swansway and TC Harrison.
In Scotland, BCA became the exclusive remarketing partner of Taggarts, part of Lookers, and has expanded its sales programmes at Glasgow, Edinburgh, Livingstone and Kinross. Its Glasgow site has become a specialist commercial vehicle auction house, and BCA plans to open an additional remarketing facility for the city.
BCA has also expanded sites or sales programmes at Nottingham, Paddock Wood, Bridgwater and Leeds.
Changes to BCA's services and products have included the launch of daily pricing intelligence for customers that use the BCA Dealer Pro platform, with the aim of ensuring customers are kept in tune with actual market conditions.
Other enhancements to Dealer Pro have included the addition of Partner Finance, which offers dealers 120 days' funding for stock bought at auction, to the app, and a series of integrations with third-party technology providers, such as CDK, Pinewood, Dealerweb and EnquiryMax. These integrations remove dealers' need to re-key data, thereby improving data accuracy. And it launched a buyer app, which supports online and in-auction bidding, available free in Google Play and Apple App stores.
Through Dealer Pro, BCA Partner Finance now offers a new service to allow dealers to finance a part-exchange instantly while it's on the forecourt. This is designed to help dealers improve cashflow and free up additional working capital.
"Now with a single application, a dealer can appraise a vehicle, receive the BCA MarketPrice and secure funding for the vehicle, while the customer is still on site. It creates a unique stock management solution for the market. The Dealer Pro platform enables dealers to monitor stock levels, refresh valuations and decide which vehicles to remarket through BCA," said Malcolm Thompson, managing director of BCA Partner Finance.
Outside the auction arena, BCA launched Cinch, a car classified marketing website to rival the likes of Auto Trader.
Manheim has announced new or renewed remarketing contracts with Group 1 Automotive, Allen Ford, CarShop, Endeavour Automotive, Big Motoring World, Hendy Group, Thurlow Nunn, Vindis Group and digital start-up Driver1. It is also underwriting the part-exchange values for consumers who use the Volvo Online purchasing platform, which the Swedish car brand launched this spring.
Having disposed of the Incadea dealer management system operation in late 2018, Manheim's parent, Cox Automotive, completed the sale of its Motors.co.uk classified advertising business to Ebay, and its sales and service software business, RTC, became independent in a management buyout by its founder, Tim Baumfield.
UK chief executive Martin Forbes said dealer software was no longer one of Cox's UK core priorities, and it was focusing on physical auction, digital wholesale, retail solutions and vehicle services.
Cox Automotive also sealed a joint venture agreement with Auto Trader to develop the online trade-to-trade sales business, Dealer Auction, under the leadership of Le Etta Pearce. Cox transferred its existing Dealer-Auction.com and Manheim Online operations into the venture, while Auto Trader transferred its operation, formerly known as Autotrade-Mail. Customers of all three will be offered a new, single, integrated platform by the end of 2019.
New services from Manheim include QuickList Imagery, which allows customers buying stock at its auctions to buy full vehicle imagery, enabling them to immediately begin marketing the car.
This follows a three-year programme to install 360-degree, high-definition photography booths at all its auctions and to equip its vehicle inspectors with high-res imaging apps.
Forbes told AM that Cox Automotive is a business that is shifting to digital, which will expand its vehicle transport, storage and de-fleet services.
Traditional remarketing "is under attack", he said, with some vendors selling cars further upstream to dealers and avoiding the auction, and some others going straight to digital platforms.
It aims to reduce its network of 16 physical Manheim auction sites in the UK by 2024, and to reconfigure the locations it will continue with.
Doing so also prepares Manheim to help store and maintain vehicles if or when mobility as a service (MaaS) and autonomous vehicles gain scale.
"Physical auction is not dead, but we have to evolve, and this is through digital," he said.