TrustFord has continued the consolidation of the Ford's car retail network in London through the acquisition of Cambria Automobiles' franchises in Croydon and Wimbledon.
Stuart Foulds, chairman and chief executive of the Ford of Britain-owned AM100 car retail group said in a statement issued this morning (May 13) that the Wimbledon site had already been rebranded and opened under its new ownership following a "smooth handover" process.
But new car and commercial vehicle sales previously handled by the Croydon franchise, operated under Cambria's Dees division, will now be directed to the TrustFord site in Wimbledon.
Foulds told AM: "The acquisition of these two sites more or less gives us control of London and Greater London, which is a long-term desire that we've had.
"It completes the circle for us in London.
"I am delighted the new site is now live following a smooth handover, I look forward to visiting and meeting the team in person at TrustFord Wimbledon in the coming days."
TrustFord's brace of acquisitions follow a 2020 restructure of its operations which brought about the £30m sale of its 4.44-acre Alperton dealership last year and served to consolidate its operations in London.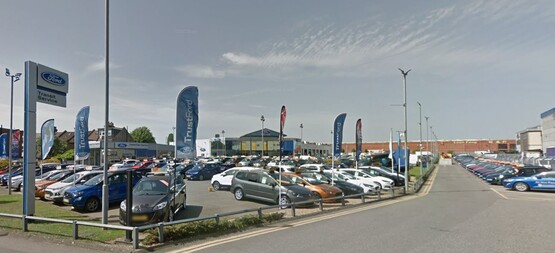 The Alperton closure came as the group developed a brand new 20-bay aftersales facility and Parts Plus franchise "just 200 yards away", as the site's sales functions would move to the Edgware Road showroom.
The move came as part of a series of changes within the TrustFord network, with the closure of its Banstead dealership – to be consolidated into Epsom – and a move to shift the new car sales operations of Eltham and Perry Bar into Epsom and Erdington, respectively.
Bradford's body shop facility was also closed amid a slackening of demand for accident repair services, Foulds told AM last summer.
In February TrustFord gained planning permission for a new dealership site in Guernsey, meanwhile, allowing the business to bring its Ford retail, aftersales and body shop businesses under one roof.
The Guernsey site, at Longue Hougue, includes the island's Hertz car rental business.
TrustFord said in today's statement that its newly-acquired sites in London had already been rebranded.
The group has already refreshed the sites' used car stock and have plans underway to fully upgrade the site this year.
Its statement said: "Wimbledon's customers can now also enjoy TrustFord NOW, allowing customers to drive away selected vehicles the very same day, or Choose It Now and Bring it To Me NOW, enabling customers to reserve, select and have a used vehicle delivered from anywhere in the Group to their home or nearest dealership.
"Following TrustFord's positive experience of offering remote selling across their network, the dealership's team will also now offer Live Video Appointments, Click & Collect and Home Delivery options, providing a 'no touch' solution for anyone who wants a blended shopping experience or is unable to visit the site."
TrustFord's new Wimbledon site also houses a 16-bay all brands aftersales workshop and delivers TrustFord's Service NOW offering.
Service NOW guarantees vehicles are serviced in 60 minutes or less is also on offer along with TrustFord's Mobile Service NOW proposition to complement the service they already offer and allow the Group to provide 24/7 servicing and repair support.