TrustFord has officially opened a 20,000 square foot service and PartsPlus aftersales centre in Alperton, North-West London, following a £1 million investment in the site.
The new aftersales-focussed facility was created following the Ford of Britain-owned AM100 car retail group's decision to sell its Alperton retail site for over £30m as part of the brand's plan to close almost half of its UK franchised sites.
The new facility is located on Athlon Road, around 200 yards away from the former dealership site on Ealing Road.
As part of the changes at Alperton – revealed by AM back in November – TrustFord's car and CV sales for the market area were brought into the company's flagship, Edgware Road FordStore.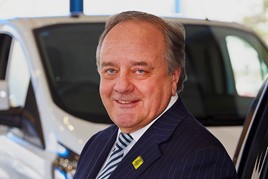 TrustFord chairman and chief executive, Stuart Foulds, said: "At TrustFord, we're committed to driving the standard in customer care and continue to invest across our national network.
"These stunning new facilities on Athlon Road will give us additional scale and resource to meet our customers' servicing needs for all makes - not just Ford- for both car and commercial vehicles, and help our colleagues deliver the excellent service that they're known for."
The new service and parts facility includes a 15-bay EV equipped aftersales workshop and also serves as a hub for TrustFord's fleet of Mobile Service Vans covering the Great London area.
Alongside the aftersales operation, a new 7,000 square-foot PartsPlus Centre supports the sale of trade parts directly to franchise groups, independent repairers and body shops, offering Ford, Motorcraft and Omnicraft parts.
They also offer deliveries of parts in under one hour to regular customers within a 30 minute drive time of the centre.
TrustFord's Alperton site opening comes after a broadening of the group's aftersales and parts operations since announcing its plans at its 2018 annual conference.
The group now operates 15 TrustFord PartsPlus distribution Centres across England, Northern Ireland and Scotland and are the largest wholesale Ford parts distributors in the UK.
In October it also expanded its Ford Quick Lane tyre and service aftersales fast-fit centre network with the opening of a £400,000 facility in Gorton, Greater Manchester. It was the group's third Quick Lane opening, following locations Prestwich and Colchester.
Commenting on the new Parts Plus site opening, Foulds said: "The new PartsPlus Centre forms a key part of our network-wide investment in Ford of Britain's wholesale parts initiative and this expanded parts offering will help us deliver a truly excellent parts service to our customers in the area.
"I look forward to visiting the site and welcoming both existing and new customers and our colleagues to these new state of the art facilities."