Car retailers risk returning to an aftersales famine after the "feast" experienced after the COVID-19 lockdown and the race to catch-up with a backlog of postponed MOTs.
That is the verdict of Vauxhall aftersales director Richard Dyson, who told AM that franchised dealers must put strategies in place to maintain momentum at the start of 2021.
"While we will hopefully be on a more positive footing by then, Q2 of next year is already on our minds as that's when new car registrations really fell off a cliff due to the COVID crisis," said Dyson.
"Since June most retailers aftersales departments have gone from famine to feast and there is a risk that the market could return to a very quiet period in the new year as COVID impacts franchised workshops' usual seasonality."
Dyson said that Vauxhall retailers had been pushing hard to make the most of a "feast" of aftersales activity since the easing of lockdown restrictions on retail sites in June.
While he said that retailers had been encouraged to contact customers to urge them to MOT their vehicles, despite the Departments for Transport's six-month moratorium, few had taken advantage of various contacts and offers, stating that many had just "seen it as something they were free to put on hold".
Despite a rush of work into Vauxhall's 314 authorised repair locations, Dyson said that pressure points were causing efficiency headaches.
And the network is yet to embrace the high volumes of work enough to arrest a decline in overhead absorption year-to-date, with Vauxhall operators down 8ppts at 51%.
"The main thing our retailers are working really hard to achieve is increased efficiency in aftersales, but at a time when they have an eye on the longer term picture and there are issues with holiday accrual and illness, it's a difficult balance to strike," he admitted.
Parts distribution
Dyson said that continued efforts to merge the Vauxhall network with the PSA Group policies, procedures and vehicle platforms were all starting to streamline operations.
The brand's apprenticeship scheme was brought together with the PSA Group's own scheme this month to ensure that, like its technicians, all participants are now also trained on the OEMs' Citroen, DS Automobiles and Peugeot products.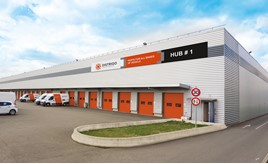 Vauxhall also went live with PSA Group's Distrigo parts hub model on July 1, with 22 parts hubs now supplied directly from a giant warehouse at Toddington.
Applications are also being invited for the UK's final few Distrigo Relay parts hubs.
Currently 18 of the smaller, more localised parts businesses have been opened and there is scope for a further eight, according to Dyson.
"With Peugeot and Citroen, Distrigo has been in operation since 2017 and those retailers have been able to see the benefits," he said.
"Not only is there the cash advantage of not having to stock parts, but you get a minimum of two deliveries a day, which can really help drive efficiencies in the business.
"On top of that, there the additional space that you can take advantage of as a result of the reduced need to carry stock."
All makes servicing
In addition to Distrigo, this month's introduction of PSA Group's Eurorepar all-makes parts provision has also opened up a new aftersales opportunity for Vauxhall franchisees.
Under the 'All Makes Approved' banner retailers are offering a £159 fixed price service and a £49 MOT as part of a range of all-makes offers, which can be funded across several instalments through a 0% APR finance offer.
Dyson said that the offering goes hand-in-hand with a desire to get older Vauxhalls back into dealerships in a bid to boost workshop volumes as the brand's UK market share continues to decline.
Society of Motor Manufacturers and Traders' (SMMT) new car registrations data for September showed Vauxhall's market share is now 5.79%.
Dyson said: "Eurorepar allows our retailers to go out and compete head-to-head on price with the traditional all makes aftermarket sector.
"It's one of lots of opportunities opening up in the coming months.
"Our job now has to be to help our network maintain that flow of work and opportunity at a time when activity volumes are extremely volatile."