Pentagon Motor Group welcomed Vauxhall sales director Stephanie Howson to Sheffield to officially open its new dealership facility in the city.
AM reported on the impending completion of the new Vauxhall Sheffield showroom over a month ago and Howson has now cut the ribbon to mark the completion of the AM100 business' move from its former location on nearby Savile Street.
Pentagon Vauxhall Sheffield now occupies a new showroom in part of a building which already accommodated its sprawling Kia franchise off the Sheffield Parkway dual carriageway.
Howson said: "I was delighted to be asked to attend the opening of this latest investment by the Pentagon Motor Group into its Vauxhall brand interests.
"It delivers everything we would want for a Vauxhall dealership: a spacious modern showroom, comprehensive supporting parts and service facilities, good space for used car displays and, above all, a convenient and comfortable location for customers."
Pentagon's new Sheffield eight-car Vauxhall showroom was created using workshop space in its existing Kia and Vauxhall Vans facility.
A new aftersales centre for both Kia and Vauxhall has been created nearby as part of the changes.
Representing a £500,000 investment, Pentagon said that creation of the new Vauxhall facilities gives customers and staff a "far easier location to access than the old city-centre site".
Pentagon has operated the Sheffield Kia franchise since taking over from Lookers in June 2017.
The move comes as Pentagon continues to follow through on a declared strategy, in place for some time now, of focussing on a reduced number of major car brands.
Pentagon severed its ties with the FCA Group with the closure of its dual-brand Alfa Romeo and Jeep dealership in Doncaster in July.
The closures follow a period of network growth for the group, however.
In January last year it acquired three TrustFord dealerships (Warrington, St Helens and Runcorn) before acquiring Loughborough's Archie Moss Vauxhall dealership in August.
November brought the acquisition of Sytner's Seat dealership in Huddersfield, before the group completed the addition of Peugeot to Barnsley (in its former Fiat showroom) and Lincoln (formerly Citroen) in February this year.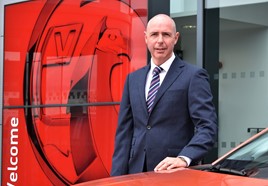 Commenting on the creation of the new Sheffield Vauxhall dealership, Rob Schofield, Pentagon Group's brand director for Vauxhall and Kia, said: "Even before final completion of the Parkway Avenue showroom, Vauxhall customers were already using our new Vauxhall service and parts facilities on the site, which obviously we had ready well in advance of the closure of our old city-centre site.
"Alongside that they have been browsing and buying our used stock selections: there seems to be a universal acknowledgement that the new site is better all-round in terms of space and convenience. The new showroom is the final master-stroke that completes the picture."