Institute of the Motor Industry (IMI) chief executive Steve Nash has urged Chancellor of the Exchequer Rishi Sunak to address funding for skills training in the Spring Statement.
New analysis from the IMI has found that automotive vacancies are at their highest level for 20 years – at more than 23,000 - accounting for approximately 4% of the workforce.
Motor trades had the sixth highest vacancy rate of all industry sectors.
Nash said: "There's no question the Chancellor has a number of pressing issues it's hoped he will address in the Spring Statement. But the IMI's latest analysis of vacancies in the automotive sector highlights just how critical the skills situation is.
"We have been calling for the Government to inject funding specifically into training to work on electric vehicles; but frankly right now businesses need help to bring on talent right across all areas of skills.
"More needs to be done to help employers upskill their workforce. Retraining those currently out of work also needs to be addressed as a matter of priority.
"The massive advances in technology in automotive offer a wealth of opportunity; it's critical therefore that the training is available for individuals who want to be part of what is an incredibly exciting sector."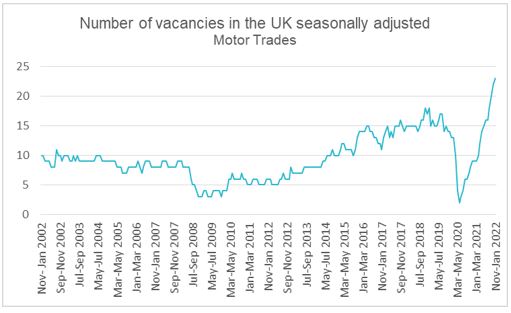 The IMI is lobbying Government for £15 million funding from its green occupations pot to help redress the balance.
There will be a shortfall of almost 36,000 EV-trained technicians by 2030 if retraining isn't addressed urgently, the IMI has warned.
Car retailers' aftersales departments need to take action to keep pace with dramatic changes in the sector such as electrification, automation and digitisation.
Sunak is due to deliver his Spring Statement to Parliament at 12.30pm today (Wednesday, March 23).