Jaguar has worked with a London architect to produce four visions of an electrified urban future.
Called a 'once in a generation opportunity for wholesale change', the concepts are called 'today', 'tomorrow', 'electric city', and 'electric future'. They represent a future motorway service station, multi-storey NCP car park, an emission-free city and an energy self-sufficient city.
They were displayed at an event called 'The Electrified Automotive Future and its Relationship to Architecture'.
Jaguar collaborated with architects Barr Gazetas on the project.
Jaguar director design and honouray fellow of the Royal Institute of British Architects, said: "As a designer, I am hugely excited by the opportunity this widespread adoption of electric cars presents.
"We have a unique chance for wholesale change of the facilities available to drivers as we reinvent usage and 'filling' patterns for our vehicles. The concepts we are presenting here with the team of architects show a vision of what is possible, what is needed and what it could look like."
The concepts described by Jaguar:
Today – what a motorway service station could be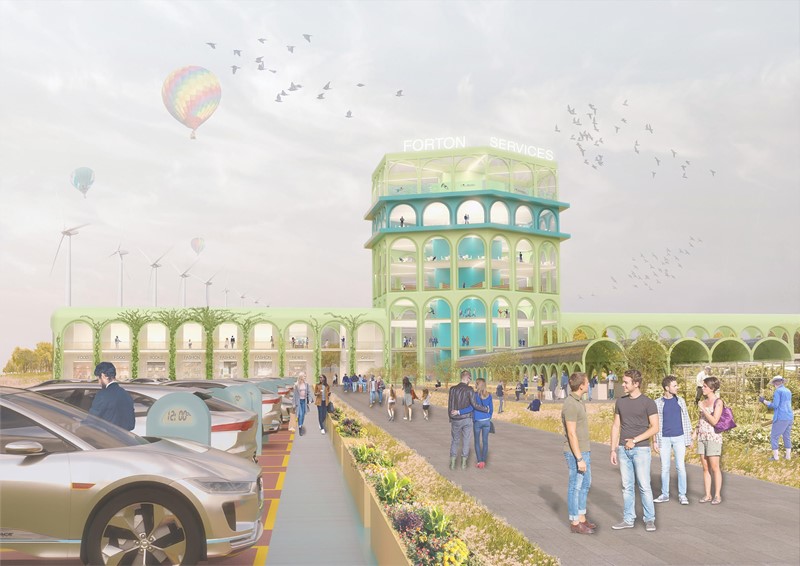 "New electrified life is breathed into a traditional, tired motorway service station.
"It is based on Forton Services on the M6. When it opened in 1965 Forton Services was a beacon of modernity featuring an up-market restaurant and a sun deck.
"Today motorway services are often an unpleasant jumble of commercial buildings servicing noisy, polluted motorways.
"With electrification, much reduced noise and pollution together with increased 'dwell time', result in such stations becoming destinations with an array of amenities and services including farm shops, gymnasiums, swimming pools and restaurants to give travellers greater options to occupy the time required to charge their vehicles.
"The trend towards connecting these stations to their local rural and urban community is enhanced by the environmental improvements electric cars will bring. Encouraging people to visit for a variety of reasons, be it for leisure, to work or to trade produce and ideas, they will revive the lost model of the ancient caravanserai."
Tomorrow – NCP car park of the future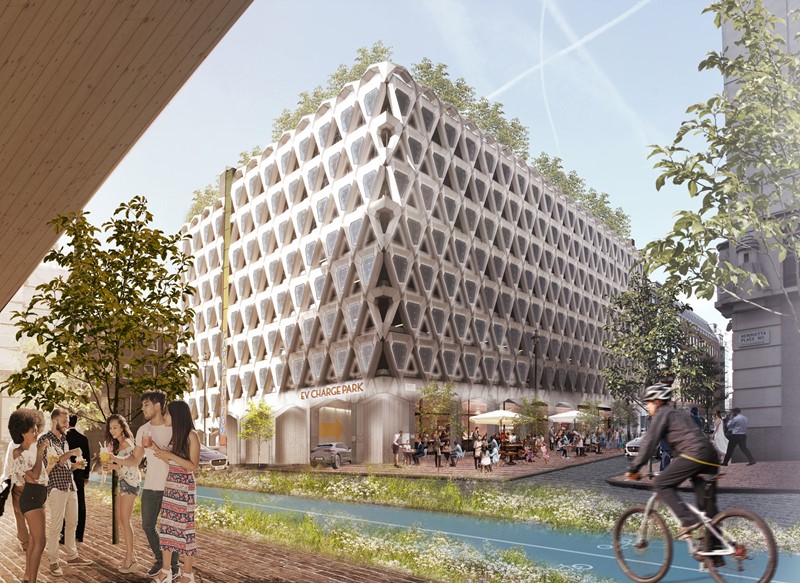 "This is based on the multi-storey car park on Welbeck Street, behind Oxford Street in London.
"Completed in 1970, and originally constructed to provide car parking space for shoppers, the structure symbolises an era of fossil fuel consumption.
"Re-imagined as a self-sufficient charging plaza, the proposal is to reinvent the existing stock of city centre multi-storey car parks, where owners of electric vehicles who are less likely to have access to off-street parking at their homes, can charge their cars adjacent to good public transport links.
"The proposal at Welbeck Street makes use of the existing structural grid to support solar photovoltaics panels that will provide clean energy for inner-city electric vehicle owners to charge their cars.
"The result is cleaner and greener surroundings and parts of the building freed up for retail and leisure use. A public artwork on the side of the building indicates the renewable energy generated to charge the cars within the structure."
Electric city – fast-approaching reality of completely emission free major cities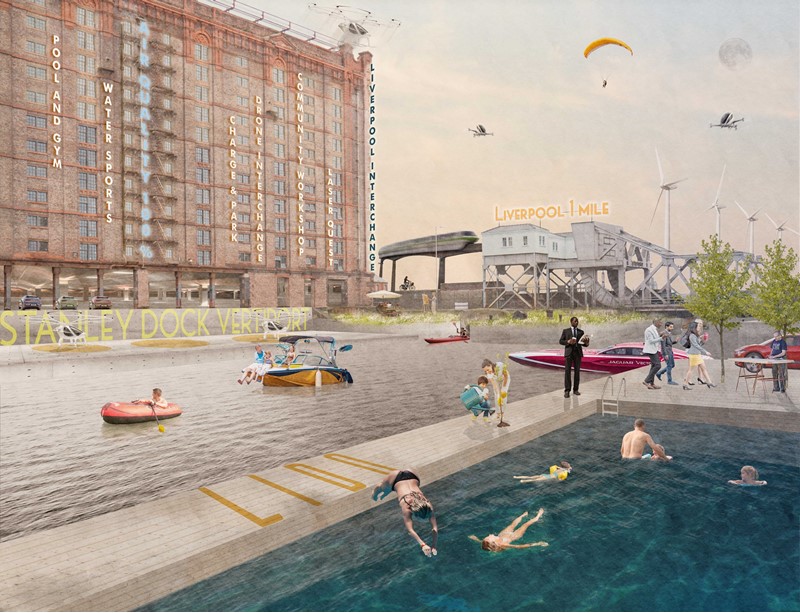 "Reimagining post-industrial wastelands, we have taken Liverpool's Stanley Dock as an example.
"Built in 1901 it was once the largest building in the world, but fell into disrepair in the 1980s, symbolising lost industry and economic difficulty.
In this image it has been reimagined as a community interchange, helping to rejuvenate the city through the creation of new community facilities and industries based on green energy on redundant sites country wide.
"Linked to the future of transport and car-free city centres, redundant brownfield sites like Stanley Dock can offer the multi-modal 'last mile' connection to cities, whilst rejuvenating the communities they are situated in."
Electric future – 'an opportunity for wholesale change, up and down the country'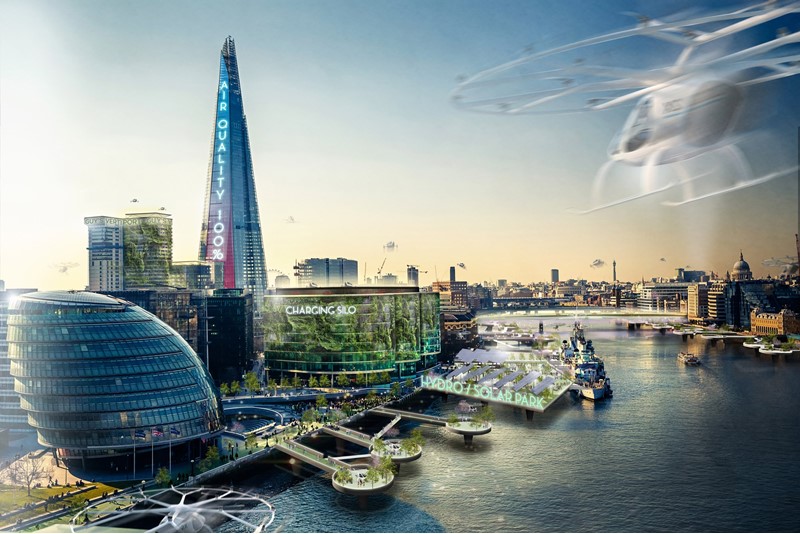 "In this image, London is a cleaner, healthier city where repurposed, new infrastructure, connected to electric vehicles, has allowed a proliferation of vegetation and green space.
"Cities across the UK are electrically self-sufficient harnessing solar and tidal power to power the increased number of electric vehicles, both land-based and airborne."
London architecture practice Barr Gazetas' managing director, Jon Eaglesham said: "This study is all about realising opportunity.
"These four concepts should all be possible within a generation. Electric vehicle successes such as the I-Pace represent a huge catalyst for change.
"As architects, together with town planners and authorities national and local, we need to embrace this opportunity now, and bring visions such as these to reality, improving experiences, and indeed lives, up and down the country."
Jaguar I-Pace