The 2018 AM Best UK Dealerships To Work For have been revealed.
Of more than 45 registered dealerships, 11 passed the rigorous employer and staff engagement surveys by Best Companies Group to win the right to display the AM Best UK Dealerships To Work For accreditation.
Awards were presented at Automotive Management Live to the winners:
Chorley Nissan in Burnley
Chorley Nissan in Chorley
Chorley Nissan in Preston
Drayton Motors in Boston
Hepworth Honda in Huddersfield
Livery Dole Mitsubishi in Exeter
Luscombe Motors in Leeds
Premier Ford in Newport, Isle of Wight
Roadside (Garages) in Coleraine
Tracks of Exeter Suzuki in Exeter
Whetstone Audi in London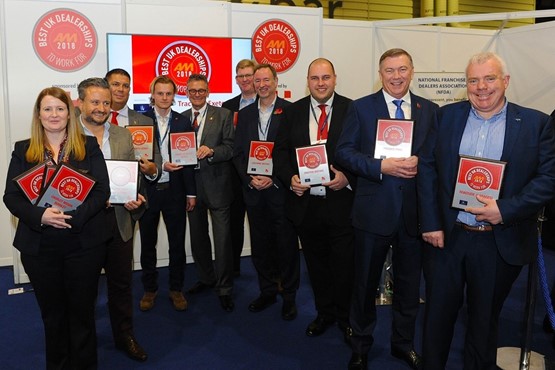 Chorley Nissan in Burnley was the overall highest scoring dealership.
Sponsors LTK Automotive and Premia Solutions presented the plaques for recipients to display in their dealerships.
Full details of each winner will be published in this month's AM magazine, out on November 23.
"Congratulations to all the AM Best UK Dealerships To Work For," said AM editor Tim Rose.
"This is the second year we've offered this free of charge programme for franchised dealers, and it is fantastic to see that we have a mix of dealerships winning for the first time plus a number who've gained the accolade again.
"These employers want their staff to feel valued, recognised and rewarded for their work. They communicate and engage with their workers, they give them opportunities to gain new skills and overcome challenges, and they encourage a real sense of teamwork and camaraderie.
"They create a workplace that their employees want to come to, and for this I commend them."
The AM Best UK Dealerships To Work For Programme will continue in 2019. There is no cost for franchised dealerships to participate in it, and it has been endored by the NFDA, IMI and industry charity Ben.
Rose added: "We want to build on the success of this programme, so I urge any franchised dealership to register and take part. Make the grade and you'll feature in these awards next year. And if you don't, you'll at least understand how your employees view their place of work, and identify areas you can improve."