Bowker Motor Group intends to deliver on the expectation of Preston performance car customers after officially opening the doors at its new Porsche Centre in the city.
The Lancashire-based AM100 retail group is now welcoming customers to the 43,000 square foot business on the junction of Watery Lane and Strand Road, Preston, which features a 35-car showroom and a 13-bay workshop.
Bowker Motor Group chief executive, Paul Bowker, said: "It has been exciting to watch the transformation on the site since we announced the award of the franchise in September 2017.
"We're located on a key site for Preston. We feel responsibility to make sure that the visitor experience we create is worthy of both the city and such a prestigious automotive brand."
He added: "There has been a real sense of expectation as the building has taken shape. We're delighted to be open. And can't wait to share the incredible Porsche retail experience with Lancashire motorists."
The aftersales department at Bowker's new Porsche dealership features two customer handover bays – two direct dialogue bays which enable service advisors to demonstrate scope of technical work from every perspective – and a electric vehicle (EV) charging points.
All Porsche retailers must be equipped with EV facilities as the brand awaits the arrival of its first full EV, the Taycan sports car.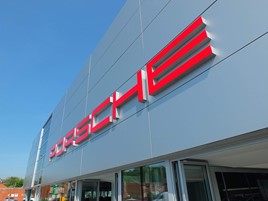 Porsche Cars GB Limited confirmed its decision to appoint BMW and Mini franchisee, Bowker Motor Group, to operate its new Lancashire Centre in September 2017.
Work on the Watery Lane now occupied by the new Porsche Centre began in July 2018.
Bowker Motor Group said in a statement that "many local companies and contractors have benefited from the investment".
The designs for the new Porsche Centre Preston were prepared by Preston-based architects Cassidy and Ashton. And Preston-based Warden Construction Limited has overseen the build.
Preston Porsche Centre will be hosting an official VIP celebration opening evening in June.