Sytner Group's Car People used car supermarket network has been rebranded and brought under the CarShop banner.
The move, was officially rolled out across all Car People stores – in Manchester, Wakefield, Sheffield and Warrington – today (June 19), bringing together the two businesses acquired by Sytner last year.
Sytner's CarShop used car supermarket division, which is operated by Jonathan Dunkley, chief executive of CarShop (pictured), now has over 9,000 makes and models to choose from.
Customers of Car People were reassured that "there's no need to worry about any existing agreements you have with us", in a statement published online.
It added: "Nothing will change and you don't need to do anything – we're just becoming bigger, better and offering even more quality used cars for you to choose from."
CarShop's sites in Cardiff, Doncaster, Northampton, Norwich and Swindon will soon be added to as work gets underway to create a new facility in Nottingham.
The Nottingham site, given the green light by the city's planners last month, will result from the transformation a 10-acre former Homebase DIY store site, off Queen's Road, to add to the growing used car operation.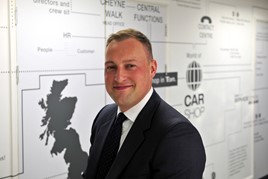 CarShop's Nottingham site will create 200 jobs and display around 700 used vehicles, according to planning documents which also detailed the creation of a new workshop – in nearby Lenton Lane – to run alongside the planned retail site.
Commenting on the development, Dunkley said that the business was "delighted to have commenced our plans to move into the East Midlands", adding: "We have an ambitious five-year plan to allow us to better cater for customers' car-buying needs right across the UK.
"Not only does this include the physical expansion of our store network, it involves significant investment into our digital proposition, ensuring we can deliver for our customers regardless as to whether they shop online, in-store or on the go."
CarShop was acquired by Sytner's US owner Penske Automotive Group in January 2017.
A year later it acquired The Car People to create an established a car supermarket division with almost £500m annual turnover.