Jardine Motors Group has officially opened the doors of its new £9 million Audi dealership as part of a new major gateway project in Bolton.
AM reported back in March how the AM100 retail group moved ahead with plans for the project following acquisition of the franchise point – and the accompanying showroom plans – from Inchcape in October, 2017.
Now the Bolton Audi dealership has successfully completed its move from its former home on the Mill Hill Industrial Estate to the new location in Grosvenor Street which had remained vacant since Bolton Community College vacated the site in 2011.
The new facility features a 12-car new car showroom, a forecourt for 85 'approved used' vehicles and a 22-bay workshop.
There is also a 65-space car park for customers.
David Lucas, Audi's market area director, told The Bolton News newspaper: "Having outgrown our current site, the investment by Jardine Motors Group will ensure we continue to meet our high standards of customer service, courtesy of a flagship Audi brand experience.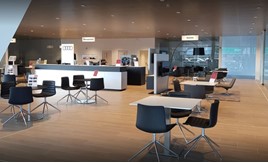 "With a new vibrant feel, the state-of-the-art centre will help us provide an unequalled retail experience to local motorists.
"With the centre now open I would like to personally invite anyone interested to come along and see the fantastic facilities on offer."
The Bolton News described how the original deal to create the new Bolton Audi dealership site had been part of Bolton Council's public sector partnership programme signed by Inchcape and described as a 'real game changer' for the town back in 2016.
Inchcape has recently reduced its representation with the Audi and Volkswagen brands further with the sale of several locations to Group 1 Automotive and Motorline.
AM reported last week that Inchcape had disposed of five Volkswagen car and van franchises - in Chelmsford, Colchester, Romford and Southend - to Group 1 while Motorline has trebled its Audi representation in Kent with the acquisition of a further two dealerships sites from Inchcape Retail following its purcshase of the Canterbury East Kent Audi business in June last year.