Worleys Garage has opened a new High Wycombe Suzuki GB franchise in its former Citroen dealership site in the Buckinghamshire town.
The Japanese franchise was moved into the 240 square metre, seven-car premises which features MOT, servicing and tyre fitting facilities and a display of the latest Suzuki new car range.
The Worleys Garage facility is takes Suzuki GB to 161 dealership sites across the UK.
Dale Wyatt, director of automobile at Suzuki GB, said: "Being headquartered in Buckinghamshire, we understand first-hand the importance of this region for our bottom line, and we are therefore encouraged to see our retail presence expanding in the county.
"Thanks to their family-orientated values, Worleys Garage has a long-established and first-class reputation for delivering exceptional service and always going the extra mile for their loyal customers.
"Having already made a name for themselves in High Wycombe, this puts Suzuki in a very strong position from the very start of the franchise. We are delighted that they are part of the family and look forward to a mutually beneficial relationship."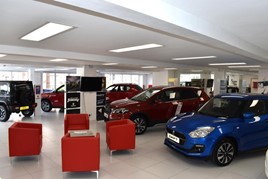 Nigel Findlow, dealer principal of Worleys Garage, said: "The Suzuki brand is an exciting proposition for our organisation, and with an award-winning model range, and a vehicle manufacturer that ranks very highly for mechanical reliability, it was the obvious choice to apply for the franchise.
"This is a new offering for customers in High Wycombe, and we are extremely encouraged by the response from the public to Suzuki's arrival in town."
Worleys Garages' new Suzuki franchise will serve a market area that spans West Wycombe to Amersham.
The Suzuki brand is in a growth phase ahead if plans to introduce a new range of electrified alternative fuel vehicles (AFVs) to its range as part of a new partnership with Toyota.
Wyatt told delegates at the AM100 Roundtable meeting that growing Suzuki's UK franchised dealership representation was central to the brand's growth plans.
He said that he had "never seen fewer locations result in more sales".
Year-to-date to the end of June, Suzuki's UK registrations were up o.62% to 20,464 (2018: 20,337) in a total market down by 3.41%, according to the Society of Motor Manufacturers and Traders (SMMT).