Invicta Motors has opened the doors at a new Suzuki dealership in Maidstone, having become the latest recruit to the UK franchised retail network.
The Ford Honda and Mazda franchisee's refurbished seven-car showroom facility on Sutton Road, Parkwood, has become the Japanese brand's 160th dealership location and its sixth in Kent.
Serving a catchment area spanning Bearsted to Aylesford the site also features on-site parts and servicing departments, an eight-bay workshop and MOT facilities.
Commenting on the new dealer appointment, Dale Wyatt, director of Automobile at Suzuki GB PLC, said: "We are delighted to welcome the highly respected Invicta Motors dealer group to our network.
"They will play a crucial role in helping to grow our footprint in Kent, whilst also filling this strategic open point which was left vacant earlier this year due to the retirement of the previous franchisee.
"The opening of the new showroom once again gives the town's motorists convenient access to our products, as well as the opportunity to get behind the wheel without having to travel a significant distance."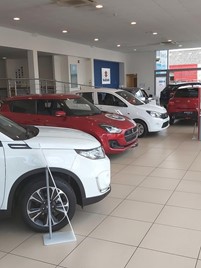 Darren Murphy, dealer principal at Invicta Motors Suzuki, said: "This is the first time that Invicta Motors has added the Suzuki brand to its portfolio, and the high demand for its products, thanks to the key product attributes of affordability, great value and low emissions, presented us with a strong business case for taking on the new franchise.
"Furthermore, with Invicta Motors having an established and loyal customer base from the offset, this means that we have a great head start as we get the new franchise off the ground. We look forward to a successful and long-term relationship with Suzuki."
Year to date to the end of May Suzuki's new car registrations are up 3.73% to 17,178 in a market down 3.1%, according to figures published by the Society of Motor Manufacturers and Traders (SMMT) this week.