Over 20 employees could be at risk of redundancy at Cambria Automobiles' Jaguar Land Rover (JLR) dealership in Swindon as part of plans to mitigate against the impact of COVID-19.
Cambria chief executive, Mark Lavery, told AM that "over 100 redundancies" were possible within his car retail group when the Government's coronavirus job retention scheme's (CJRS) furlough period ends in an interview at the start of May.
According to a report in the Swindon Advertiser newspaper those plans are now being put into motion, with "more than 20" jobs at risk at the city's JLR franchise.
It said that "seven receptionists, five technicians, four from the sales team, two from accounts, one each from the sales administration, warranty, service, parts and finance departments, and three others" were included in redundancy consultations at the site.
A spokesperson for Cambria Automobiles plc said: "In light of the COVID-19 pandemic and the subsequent impact on the motor retail industry, the group can confirm it has commenced a consultation process involving some staff roles at its Jaguar Land Rover site in Swindon.
"It would be inappropriate to comment further whilst this process is ongoing."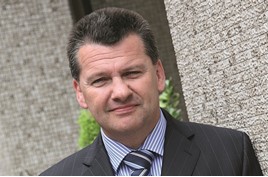 Lavery, who took a 50% pay cut alongside cuts to other senior Cambria executives' wages during the COVID-19 lockdown, told AM back in May that he had been open with the AM100 retail group's employees in a series of weekly podcasts, stating that "there will be significantly fewer of us and we'll return to a significantly changed business".
Lavery said that he expected a "Darwinian evolution" of the car retail sector with up to 25% to 30% of car retail businesses to go out of business or be taken over within the next two years as the effects of the pandemic continue to take their toll.
Cambria's £6.5 million JLR showroom in Swindon was built on the site of the former Swindon Motor Park on Dorcan Way and opened in 2018.