Marshall Motor Holdings has reforecast its 2020 performance expectations after a "stunning" September of new and used cars sales – targeting a £15m underlying profit before tax.
The AM100 PLC has shifted its projections for the year from a break-even position spelled out in its H1 2020 financial results for the period ended June 30 following a plate-change month performance which significantly outperformed the sector.
Marshall reported that it had outstripped all Society of Motor Manufacturers and Traders (SMMT) market performance KPIs, with new vehicle sales up by 33.9% -retail up 38.6% - as fleet rose 23.9%, used cars 29.4% and aftersales revenues 21.1% in total terms.
In total, the group's revenues were up 28% year-on-year last month.
While the group has now carried out a review of its portfolio which will result in the closure of four "sub-scale franchised dealerships" and its first redundancies of the post-COVID period, chief executive Daksh Gupta indicated that the progress made since the end of June had brought new positivity to the group's outlook.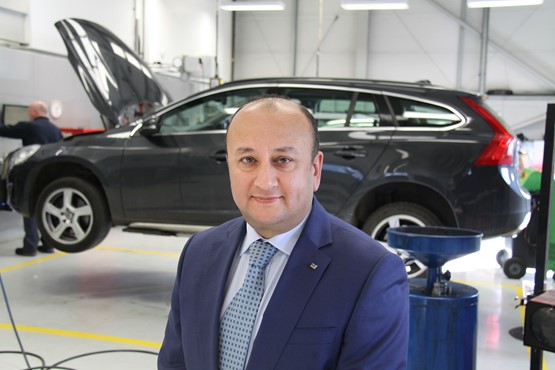 "Our strong culture, brand partnerships with scale, in-house technology platform and online presence, coupled with our exceptional colleagues have enabled the Group to significantly outperform the wider automotive retail market through this important post-lockdown trading period," said Gupta in the update to the London Stock Exchange.
"Our operational performance in August and September, in particular, was strong across all key like-for-like new vehicle sales metrics and we have also delivered significant like-for-like growth in both used car sales and aftersales.
"On behalf of the board, I would like to thank all of our colleagues who have worked tirelessly through these unprecedented times and contributed so magnificently in delivering this performance."
Strong cash position
In light of the strong cash position Marshall now finds itself in, the group said that it would be voluntarily repaying all amounts from which it benefitted under the Government's VAT Payment Deferral Scheme, which were not due to be fully paid until March next year.
It said that it was also up-to-date on all deferred VAT liabilities, adding: "Notwithstanding this £10.9m payment, the Group's adjusted net cash (excluding IFRS16) as at 30 September 2020 was £31.5m.
"In August, the Group announced the renewal of its £120m revolving credit facility until 2023. This, coupled with net assets of over £200m, leaves the Group very well positioned to take advantage of growth opportunities that make strategic and financial sense for its stakeholders."
Portfolio changes
Marshall's planned site closures will see it dispose of Cambridge Hyundai, Bury St Edmunds Ford, Knebworth Vauxhall and Poole Mercedes-Benz Commercial Vehicles.
The four dealerships contributed of £47.3m in revenues and a loss of £0.1m to the group's 2019 annual financial results.
Marshall will also expand its representation with key brand partners in early 2021, however, introducing a Ford Commercial Vehicles dealership to existing Ford operation in Kings Lynn, while adding Seat at an open point in Oxford.
While the group is embarking on "a limited number of redundancies", meanwhile, it announced that all its apprentices will have returned to the business by the end of October.
Gupta said that the "period of positive trading" experienced in August and September had been welcomed following the significant impact of COVID-19 in the first half of the Year.
However, he added that there remain "a number of uncertainties regarding the trading environment for the remainder of the year and beyond".
Gupta said: "We are also mindful that the market in Q3 was positively impacted by pent-up demand for new and especially used vehicles, which, allied to restricted supply, created favourable conditions from which the Group was very well positioned to benefit.
"It is for these reasons that we have taken appropriate actions in terms of limited business closures and restructuring measures to ensure the group is well placed to meet these potential future challenges."