An opportunistic car test driver was apprehended by Derbyshire police after allegedly attempting to flee JCT600's Mercedes-Benz dealership in Chesterfield in a Mercedes-Benz C63 AMG.
Officers from the Derbyshire Constabulary's Roads Policing Unit took to Twitter to share news of the seizure of the near-£40,000 high-performance sports saloon after pursuing the 476PS approved used vehicle as its driver allegedly attempted to leave the county.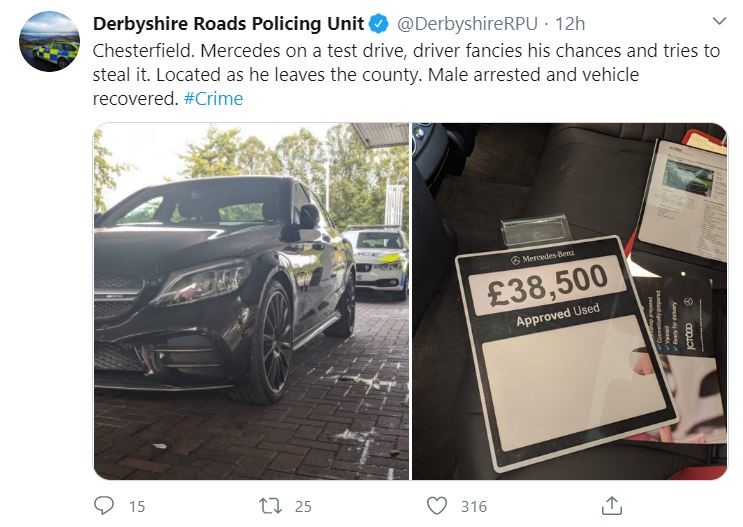 The Tweet said: "Chesterfield. Mercedes on a test drive, driver fancies his chances and tries to steal it. Located as he leaves the county. Male arrested and vehicle recovered."
JCT600's Mercedes-Benz dealership in Chesterfield in located on Lockoford Lane.
The Bradford-based AM100 retail group expanded its operations with the German premium brand in the town back in 2017 when it opened an Audi and Mercedes-Benz car PDI centre featuring an outdoor stock holding area for up to 600 cars, wet and dry valet bays enabling work on 10 cars at a time, and two indoor handover bays able to accommodate 25 cars per day.
Earlier this year, in response to COVID-19 social distancing measures effecting car sales test drives, Vertu Motors' chief executive Robert Forrester told BBC Breakfast how the car retail sector will "trust customers" to take unaccompanied test drives as showroom retailing gets back underway.
Asked about the risks taken by the business in letting people drive away in a brand new car unaccompanied at the time, Forester said: "When you actually go for a test drive you will be the only person in the car, which will be quite a major change for customers.
"There are some fairly obvious potential risks, but I think we trust the vast majority of customers to do the right thing, to do the right routes and come back."