Hendy Group chief executive Paul Hendy has said that "interest is high" in the relaunched Moke brand after the business was appointed the UK's sole franchisee at its Poole showroom.
The iconic seafront cruiser is back in the UK 56 years after it was first introduced, and Hendy said this week that he was delighted that his south coast retail group had been selected to be the UK dealer.
Hendy's sports car division in Poole will be the showroom for Moke sales with the '56 special edition' now available for viewing.
Hendy said: "It's great news that this amazing car will once again be available in the UK and we're thrilled to be working with Moke International which owns the trademark for Moke and is engineering and producing the components in the UK before final assembly in France."
The first Moke cars will reach the UK later this year as part of a 56 limited edition version and Hendy said that demand is already high.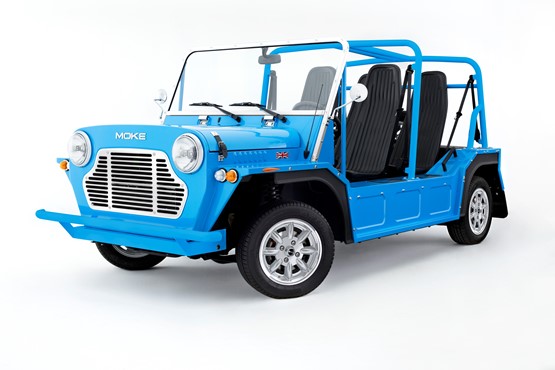 Customers can now place orders for the new Moke, which shares much of its chassis design with the original Austin Mini-based vehicles but with uprated suspension, a new 66bhp 1.1-litre four-cylinder engine, improved brakes and the choice of a manual or automatic gearbox.
The reimagined Moke is also larger than the original car and available in a choice of 14 colours together with chrome detailing, union jack badge and a numbered plaque.
"Ever since Moke announced plans to relaunch in the UK the interest has been understandably high and we're looking forward to helping people live the dream with the car," said Hendy.
MOKE International chief executive, Isobel Dando, said: "It is important for Moke International to work with a UK dealer which has the infrastructure to support our launch back into the UK and which shares our enthusiasm and passion for the brand.
"We are looking forward to a long and successful partnership with Hendy in Moke's home market."
The new Moke franchise is the latest of Hendy Group's portfolio additions this year, despite the challenges of COVID-19.
Back in June the AM100 business announced that it was preparing to consolidate its commercial vehicle operations in West Sussex amid changes which would introduce a new Ford Transit Centre and an MG Motors dealership.
In March Hendy expanded its presence in Dorset with the opening of a new Toyota franchised site in Christchurch.