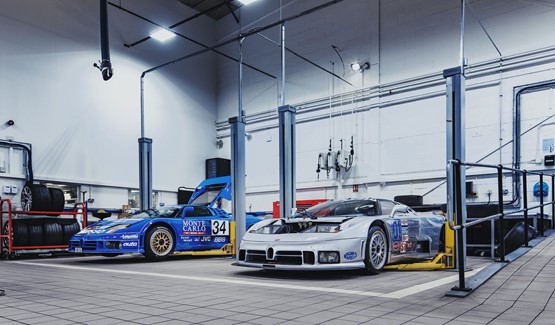 HR Owen Bugatti has welcomed two unique race cars to its North Acton workshop for routine annual maintenance.
The EB110s are among only 150 examples ever built and were raced between 1994 and 1996.
The blue car, EB110S LM, was built to race at Le Mans 24 Hours in 1994, on the 55th anniversary of Bugatti's last win at the event. Having been completed in less than six months, the car looked set for a successful race, regardless of having five turbos changed and a fuel tank leak. In fact, it looked as though a top-five finish was likely until a suspected tyre blowout ended EB110 LM's race with just 45 minutes remaining.
The silver car, EB110S SC GTS-1 was destined to race in the North American WSC GT series. In 1995, it recorded a fifth-place finish at Watkins Glen and sixth-in-class at Sears Point before looking on track for a successful Daytona 24 Hours race before stopping short of the finish line with transmission issues.
Both cars now reside with one private owner.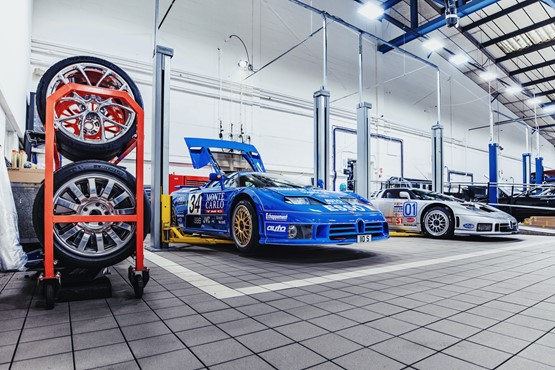 Ken Choo, HR Owen CEO, said: "Caring for a Bugatti is unlike caring for any other type of performance vehicle; the world's most advanced materials and technologies combine to create a car that pushes the boundaries of speed and usability.
"Looking after any Bugatti is a privilege, but to be responsible for the maintenance of the last ever Works racing Bugattis is extremely special. It speaks volumes of the expertise of our Service team and our advanced facility that our customers trust us not just with their Chirons and Veyrons but also with priceless pieces of Bugatti history like these two racers."
The Bugatti EB110 SS is powered by a quad-turbocharged 3.5-litre V12 engine, delivering around 600hp through an all-wheel-drive system.
HR Owen is the only Bugatti Partner of Excellence in the UK, with a dedicated boutique in the heart of London's Mayfair and its Bugatti service centre in North Acton, London.