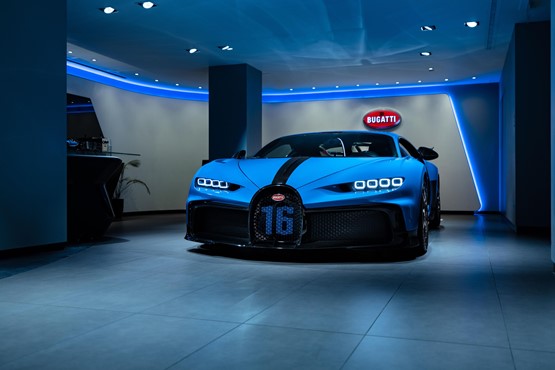 HR Owen Bugatti London has played host to the UK's only customer preview event of the new Bugatti Chiron Pur Sport supercar.
The AM100 car retail group, in London's Mayfair district, has been the UK's sole Bugatti retailer since 2005 and the current showroom site opened in 2016.
Ken Choo, HR Owen chief executive, who spoke to AM last year about the importance of turning car ownership into membership in the luxury sector, said: "To represent an illustrious brand like Bugatti has always been a privilege for us, and we're honoured to be able to offer our customers the unique opportunity to see the Chiron Pur Sport in the UK.
"Since 1932, HR Owen has stood for only the best and we're delighted that the manufacturer of some of the world's most advanced and exclusive cars trust us to be their sole UK partner."
Limited to only 60 vehicles, the Chiron Pur Sport features technological improvements to the chassis, gearbox and engine, which are said to make it the most agile and uncompromising Chiron ever.
Additions include lightweight titanium exhaust tailpipes and magnesium wheels. Bugatti engineers have also changed the chassis set-up and developed a new gearbox, to provide more dynamic handling and further improved power distribution.
The Pur Sport can accelerate in sixth gear from 37 to 75mph three seconds faster than the Chiron.
Bugatti London is consistently one of the top Bugatti retailers in the world and features a number of pieces from the Bugatti Home Collection, including specially designed armchairs made of the finest leather and blue carbonfibre.
The showroom also reflects Bugatti's history and heritage, with a selection of art installations and sculptures that celebrate the brand beyond the cars.