Teams of car dealership employees from across the JCT600 retail network have completed a 500-mile challenge in aid of Ben in the run-up to Christmas to smash their fund-raising target for the automotive charity.
Staff from the Bradford-based AM100 car retail group walked, ran, cycled, swam and rowed their way to the landmark mileage as part of the challenge launched on October 26 and officially concluded on December 20.
Ben has received an influx of support since issuing an urgent plea for help to plug a £1m funding gap back in November.
JCT600's charity challenge succeeded in raising £5,242 for Ben, but Nicola Tordoff-Sohne, JCT600's group head of wellbeing, said that the 500-mile charity event had delivered further benefits to participants following a challenging 2020.
"This challenge provided an opportunity to raise money for our industry charity Ben, but it served much more of a purpose for all those who took part," she told AM.
"It provided the impetus that many of us need to get out and get moving at a time of year when frankly most of us would rather not and we're fitter and healthier for it.
"We all know what an impact exercise has on mental health and so many participants have commented on how this challenge gave them something positive to focus on throughout the second lockdown period in November."
Tordoff-Sohne added: "So many of our colleagues are also missing the social aspect of their work and although virtual, this challenge also provided the opportunity to join up with colleagues and do something together that wasn't work.
"It's really ticked so many boxes for us and as head of wellbeing I'm so grateful that we had the opportunity to put this challenge together with the help of Ben."
The competitors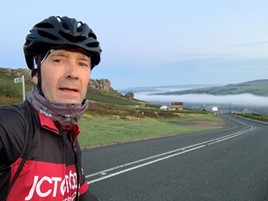 Group finance director Nigel Shaw and Richard Gibbins from Audi Hull both finished first in the solo cycle category, completing the 500 miles in just 13 days, while Porsche Leeds service manager Paul Mulliss completed the challenge on foot in just in 50 days.
In the team event The Sohne's of Anarchy – comprised of Tordoff-Sohne and her husband – completed their 500 miles on a Peloton, at home, in 34 days, as The Whitfield Walkers (Freya and Marcus Caveney) managed it in 43 days.
Competing as a bubble, a cycling team from Jaguar Doncaster made up of David Pratt, Ashley Granger and Jack Hughes finished their 500 miles in just nine days.
On foot, The Long Distance Llamas – a hiking team bubble comprised of HR staff Chrissy Broughton, Laurence Forbes and Terri Keadin completed the challenge in 26 days.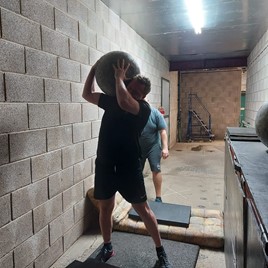 And the ability to convert exercise effort into mileage even allowed Chris Noble, JCT600's Price Right Rawdon senior sales executive, channel his inner strongman to raise cash for Ben.