Vertu Motors is set to relocate its Kia Nottingham dealership into its existing Volkswagen dealership operation in the city as it continues to consolidate its UK retail operations.
Following recent moves to introduce Citroen franchises into its Ford car dealerships in Worcester and Macclesfield, group chief executive, Robert Forrester, said: "I believe multi-franchising dealerships has to be pivotal to sustaining profitability of many locations."
He added: "I am delighted with the progress we are making in this area and which will be implemented by the end of 2021."
Now Vertu has revealed that it will be operating its Kia Motors UK operation with Volkswagen Authorised Repairer status and an approved Volkswagen used car sales department following its planned July 2021 move from Old Basford to the existing Nottingham Volkswagen North site on Mansfield Road, Daybrook.
The move comes four months after Vertu acquired the Kia Nottingham franchise from Sandicliffe Motor Group - a transaction highlighted in its recent trading update - and will see new Volkswagen sales in Nottingham consolidated into Vertu's VW Nottingham South, on Loughborough Road, West Bridgford.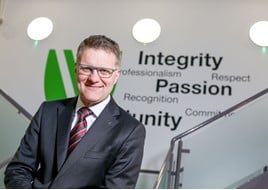 Commenting on the changes, Forrester said: "As a company that is continually growing and evaluating its portfolio, we believe we can further develop the Kia franchise in Nottingham through these changes.
"Kia in the UK has demonstrated over the last decade what huge potential it has, and we can create a franchise leading facility at the current Nottingham North site once the redevelopment is complete.
"Our successful partnership with Volkswagen in Nottingham and the region will continue with our large Nottingham South dealership being the destination for Volkswagen new car sales in the city."
Earlier this week AM reported on Kia's updated 'Plan S' strategy, which Kia president and chief executive Ho Sung Song said will see the Korean brand "reborn in 2021" with the launch of new mobility solutions and 11 new electric vehicles (EVs).
The brand, which has already redesigned its logo in a 2D style that reflects those recently adopted by Volkswagen, BMW, Toyota and Vauxhall, spelled out its future plans at a virtual investor conference held in Seoul yesterday (February 9).
Ho Sung Song (pictured), said: "Kia is being reborn in 2021 with a new logo, new design, and new corporate name.
"Kia will transform into a brand that excites and inspires customers with innovative mobility experiences."