Vertu Motors' Bristol Street Motors division has seen a Citroën franchise added into its Macclesfield Ford dealership operation as part of a £200,000 redevelopment of the facility.
While unable to welcome customers through its new showroom doors due to the measures imposed by Government during COVID-19 'Lockdown 3', the Lyme Green Business Park site is ready to welcome vehicles from the PSA Group-owned brands growing portfolio of electrified vehicles.
Vertu's decision to bring Citroën under the same roof as an existing Ford franchise in Macclesfield mirrors a project undertaken as part of a £250,000 upgrade of its site in Worcester last August.
And Vertu's decision to create a multi-franchised site featuring the French brand is in-line with new plan to drive profitability outlined by Citroen UK managing director, Eurig Druce, last month.
Unveiling three-year, mid-term Citroën Advance UK strategy, later detailed in a feature in AM, Druce said the plan that the Groupe PSA brand has been "crying out for" included a concerted push for the brand to be brought under the same roof as fellow Groupe PSA brands Peugeot, DS Automobiles and Vauxhall, in particular.
"For us, we see sustainability through growing volumes, through growing the profitability of our dealers and by sharing facilities, so it's a plan for us to have as many of our sites multi-branded as possible," he said.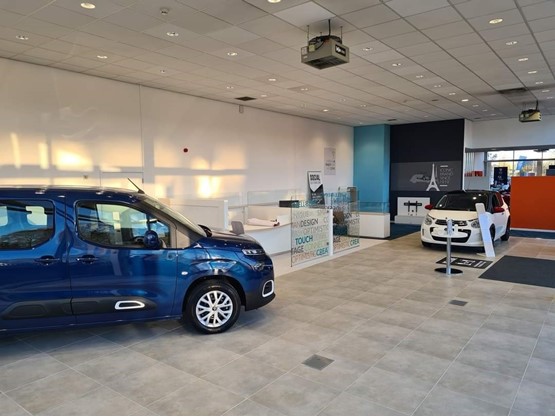 Bristol Street Motors said that its new Citroën and Ford dual franchise site featured a "state-of-the-art showroom" with bespoke areas for each brand with a brand neutral shared service reception and service centre.
The Citroën dealership will showcase the new hybrid and electric models, as well as its existing portfolio of petrol and diesel vehicles, it said.
By 2025, Citroën has pledged to produce an electrified version of every car and van in its range and it will soon launch the full EV in its new generation of alternative fuel vehicles (AFV) – the new e-C4.
Ben Hardman, general manager at Bristol Street Motors Macclesfield Citroën, said: "Adding the Citroën dealership to the existing Ford site in Macclesfield is an exciting move for the Group.
"The showroom looks fantastic, and the team is geared up and ready to provide fantastic service to our customers as soon as we are able to welcome them in.
"Sadly, at the moment, due to the lockdown, things are a little bit different, but we hope that before too long we can properly show off our new premises.
"In the meantime, it is business as usual as far as selling cars is concerned even if it's in a slightly different way."