Cazoo, the online motor retailer, has already sold almost 20,000 cars to consumers since it began trading in December 2019.
But reports from Sky News that the e-commerce start-up, which has already raised more than £450 million from investors in a series of funding rounds, is preparing for a stock market flotation (initial public offering) have been branded "speculation" by London-based Cazoo.
Its spokesman told AM: "Cazoo is pioneering the shift to online car buying in the UK and, since our launch just over a year ago, we have already sold almost 20,000 cars to consumers across the UK who have embraced the selection, transparency and convenience of buying high quality used cars entirely online.
"As one of the UK's fastest growing businesses, with revenues of over £200m since launch, it is not surprising that there is speculation around whether or when we might IPO but we do not comment on speculation and should we have an announcement to make on this or any other matter we shall do so at the appropriate time."
Sky News has suggested Cazoo was exploring the option with bankers at Credit Suisse, Goldman Sachs and Numis to accelerate its growth, and suggested a flotation could come towards the end of 2021, with a valuation of more than £5 billion.
The appointment last summer of chief financial officer Stephen Morana, who worked with Cazoo chief executive Alex Chesterman on the flotation of Zoopla in 2014, six years after it launched, has been seen as a preparatory step towards an IPO.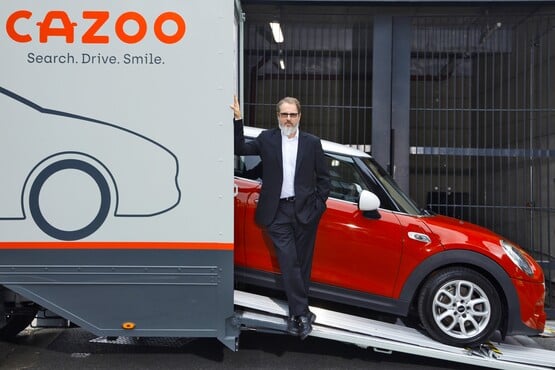 Cazoo, seen by many investors as more of a tech start-up than as a motor retailer, is nibbling away at a UK used car market previously secured by bricks and mortar dealerships.
Its chief executive Alex Chesterman, a serial entrepreneur who previously made a success of property listings business Zoopla and entertainment firm LoveFilm, told AM that just winning one or two percent of the market in the UK builds a large business, in his first motor industry interview in December 2019.
"It's a big enough market that nobody has a massive market share. The biggest players have single digit shares… if you get to one, two or three per cent in this market that makes you a very, very large player. Their revenues are £1bn," Chesterman said at the time.
The inference was that Cazoo should be capable of around 100,000 annual sales within a few years from launch. To put that into context, top 10 AM100 group Arnold Clark sold 215,000 used cars in 2018 from its network of around 200 sites.
He added: "The process of buying a used car is outdated and not fit for purpose for today's consumer… we take away the need to travel, to haggle, to spend countless hours at a dealership and to risk any buyer's remorse."