JCT600's VW Van Centre in Hull received Volkswagen Commercial Vehicles' 'Gold Award' as it emerged from a COVID-impacted 2020 as the LCV franchise's top-performer.
Volkswagen Commercial Vehicles recognised the UK's best Van Centres and Authorised Repairers in a virtual awards event this week and the Bradford-based AM100 car retail group's commercial vehicle operation topped the rankings.
In the 'Silver' position was Swansway's Volkswagen Van Centre, Liverpool, while Breeze Van Centre, Portsmouth, emerged from 2020 with a 'Bronze' award to celebrate.
VW Commercial Vehicles said it was "important" to celebrate the success of its 63-strong Van Centre network and 33 Authorised Repairers after they worked to keep businesses and vital services moving during the COVID-19 crisis.
A new video format enabled teams to see what their colleagues had done and how they had adapted to 'the new norm' as part of the virtual awards event.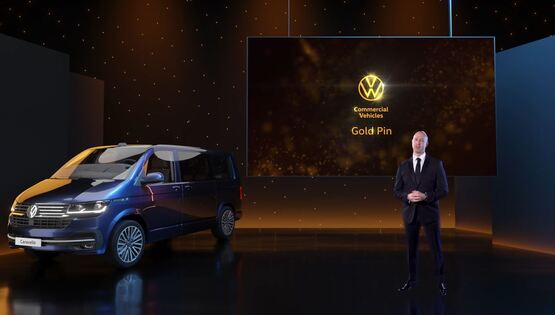 Director of Volkswagen Commercial Vehicles, Cian O'Brien, who joinedthe brand last summer, said: "Today is about celebrating the achievements of our network and their determination to succeed.
"I'm extremely proud of everything the teams did last year and continue to do, from supporting key workers and keeping businesses moving to looking after each other in a COVID-safe environment.
"Congratulations to all our winners."
The Volkswagen Commercial Vehicle Awards presented six category awards as well as its Gold, Silver and Bronze accolades for 2020.
Awards were given to recognise performance across a number of key areas, from new and used sales performance to customer experience.
The winners were:
New sales: Sinclair Van Centre, Swansea
Used sales: Volkswagen Van Centre, Birmingham
Most improved: Anthony Motors Van Centre, Aberystwyth
Customer experience: Volkswagen Van Centre, Liverpool
Service and parts: Breeze Van Centre, Portsmouth
Authorised Repairer: Breeze Van Centre, Southampton
The Volkswagen Commercial Vehicle Awards also saw three people awarded the brand's prestigious Gold Pin, a reward for those who had "demonstrated exceptional and often long service to the brand".
The Gold pin winners were: David Cowan, brand director at Volkswagen Van Centre, Liverpool; Hamish Mackay from Hawco Van Centre, Inverness; and Craig Mellors from JCT600 Van Centre, Sheffield.